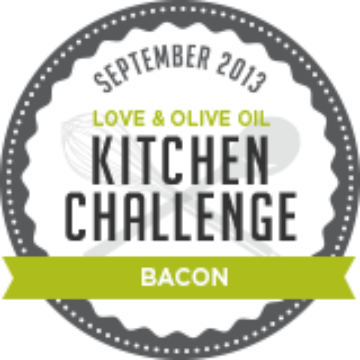 Moving right along, from tofu… to bacon (seems like a logical transition to me).
We've never really explored the art of charcuterie before (mainly due to space constraints – if we had a garage or basement I can guarantee you Taylor would have slabs homemade bacon and rows of prosciutto and salami curing down there next to his mini brewery and sewing shop. Alas…)
However bacon on its own is something that doesn't require much space at all. It's refrigerated while it cures, so no worries about temperature moderation and humidity during this hot end to the summer.
This challenge does require you to pick up some not-so-common ingredients, including pork belly and pink curing salt. But the actual curing process seems much like the homemade gravlax we made last year, coating the meat in a curing mix of mostly salt and sugar, which draws out the liquid over the course of a week. But unlike the salmon, bacon is also smoked or roasted afterwords (indeed, 'raw' bacon is actually completely cooked).
The Challenges:
Pork Belly. I think locating a good quality pork belly might be the hardest part. I haven't started exploring locally so I'm not sure where I'm going to get mine yet. But according to our friend Vivek, there are a few local farms that sell it. A quality butcher shop is probably a good place to start.
Pink Salt. Pink salt is a combination of salt and sodium nitrate that helps preserve the color of the pork as well as prevents bacteria growth. And I know that blah blah nitrate free blah is a thing right now, but I'm not willing to risk it. It's probably not something you can buy locally, but is readily available and not too expensive online at Butcher & Packer or on Amazon.
Time. The bacon needs to cure for 7 to 10 days, so plan ahead! I've given you a few extra days for this challenge just to be sure you have enough time to acquire the ingredients and still make the bacon. If you're going to participate, don't waste any time.
Resources & Recipes:
My best resource for this challenge is our friend, Vivek. Check out his article on making homemade bacon from last year's Tennessean. I've had some of his homemade bacon and let me tell you, it is unlike anything I've ever tasted.
Here's a blog post by Michael Ruhlman, author of Charcuterie: The Craft of Salting, Smoking, and Curing, an excellent resource for anyone looking to explore the art of charcuterie. Maybe I'll check out the book from the library, but for now the blog post is a great starting point.
America's Test Kitchen has a great basic video on DIY bacon. I don't have a grill, so I'll have to figure out another solution for the last part, but their recipe and process seem straightforward enough.
Join me!
Salt your slab by Wednesday, September 25th (that's plenty of time, but definitely get started sooner rather than later to account for the 7-10 day curing process). Once you're done, submit your results (a photo of the final product OR something fun that you did with your bacon). I'll post my results and a roundup of all participants at the end of the month.
The Kitchen Challenge series is simply about getting in the kitchen and challenging yourself to make something new; you aren't required to have a blog to participate, nor are you required to post about it if you do. However, if you do have a blog and post about the challenge, you are more than welcome to use the above graphic.
Let's bring home the bacon!