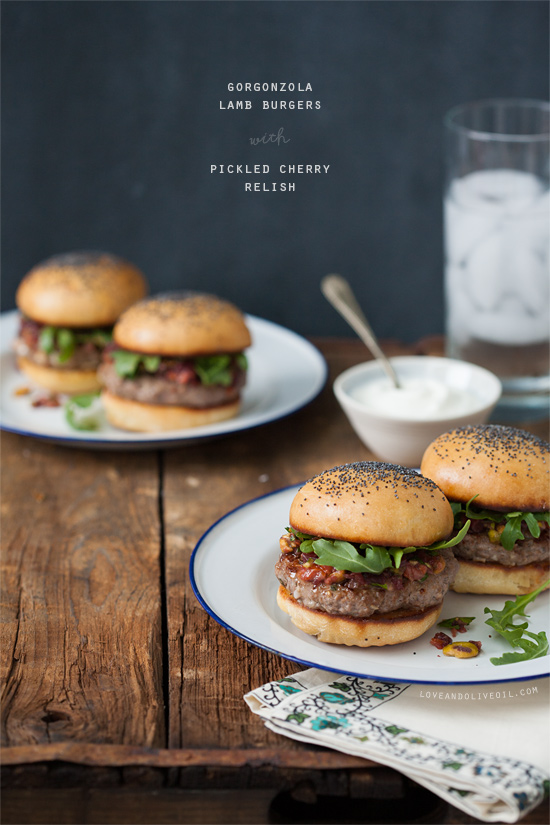 As this year's canning season draws near, I figured now would be a good time to start using up what's left of last year's preserves. It was, in essence, that objective that led us to create these extraordinary burgers. Rather than building from the ground (meat) up, and instead from the top(ping) down, starting with a rather unconventional topping incorporating the last jar of pickled cherries I had been hoarding since last summer.
We chose lamb out of necessity (we had a package in the freezer that needed to be used), and seeing as we both are somewhat averse to the gamey flavor that often comes with lamb, we did our best to incorporate other strong flavors that might help to mask this. Hence the addition of gorgonzola, but feta or goat cheese would work just as well. And same with the lamb, I think beef or turkey would work equally as well with the unique flavors in this recipe.
You know, if you're so inclined.
I knew I wanted a pickled cherry "something" to top these burgers from the get-go, and I envisioned a rough chopped concoction, sweet and tart with chopped nuts and herbs. But what to call it? It wasn't cooked, so not a compote. Too fine to be a salsa. It wasn't quite a pesto. Relish seemed like the most fitting descriptor.
Just in case you don't happen to have a jar of last year's pickled cherries lying around, you could do a quick pickle, letting the cherries soak in the brine mixture overnight. Or use fresh cherries, which would make for a great fruity condiment, albeit sweeter and less savory than the original.
Gorgonzola Lamb Burgers with Pickled Cherry Relish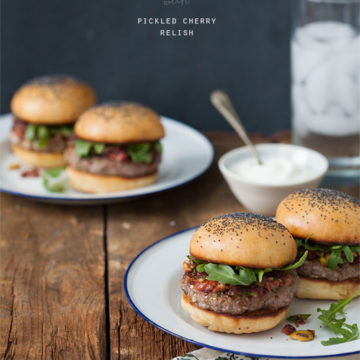 Ingredients:
For Relish:
1/2 cup pickled cherries (about 20), pitted
1/2 cup (4 ounces) cherry tomatoes
3 tablespoons fresh parsley leaves
2 tablespoons shelled pistachios (roasted and unsalted if you can find them)
salt and freshly ground black pepper, to taste
For Burgers:
3/4 pound ground lamb
1/4 cup (2 ounces) crumbled gorgonzola cheese
1 shallot, chopped
2 garlic cloves, minced
1 tablespoon balsamic vinegar
2 teaspoons fresh chopped oregano or 1/2 teaspoon dried oregano
1/4 teaspoon ground cinnamon
1/4 teaspoon red pepper flakes
1/2 teaspoon kosher salt
1/2 teaspoon freshly ground black pepper
olive oil, for cooking
For Assembly:
4 large or 6 slider-size burger buns
butter
handful fresh arugula
greek yogurt (optional)
Directions:
For relish, combine cherries, tomatoes, parsley, and pistachios in the bowl of a food processor. Pulse 2-3 times or until relish is chopped (not puréed) and ingredients are evenly incorporated. Season to taste with salt and pepper. Refrigerate until ready to use.
To prepare burgers, combine lamb, gorgonzola, shallot, garlic, vinegar, oregano, cinnamon, red pepper flakes, salt, and pepper in a large bowl, using your hands to gently mix as necessary. Divide meat mixture into fourths, sixths if you will be making smaller, slider-sized burgers. Form into patties slightly larger than the diameter of your buns (as they will shrink when cooked), and arrange on a lightly-oiled plate or baking sheet.
Preheat a large heavy or cast iron skillet over medium heat. Brush bottom with a thin coating of olive oil. When pan is hot, add burgers, cooking in batches if necessary, and cook for 3 to 4 minutes per side (2 to 3 for sliders) or until meat reaches desired doneness.
Meanwhile, split buns and lightly spread the insides with butter. Toast in a toaster oven or broiler until light golden brown. Arrange on serving dishes. Stack with burger patty, a spoonful of cherry relish, a dollop of greek yogurt (if desired), and a generous pile of arugula on top. Serve immediately.
Did you make this recipe?
Let us know what you think!
Leave a Comment below or share a photo and tag me on Instagram with the hashtag #loveandoliveoil.