We're slowly getting back into the swing of things. Cooking like normal people again (you know, instead of eating dinner for brunch and dessert for dinner and the like). It feels like ages since I've been able to flip through a mouth-watering glossy and know I actually have time to try some of the recipes. At the same time, we're so burnt out on dishes and more dishes that we're not in the mood for anything fussy or complicated.
Regardless, we have no more excuses for not using up all our CSA squash. It's been abundant, yet still reasonable this year, and we've been doing pretty darn good at not wasting it despite everything else on our plate.
This recipe is a quick and flavorful way to use up an otherwise unassuming gourd. Simply baked with a slathering of marinara sauce, a sprinkling of cheese, and topped with crispy toasted garlic breadcrumbs (perhaps the best part of the entire thing). It's like a deconstructed eggplant parmesan… but with squash (although you could very well use eggplant, or even zucchini or any other squash for that matter).
So much of what we cook is out of pure necessity, and this recipe is no exception. From a drawer full of squash, a half jar of unused marinara sauce, and a wedge of forgotten cheese, and suddenly we had a delicious and satisfying dinner. A dinner we enjoyed so much, in fact, that we've made it two more times since.
Baked Pattypan Squash Parmesan with Garlic Breadcrumbs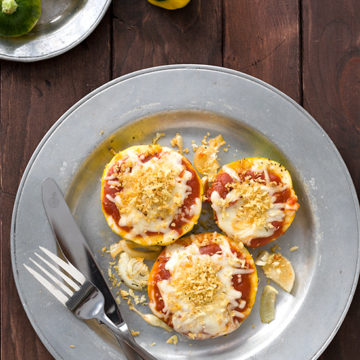 Ingredients:
3 to 4 large pattypan squash (about 1 3/4 pounds total), cut into 1/2-inch thick slices
1 medium onion, halved and sliced
2 tablespoons olive oil
salt and pepper, to taste
1 cup marinara sauce
1/2 cup grated parmesan cheese
1 cup grated mozzarella or fontina cheese
For Breadcrumbs:
1 cup panko breadcrumbs
3 garlic cloves, chopped
2 tablespoons olive oil
1/4 teaspoon dried oregano
1/4 teaspoon dried parsley
salt and pepper, to taste
Directions:
Preheat oven to 400ºF. Line a large baking sheet with aluminum foil; brush with oil.
Toss squash and onion slices with 2 tablespoons olive oil, salt, and pepper. Arrange in a single layer on prepared baking sheet. Spoon marinara sauce over squash slices.
Bake for 15 to 18 minutes (depending on the thickness of the squash); sprinkle with cheeses and bake for 5 to 7 minutes more, or until squash is tender and cheese is melted and beginning to brown.
Meanwhile, to prepare garlic breadcrumbs, heat 2 tablespoons olive oil and garlic in a medium skillet over medium heat, until oil is hot and garlic is fragrant, 2 to 3 minutes. Add bread crumbs, herbs, and salt and pepper and stir until breadcrumbs are golden brown, about 8 to 10 minutes more. Sprinkle breadcrumbs over squash slices and serve.
Did you make this recipe?
Let us know what you think!
Leave a Comment below or share a photo and tag me on Instagram with the hashtag #loveandoliveoil.