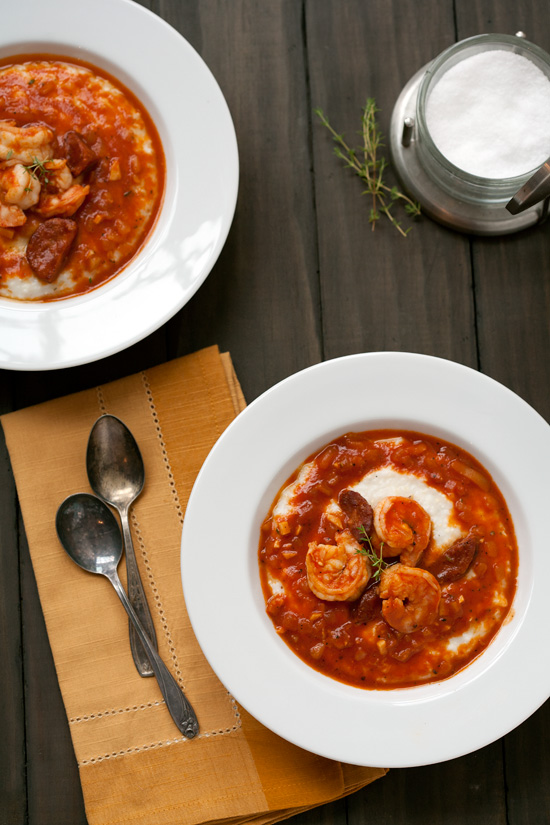 Fresh seafood is hard to come by when the nearest coast is over 450 miles away.
I have to say, as much as I love this city, I am envious of my coastal cohorts. Hearing my mom talk about buying fresh halibut pretty much right off the boat, yes, that makes me a wee bit jealous.
Frozen just doesn't compare.
Probably why the seafood category here has been pretty scarce after 2007 (when we moved to Nashville from California). I figure, if you can't have really good, fresh seafood, probably best not to eat it at all.
Enter Louisiana Seafood Company. The little shop opened up in the Nashville Farmers' Market house just this past summer. Each week they bring up a load of seafood fresh from the dock. The next best thing to having an ocean outside my window.
For not much more than a bag of wimpy, frozen shrimp from Thailand, we can have a pound of beautiful, fresh shrimp. Even when we lived in California, truly fresh shrimp are a delicacy I have never been able to enjoy. And now that we have a source, we've been cooking up a storm.
Our first foray into étouffée (they are Louisiana shrimp, I figured I should honor them with a good Louisiana cookin') we got a bit more shrimpyness than we bargained for. When you accidentally dump the entire pot of shrimp stock over your stovetop, you realize just how many unreachable nooks and crannies there really are. We had shrimp stock dripping in between the layers of glass in the oven door for gosh sakes. It was bad. For weeks the shrimp smell would re-emerge every time we turned on the oven or stove. Sure, the étouffée was good. But I'm not sure it was 3 weeks of dealing with shrimp stench good.
Needless to say, this time, we were a bit more cautious.
We took some liberties with the original recipe (and I hope I have not offended anyone in my uninhibited merging of southern staples), a union resulting in part by my new-found obsession with grits. Shrimp and grits meets shrimp étouffée? Yes, please.
Étouffée Style Shrimp and Grits
Ingredients:
For Shrimp Stock:
1 lb shrimp, head and shell on
1/2 cup chopped celery
1/2 cup chopped onion
1/2 cup chopped carrot
2 garlic cloves, minced
For Grits:
1 cup stone ground grits (not instant)
1 tablespoon unsalted butter
1/4 cup heavy cream
Kosher salt, freshly ground pepper
For Étouffée:
1 andouille sausage, cut into 1/4-inch thick slices and halved
1 tablespoon unsalted butter
2 garlic cloves, minced
1/2 cup chopped onion
1/2 cup sweet pepper, chopped
3 tablespoons tomato paste
1 teaspoon fresh thyme
Directions:
In a large saucepan, bring 6 cups of water to a boil. Remove heads and peels from shrimp. De-vein if desired.
Add peels and heads to saucepan along with celery, carrot, onion, and garlic. Boil for 45 minutes to an hour, or as time allows. The longer you boil it the more concentrated the flavors will be. Strain and set aside 2 cups of stock. Remaining stock can be reserved for another use (divide it among freezer safe containers and freeze; frozen stock will keep for up to 3 months).
To prepare grits, bring 3 cups water to a simmer in a large saucepan. Gradually whisk in grits. Turn heat to low; gently simmer until grits begin to thicken. Continue cooking, stirring often and adding water by 1/4 cupfuls if too thick, until tender, about 1 hour. Stir in butter and cream. Season generously with salt and pepper. Keep warm.
Meanwhile, preheat a large saute pan over medium-high heat. Add sausage pieces and cook until browned, about 5 to 7 minutes. If dry, add 1 tablespoon butter. Add garlic, onion, and pepper and cook until softened. Whisk in tomato paste and thyme and cook for 3 minutes. Add reserved 2 cups of shrimp stock; reduce heat to a simmer, cook for 5 to 7 minutes or until sauce has reduced to desired consistency. Season with salt and pepper to taste. Add shrimp and cook for 2 minutes or until shrimp are just opaque and start to curl.
Divide grits among bowls. Spoon shrimp mixture over top and serve.
Did you make this recipe?
Let us know what you think!
Leave a Comment below or share a photo and tag me on Instagram with the hashtag #loveandoliveoil.