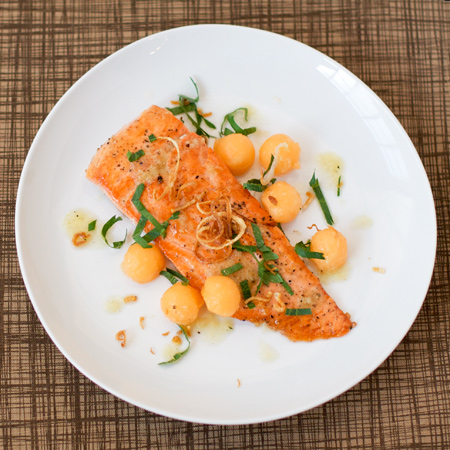 Ok, bear with me here, because I think Taylor was thinking the exact same thing you are thinking right now. Salmon, cantaloupe, and, uh, horseradish? Weird, weird, double weird. Taylor gave me one of those looks that said, "are you nuts?" To be honest, when I picked this recipe my only thought was "celery leaves! we have a ton and this recipe actually calls for celery leaves!" I didn't even stop to ponder just what it might taste like. And so on to the menu it went.
I don't know what sort of illegal substance or hocus pocus was involved to think up such a bamboozling combination of ingredients, but you know what? It worked. It really did. It was bright and fresh. Downright summery. It was crunchy and tender and flaky all at the same time. Puzzling, yet fantastically tasty.
Salmon with Cantaloupe and Fried Shallots
Ingredients:
Vinaigrette
2 tablespoons freshly grated horseradish
1 1/2 tablespoons fresh lime juice
1 tablespoon Asian fish sauce
1/2 tablespoon light brown sugar
1 tablespoon extra-virgin olive oil
Salt and freshly ground pepper
Fried Shallots
Vegetable oil, for frying
2 large shallots, thinly sliced crosswise and separated into rings
Cornstarch, for dusting
Salt
Salmon and Garnishes
Four 6-ounce, skin-on salmon fillets
Salt and freshly ground pepper
1 tablespoon vegetable oil
1/3 small cantaloupe, scooped into small balls or cut into 1/4-inch dice (about 1 cup)
1/2 cup buttermilk
1 teaspoon finely grated lime zest
Freshly grated horseradish
1/4 cup celery leaves
Directions:
In a small bowl, combine the horseradish, lime juice, fish sauce, brown sugar and olive oil and season with salt and pepper.
In a large skillet, heat 1/4 inch of vegetable oil. Put the shallot rings in a colander and dust heavily with cornstarch, shaking to coat them well. Add the shallots to the hot oil in an even layer and fry over moderate heat until browned and crisp, about 4 minutes. Using a slotted spoon, transfer the fried shallots to paper towels to drain. Season lightly with salt.
Preheat the oven to 400°. Season the salmon with salt and pepper. In a large nonstick skillet, heat the oil until shimmering. Add the salmon skin side down and cook over high heat until the skin is browned and crisp, about 3 minutes. Turn the fillets and transfer the skillet to the oven. Cook for about 3 minutes, or until the salmon is just cooked.
Meanwhile, divide the cantaloupe among 4 shallow bowls. Drizzle with the buttermilk and season lightly with salt. Lay the salmon on the cantaloupe and spoon the vinaigrette on top. Sprinkle with the lime zest and grated horseradish. Scatter the celery leaves and fried shallots over the salmon and serve.
Did you make this recipe?
Let us know what you think!
Leave a Comment below or share a photo and tag me on Instagram with the hashtag #loveandoliveoil.