Be glad we only did two this year and not THREE (like last year). Yes, we love cranberry sauce that much.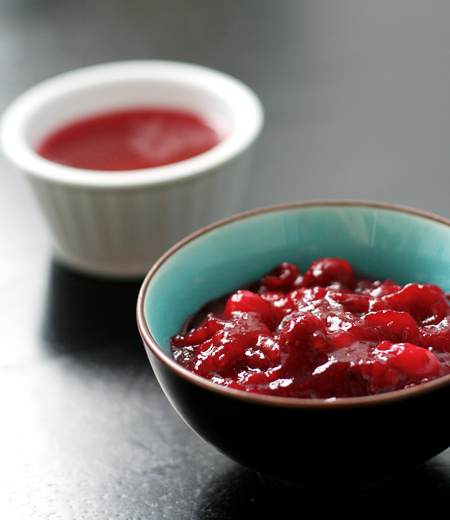 You see, Robin (lil' sis), likes the canned stuff. Yes, the jellied cranberry sauce straight from the can. Which, you can hereby come and collect my foodie credentials if I ever serve such a substance at our Thanksgiving table. Nope. So instead of shelling out the $1.67 (or whatever) to buy a can for her, I decided we need to make HOMEMADE canned cranberry sauce.
For those interested, we used the recipe I *thought* I used last year for the jellied stuff, this one here. After one bite, however, we quickly realized it must have been a different recipe, since the sauce last year was flavorful and soft, far superior in flavor and texture to the canned stuff. This year it could have passed for Jell-O. Flavorless Jell-O. Thank goodness we made two kinds, otherwise we would have been very disappointed. Next year we'll surely try a different recipe for the homemade canned version. I shall prevail!
Me, on the other hand, I like my cranberries chunky. With pizazz. And jellied cranberry sauce just would not do, even the chunky canned stuff. So we bought three bags of cranberries (yes, the checker in the grocery store looked at me a bit oddly, probably thinking this chick must REALLY like cranberries). Why yes, yes I do. Thank you for asking. We bought three bags of cranberries and made two different kinds of cranberry sauce.
My chunky sauce was a huge success. And considering I didn't really have a recipe (mmm, agave? that would be good with cranberries, right? glop, glop, glop…) I am very proud of my special sauce. Slightly sweet (but not too sweet), with just a hint of tang from the grapefruit, it may just be my favorite part of this years' Thanksgiving meal.
Grapefruit Agave Cranberry Sauce
Ingredients:
1 (12-ounce) bag fresh cranberries
1/2 cup raw sugar
1/3 cup agave nectar
1/4 cup freshly squeezed grapefruit juice (about 1/2 a grapefruit)
1 teaspoon grapefruit zest
1/2 teaspoon freshly cracked black pepper
Directions:
Bring all ingredients to boil in heavy medium saucepan, stirring until sugar is dissolved. Reduce heat to medium-low and simmer until most of cranberries have burst, stirring occasionally, about 10 minutes. Transfer sauce to medium bowl. Cool, cover, and refrigerate. Can be prepared 1 week ahead. Keep refrigerated.
Did you make this recipe?
Let us know what you think!
Leave a Comment below or share a photo and tag me on Instagram with the hashtag #loveandoliveoil.