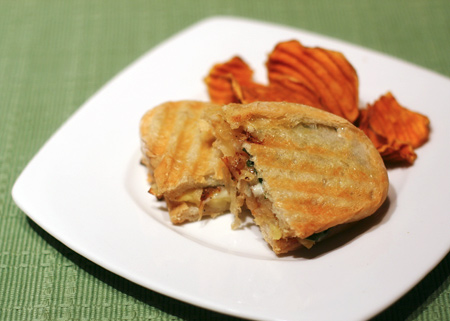 The equation for a perfect panini is simple. Bread + something gooey + something meaty or crunchy or fruity. And add some greens if you so desire. This one? Bread + blue cheese + caramelized onions + crisp gala apples = mmmm. There you have it, folks. Panini math. That's the kind of math I'm good at (well, that and converting cupcake recipes to feed hundreds).
And this is one good panini. Unique, savory, and delicious. Taylor heard the words "caramelized onions" and "blue cheese" and practically started drooling right there in the market. No, Taylor, I don't always make you eat lentils and barley, sometimes we eat man food too. Well, if you consider panini man-food, that is. Gentrified man-food, maybe? Ok, ok. Steak is man food. Pizza is man food. But panini maybe not so much. Sorry Taylor.
You know what's interesting? We all get cravings, right? My cravings are (almost always) for chocolate, often times in combination with nuts (peanut butter + chocolate, almond + chocolate, macadamia + white chocolate, well, you get the point). Then here comes Taylor, who gets cravings for protein and for cheese (I'll take the fall for that, since we don't exactly get to each cheese all that often because of me). Steak. Burgers. Pizza. Italian sausage. Barbecue ribs. Swiss cake rolls (ok, maybe that one isn't so manly). A true man. Who eats panini. And likes it. A man-food revolution, perhaps?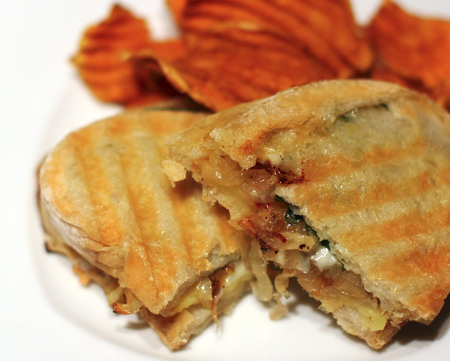 Caramelized Onion, Apple, and Blue Cheese Panini
Ingredients:
1/2 medium onion, thinly sliced
1 gala apple, sliced
2 ounces blue cheese, crumbled
handful baby spinach
4 slices country bread
olive oil
Directions:
Heat a splash of olive oil in a skillet over medium heat. Add onions and saute, stirring frequently, 10 to 12 minutes or until onions are caramel colored and soft. Remove from heat.
Prepare panini press, grill pan, or heavy skillet.
Assemble sandwiches by layering apples and spinach on bread, followed by half of the caramelized onions and crumbled blue cheese. Top with other slice of bread. Brush sandwiches with olive oil.
Cook sandwiches for 5-7 minutes total, flipping once if not using a panini press, until both sides are toasted and golden brown. Slice and serve immediately.
Did you make this recipe?
Let us know what you think!
Leave a Comment below or share a photo and tag me on Instagram with the hashtag #loveandoliveoil.