I made me some pretty cupcakes last weekend, to bring to an open house our good friend Tiffany was having. I think they went over well. :) I got enough requests for the recipes (rich chocolate and almond), so I'm reprinting them again (with any modifications I've made since the original).
I added mini-chocolate chips to the chocolate cupcakes, and topped them with some neon pink frosting (Tiffany's business colors are hot pink and black – so I thought it was only fitting). I did a chocolate version of the cream-cheese frosting rather than fudgy frosting for the almond cupcakes, it's thicker and easier to pipe onto the cupcakes. For the cute little flowers, I colored some marzipan, rolled it out and cut it into flower shapes. Add one tiny white nonpareil in the center, and tada!
I've been practicing my cupcake-decorating skills, because I've decided that I think I'm crazy enough to make my own wedding (cup)cakes. And they'll need to be pretty. Plus, with a proposal like that, I don't think I could get away with having anything but cupcakes at our wedding. :) So you can probably expect to see a lot of cupcake experimentation in the near future.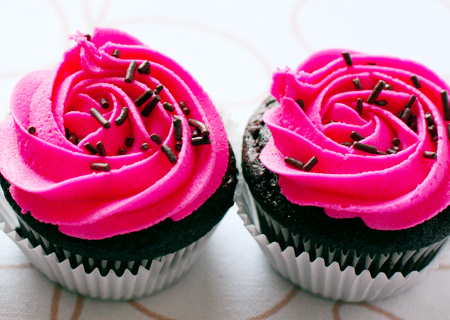 Rich Chocolate Cupcakes with Vanilla Bean Frosting

Makes 11-12 cupcakes.
Recipe from Vegan Cupcakes Take Over the World.

Ingredients
Cupcakes:
1 cup soy milk
1 teaspoon apple cider vinegar
1/3 cup canola oil
1 teaspoon vanilla extract
1/2 teaspoon almond extract
3/4 cup sugar
1 cup all-purpose flour
1/3 cup cocoa powder, Dutch processed or regular
3/4 teaspoon baking soda
1/2 teaspoon baking powder
1/4 teaspoon salt
1/2 cup mini chocolate chips

Vanilla Bean Frosting:
1/4 cup margarine (or butter), softened
1/4 cup tofutti (or regular) cream cheese, softened
2 cups confectioners' sugar
1 vanilla bean, split and seeds scraped out, or 1 teaspoon vanilla extract
food coloring (optional)

Directions
Preheat oven to 350 degrees F. Line muffin pan with paper liners.

Whisk together the soymilk and vinegar in a large bowl, and set aside for a few minutes to curdle. Add the sugar, oil, and vanilla extract to the soy milk mixture and beat till foamy. In a separate bowl, sift together the flour, cocoa powder, baking soda, baking powder, and salt. Add in two batches to wet ingredients and beat until no lumps remain (or very few remain).

Pour into liners, filling each with 1/4 cup of batter. Bake 18-20 minutes, until a toothpick inserted into the center comes out clean. Transfer to a cooling rack and let cool completely.

For frosting, cream together margarine and cream cheese until just combined. Add confectioners' sugar 1/2 cup at a time, mixing each addition until smooth and creamy. Add vanilla and food coloring, and beat until fluffy and smooth. Keep tightly covered and refrigerated until ready to use, then pipe/spread onto fully cooled cupcakes.
Vegan Almond Cupcakes with Chocolate Cream Frosting

Makes 14-15 cupcakes (or 12 and plenty of tasties).

Ingredients
Cupcakes:
1 tablespoon cider vinegar
1 ½ cups plain soymilk
2 1/8 cups flour
2 teaspoon baking powder
½ teaspoon baking soda
½ teaspoon kosher salt
1 1/8 cups sugar
1/4 cup sliced almonds
1/4 cup almond paste (not marzipan)
½ cup canola oil
1 ¼ teaspoon vanilla extract
1 teaspoon almond extract

Chocolate Cream Frosting:
1/3 cup margarine (or butter), softened

1/3 cup tofutti (or regular) cream cheese, softened
½ cup cocoa powder
2 ½ cups confectioners' sugar
2 tablespoons plain/vanilla soymilk
1 teaspoon vanilla
1 teaspoon almond extract

Directions
Preheat the oven to 350º. Line 14 muffin cups with paper cupcake liners. Lightly spray liners and top of pan with cooking spray. This will prevent the tops of the cupcakes from sticking to the pan when they rise. Set aside.

Combined apple cider vinegar and soymilk in small bowl. Stir well and set aside (the mixture will curdle). Add oil and flavor extracts and stir.

In a food processor, chop almonds until finely ground. Add almond paste and 1/8 cup sugar and pulse until well incorporated.

In a large mixing bowl, stir together the flour, sugar, baking powder, baking soda, and salt. Add the curdled soymilk and almond mixtures to the dry ingredients and stir until smooth (try not to overmix it).

Fill each muffin cup with ¼ cup of batter. Bake for 15 to 20 minutes, or until tops are puffed and lightly golden and a toothpick inserted in the middle of a cupcake comes out clean.

Let cool in the pans for 5 minutes, then remove and place on a wire rack. Cool completely before frosting.

For frosting:
With electric mixer, beat margarine and cream cheese until fluffy. Add cocoa powder and soymilk and beat until combined. Add powdered sugar 1 cup at a time and continue to beat until all the sugar is incorporated. Add extracts. Beat on high speed for another 3-5 minutes, or until fluffy. Spread or pipe onto cupcakes.