Ugly, maybe, but good? Definitely! We found this recipe for Roasted Veggie Ravioli with Crispy Pancetta on Jaden's blog.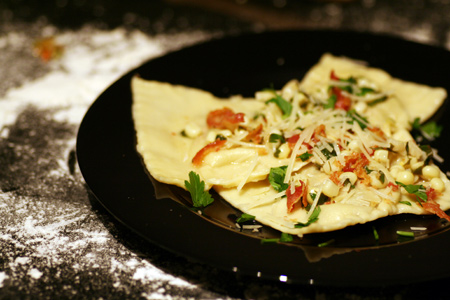 I tried (somewhat unsuccessfully) to capture the sheer scale of the mess I made while making this pasta. Homemade pasta is fun and delicious, but oh so messy. Which makes it even more fun in my opinion. :)
Our raviolis were ugly. I think we made them too big and they broke and had to be patched and weren't square by any means. Not nearly as nice-looking as Jaden's. But once you got beyond their looks, they really were quite delicious. The sauce is light and flavorful, which in our experience is hard to do in a pasta sauce.
Want to try your hand at these? Hopefully yours will be prettier than ours!
Check out the recipe here.