This was a delicious treat. Quicker, cheaper, and by all means healthier than takeout chinese. We will definitely be making this one again. It would also be good made with chicken, if you're the type that can never eat enough chicken. :)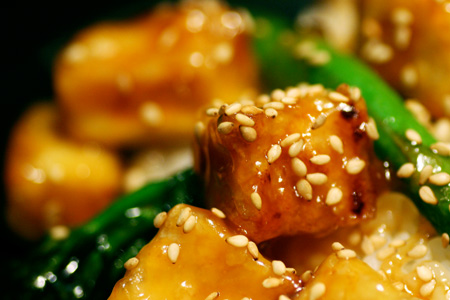 Better-Than-Takeout Sesame Tofu
Makes 3-4 servings.
Ingredients
1 package extra firm tofu
1 egg, lightly beaten
1/4 cup cornstarch
1/4 cup peanut or canola oil
sesame seeds
8 stalks broccolini

Sauce:
1/2 cup sugar
2 tablespoons cornstarch
3/4 cup water
1/8 cup rice vinegar
2 tablespoons soy sauce
2 tablespoons sesame oil
1 teaspoon chili paste
1 garlic clove, minced

Directions
Cut tofu into 1/2 thick slices. Place in a 9×13″ baking pan lined with a tea towel, top with another towel followed by another baking pan. Weight with something heavy (soup cans or something), and let press for 20-30 minutes. Cut into cubes.

Coat tofu cubes in egg, then toss in cornstarch until coated and dry. Shake off extra cornstarch.

Combine sauce ingredients in a small saucepan. Bring to a boil, and boil for 5 minutes, until thick.

While sauce is cooking, heat oil in large non-stick skillet or wok. Carefully place tofu in hot oil, spacing evenly so the pieces don't stick together. Cook (without touching!) for 3-5 minutes, or until golden brown on the bottom, and then carefully turn and cook other side. Continue to turn until cubes are golden on a few sides. Remove to a paper-towel lined plate.

Wipe out tofu pan and heat a drizzle of oil. Sauté broccolini, turning once, for about 2-4 minutes or until bright green and tender. Remove from heat. Return tofu cubes to pan, and pour over sauce. Stir until well coated. Serve with jasmine rice and sprinkled with lightly toasted sesame seeds.