I know you're thinking, sweet potato and avocado? What? But yes, they do go together and quite well I might add! We have typically made these regularly between two slices of nice crusty wheat bread, but tonight we'd though we'd break out the panini maker. The result? Just as delicious! (You know when you get a new toy and it becomes your new favorite thing for the next day/week/month? That's the panini maker. Makes a darn good sandwich!)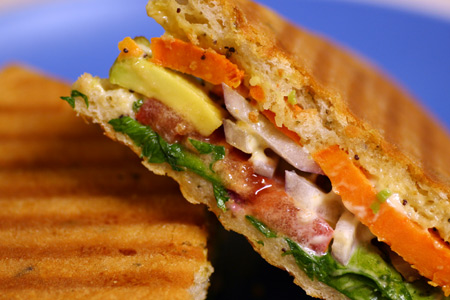 Sweet Potato and Avocado Sandwiches

The dressing is key to these sandwiches. I'm not a mustard fan but honey mustard is a whole other story. The recipe originally called for boiled sweet potatoes; we found them bland, so we brushed them with oil and honey and oven-roasted them. Delish. Not to mention good for you too.
Ingredients
1 sweet potato, peeled and cut into 1/2-inch-thick slices
1 tbsp plus 2 tsp honey mustard
1 tbsp light mayonnaise
1/4 tsp poppy seeds
4 slices whole wheat bread
4 red onion slices, cut 1/8-inch thick
1/2 avocado cut into 1/4-inch-thick slices
4 tomato slices, cut 1/4-inch thick
1/4 cup shredded Monterey Jack cheese (optional)
1/2 cup baby lettuce or herb salad mix

Directions
Toss sweet potato slices in a few tablespoons each of olive oil and honey. Season with salt and pepper to taste. Cook slices in oven until tender, about 15 minutes, flipping slices half way through.

Whisk together honey mustard, mayonnaise, and poppy seeds in a small bowl.

To construct the sandwiches, first spread half the poppy seed mixture on 2 of the bread slices, then place half of the onion, avocado, and tomato slices on top of each slice; sprinkle lightly with salt and pepper. Add a layer of sweet potato slices, cheese and lettuce. Top with remaining bread. Slice each sandwich in half, securing each half with a toothpick. Serve with sliced dill pickles and a handful of baked chips.