The roasting gives the veggies in this dish a wonderful rich flavor, not to mention beautiful with all the gorgeous colors. And couscous is a nice change from rice and pasta all the time. It also makes for great (and lots of) leftovers, which I am very much looking forward to tomorrow. :)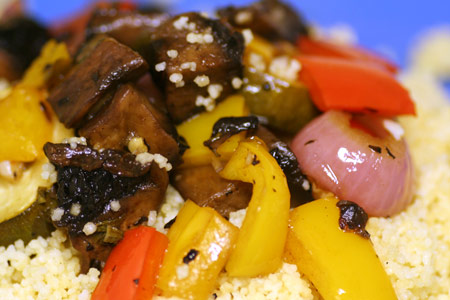 Basil Roasted Veggies & Couscous

Feel free to roast whatever veggies you like best, or whatever is in season at the time. This would also be good on the side dish of a nice roasted chicken.
Makes 4-6 servings.
Ingredients
2 Tbs minced fresh basil
2 Tbs balsamic vinegar
1 Tbs extra virgin olive oil
1/4 tsp salt
2 garlic gloves, crushed
2 medium zucchini, cut into 1" slices
1 medium red bell pepper, cut into 1" pieces
1 medium yellow pepper, cut into 1" pieces
1 medium red onion, cut into 8 wedges
1 (8oz) package mushrooms
3 cups hot cooked couscous
3 oz. basil-flavored goat cheese, crumbled (optional)

Directions
Preheat oven to 425ËšF.

Combine basil, vinegar, oil, salt, and garlic in large bowl. Stir well. Add vegetables and toss well to coat. Arrange vegetables in a single layer in a shallow roasting pan. bake for 35 minutes or until tender and browned, stirring occasionally.

Spoon roasted vegetables over couscous and top with cheese. Sprinkle with pepper. Garnish with fresh basic sprigs, if desired.