When you think of "pot pies" you probably think of something savory, with colorful vegetables and chunks of meat swimming in a thick and hearty gravy. And that's all fine and dandy, until you get to dessert. There's no reason that a pot pie can't be sweet, and with that in mind I'd like to propose a 'rebranding' of pot pie to include just as much sweet as savory.
In this case, the 'pot' in pot pie refers to a single-serving ramekin in which a pie filling is baked. I particularly like these KitchenAid® ceramic ramekins, which are oven safe, perfect single-portion size, and even come in a cheery red to color-coordinate with the filling (I love color-coordinated dessert!)
Plus, did I mention they are single-portion size so you don't have to share? Everyone gets their own adorable little pie.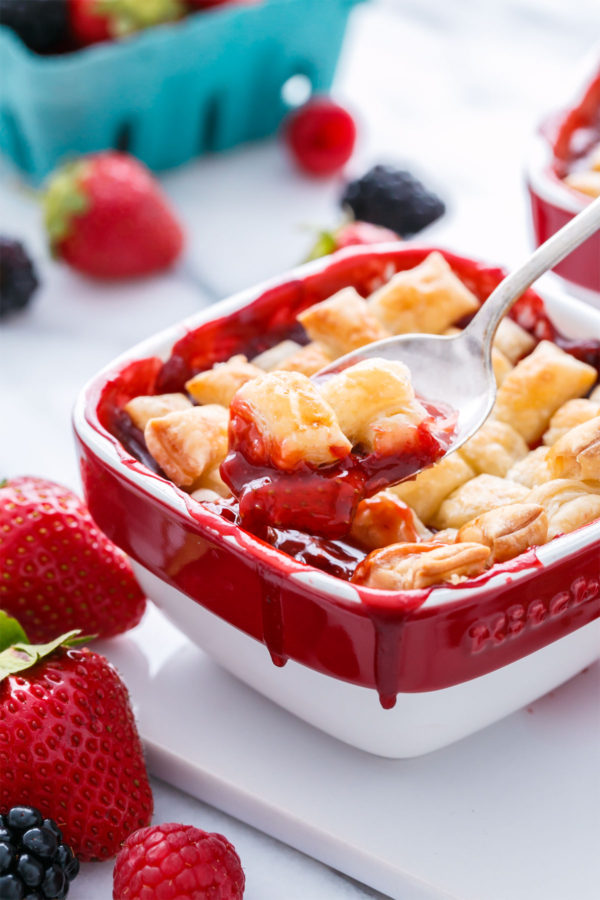 A mix of strawberries, raspberries, and blackberries makes for a well-rounded berry flavor, but know that this recipe is incredibly flexible, and as long as you use 20 ounces of berries in total, you can use any combination of berries you like. You can also substitute frozen berries if fresh are out of season, but if your farmers' markets are anything like ours this time of year, fresh berries are bursting with abundance. Take advantage of it while you can!
Flaky pastry, warm triple berry filling: what more could you want? Ok, maybe a generous scoop of homemade vanilla bean ice cream. In my mind, no fruit pie is complete without a scoop of cool, creamy ice cream.
Get the full recipe and instructions on the Kitchenthusiast blog »
Mixed Berry Pot Pies
Single-serving mixed berry pies made with strawberries, blackberries, and raspberries are baked in mini ramekins and topped with a flaky puff-pastry crust.
Ingredients:
1 sheet frozen puff pastry, thawed
12 ounces strawberries, hulled and cut into 1-inch pieces (2 cups chopped)
4 ounces (1 cup) raspberries
4 ounces (1 cup) blackberries
1 tablespoon lemon juice
1/4 cup granulated sugar
1/3 cup muscovado or dark brown sugar
2 tablespoons cornstarch
1 1/2 tablespoons all-purpose flour
pinch salt
1 egg
coarse or turbinado sugar, for sprinkling
butter, for greasing ramekins
Directions:
Preheat oven to 400ºF. Line a baking sheet with parchment paper. Lightly butter 4 (8 oz) ramekins and set aside.
In a small bowl, whisk together sugar, muscovado or brown sugar, cornstarch, flour, and salt until evenly incorporated and set aside.
Roll out puff pastry on a lightly floured surface until creases are smooth and pastry is slightly larger than it originally was. Cut into pieces the same shape and slightly smaller than the rims of your ramekins, or, for a lattice crust, use a rotary cutter to cut puff pastry into quarters, then cut quarters into 1/2-inch strips of pastry and weave into a 5-by-5-strip woven piece; trim edges. Arrange puff pastry pieces on prepared baking sheet and freeze for 10 to 15 minutes.
Did you make this recipe?
Let us know what you think!
Leave a Comment below or share a photo and tag me on Instagram with the hashtag #loveandoliveoil.
This recipe was created in partnership with KitchenAid®. All opinions are my own. This post contains affiliate links.