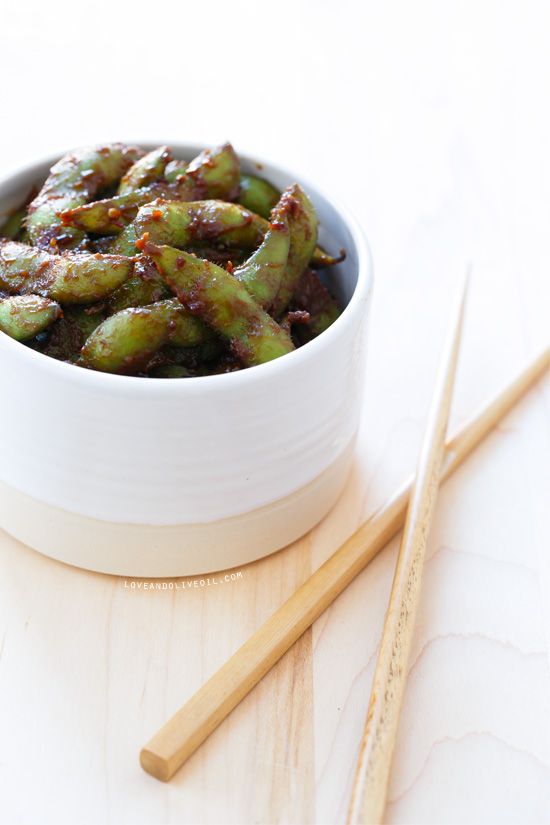 One of my favorite parts about going out to a Japanese restaurant is the heaping bowl of steamed edamame that we'll more often than not order to start our meal. Tender-crisp and lightly salted, steamed edamame is a perfect palate-cleansing starter.
It is rare that you see a variation on that classic steamed edamame, however. Restaurants seem content with it as is, tender and lightly salted, and, while delicious, it shows a surprising lack of creativity. It's a great palate-cleansing starter, I'll admit, and a dish we order regularly, but it's never something to get excited about.
Until now.
This recipe was inspired by a dish served at Two Ten Jack, a local Nashville ramen house. It's really one of our favorite restaurants lately, and this edamame is perhaps our favorite thing on the menu (excepting the ramen, of course, that I won't even attempt to recreate).
Coated with a sweet, sticky, and spicy sauce made from red miso, it takes the idea of starting your meal with steamed edamame to a whole new level. Sufficiently salty like plain steamed edamame, but that is where the similarities end. Talk about a flavor explosion.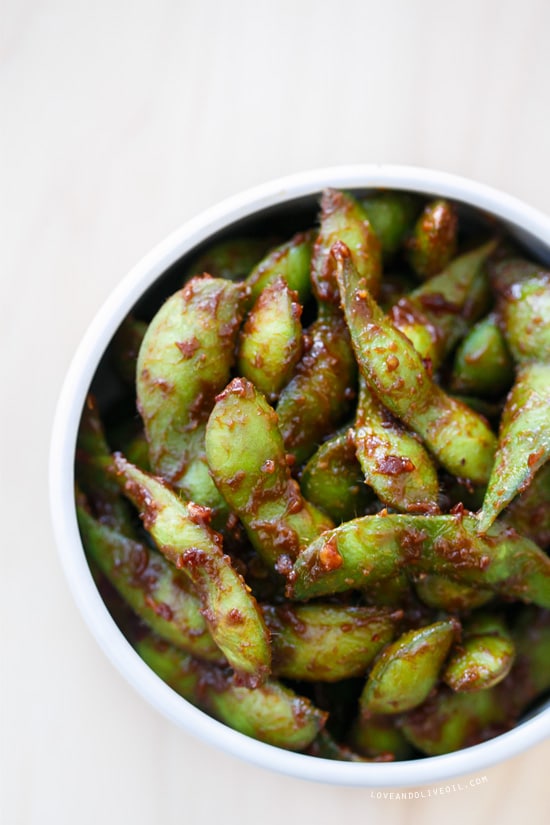 During our last visit to the restaurant, I was able to canoodle the ingredients in the sauce out of the waitress, and shortly thereafter set about recreating it at home. And after a few tries tweaking and perfection the proportions, it's pretty spot on. I added a bit of brown sugar to match the sweetness of the restaurant version, even though she didn't technically say there was any in there.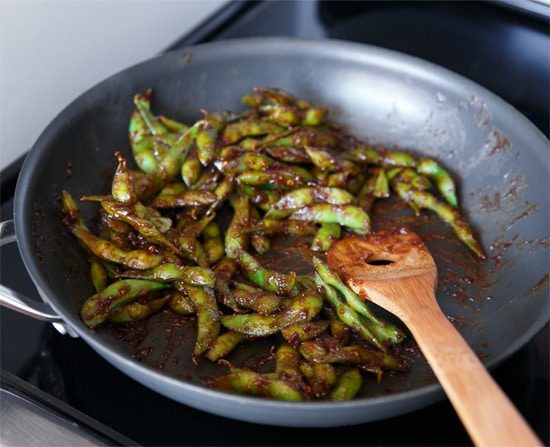 The sauce is made up of 5 things: red miso paste (fermented soy), soy sauce, sake (rice liquor or wine), sambal or sambal oelek (a spicy red chili paste), and mirin (a sweet rice wine). All of which you should be able to find at Asian food stores or any market with a good international food selection (like Whole Foods), and also online. Miso paste comes in different color varieties; the mildest, white and yellow miso, form the base of traditional Japanese dishes like miso soup. The red variety that I've used in this recipe has a richer, more intense flavor.
You can increase the amount of Sambal chili paste to your liking: the 2 teaspoons listed will give you a pleasantly spicy kick, but add more or less depending on your personal tastes. Just know that if you taste the sauce on its own, it is WAY more intense than it will be spread out over the edamame. Like, unbearably salty and intensely flavored (I don't recommend it). I suggest making it once, and then adjusting the spice level for the next time.
You can also double or oven triple the sauce recipe to make the purchase of these specialty ingredients worthwhile (I know I hate it when a recipe has me buy a bottle of something only to use 1 1/2 teaspoons of it). So it's easy enough to make a big batch of the sauce, using up all your special ingredients, and then divide it into serving-size portions and freeze in zip-top bags. When you want to use it, simply thaw the sauce overnight in the fridge (or quickly in some warm water) and in a matter of minutes you'll have a fresh batch of spicy miso edamame to snack on.
I could also see this sauce being used on other vegetables, or even meat or fish, for a spicy Asian kick.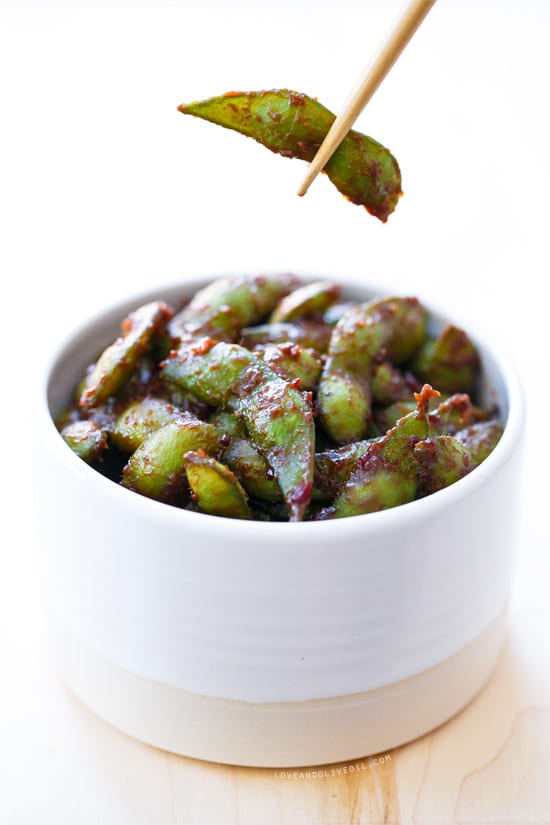 If we have any edamame-newbs among us, don't want to eat the entire pods, which have an unpleasantly tough and fibrous texture. Rather, squeeze the tender beans out of the pod with your teeth, tasting all the amazing flavor stuck to the outside while you're at it. Serve your edamame alongside a second empty bowl to discard the used pods.
Spicy Miso Edamame
Ingredients:
12 ounces frozen edamame in shells
3 tablespoons red miso
1 tablespoon sambal oelek chili paste (or to taste)
2 teaspoons sake
1 1/2 teaspoons soy sauce
1 1/2 teaspoons mirin
1/2 teaspoon brown sugar
1/2 teaspoon sesame oil
Directions:
Bring a pot of salted water to a boil. Cook frozen edamame according to package directions until tender but not overcooked (I find about 45-60 seconds less than the lower end of the time range instructed on the package produces perfectly cooked edamame to my tastes).
Meanwhile, whisk together miso, sambal, sake, soy sauce, mirin, and brown sugar until smooth.
Heat sesame oil in a skillet or wok over medium-high heat. Add miso mixture and whisk until heated through. Add cooked edamame and toss to coat. Remove from heat and transfer to serving bowl; serve warm.
Did you make this recipe?
Let us know what you think!
Leave a Comment below or share a photo and tag me on Instagram with the hashtag #loveandoliveoil.