Thanks to all y'all's input on our art dilemma, we finally made a decision and went with Option 1. The combination of print and pattern and color turned out to be simply perfect.
And as great as the art looked in my mockup, it looks even better in person.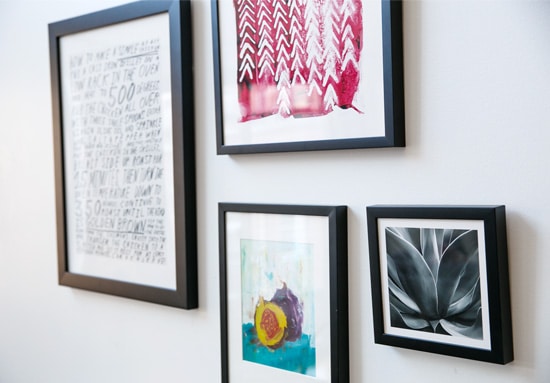 It feels so good to have some art on the walls again, like someone actually lives here now and didn't just move in days before. And we couldn't be happier with our choices!
I realized it'd been years since I'd shared any home pictures, and the ones I had were seriously outdated. Our under-the-spiral-stair storage was still a flimsy little metal thing from the second hand store (we've since built a custom shelving unit with light wood and metal rods, see it in the kitchen photo below), nor had we installed our semi-built-in storage that spans the living room wall. Really, the only things that haven't changed in the 7 years that we've lived here are the pot rack, the lime green mixer, and the Hatch Showprint posters on the wall.
Oh, and Kalypso. She's still as chubby as ever.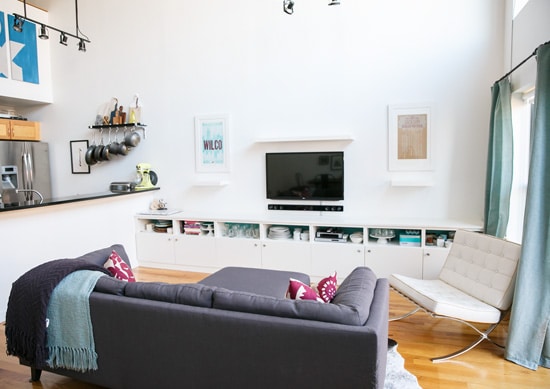 The living room built-ins (which is actually an IKEA Besta base to which we added a new top and base pieces to make it look more built-in) were the only way I could imagine to fit all my props into our limited space.
But what do I do now that it's full?
Oops.
And no, we didn't forget to 'stage' those floating shelves above the TV. The only decorative objects that grace those shelves are of the furry variety. Anything else that happens to be sitting there will be promptly relocated to the floor.
These cats. They run our lives, I tell you.
Our kitchen. While we're thankful for ample counterspace, the cabinet space is severely limited. Hence the need for all the extra storage.
We're toying with the idea of painting the cabinets. Light gray, perhaps? I'd love white, but seeing as how much white we've already got going on I think it might be a bit excessive. What do you think? My dream would also be to replace the counters with a single level (no more raised bar) and a matte-finish countertop. I'm sick of this shiny stuff.
The faux-hide rug is our newest addition, replacing the old multi-colored Flor tiles we had there before. Dare I say our taste is maturing? The rug, anyhow, was so opposite of our typical style that I almost didn't get it. But after some rotating and careful placement under the gray sofa, it's starting to grow on us. I love how the organic shape breaks up all of the squares in the room (our old rug was ALL squares, I was longing for some curves!)
A new sofa is probably on the horizon, as what these photos don't show (hello clever blanket placement) is the number our cats have done to the back corners of the sofa.
Here's a million dollar idea for you: a sofa with refillable cat scratchers embedded into the corners. Then they can scratch to their heart's content and when it gets gross and stringy, you just pop in a fresh post.
Brilliant, I tell you!
I wasn't kidding when I said we were going to make that chicken recipe (I mean, if it's on your wall you better as heck be able to vouch for it). It was our Christmas dinner, in fact! While the recipe is lacking a few key details (artistic license, ahem), I've filled them in for you below.
I loved cooking the chicken in the cast-iron skillet, so much more manageable than a giant roasting pan (save that one for the turkeys). Why didn't I think of that before?
Perfect Roasted Chicken
Ingredients:
1 whole chicken
3 tablespoons extra virgin olive oil
salt and freshly ground black pepper
Directions:
Preheat to 500 degrees F. Place a 10 or 12-inch cast iron skillet on a rack positioned in the lower third of your oven until hot.
Rub the chiken all over with olive oil, then sprinkle generously with salt and pepper.
Carefully place the chicken, breast side up, in the hot skillet and return to oven. Roast for 15 minutes, then reduce oven temperature to 350 degrees F. Continue to roast until chicken is golden brown, and a thermometer inserted in the thickest part of the thigh registers 165 degrees F (ours took about another 45 minutes for a 6 pound bird; depending on the size of your chicken, I'd recommend checking the temperature after about 30 minutes to see where you're at).
Transfer the chicken to a platter, tipping the chicken to let the juices flow out into the pan before moving it. Let rest for at least 15 minutes before carving and serving.
Did you make this recipe?
Let us know what you think!
Leave a Comment below or share a photo and tag me on Instagram with the hashtag #loveandoliveoil.
I have to say, getting a box with your art already framed and ready to hang on the wall is downright convenient. Custom framing is complicated and expensive and just a hassle overall.