Fish sticks are kind of my guilty pleasure, my go-to frozen snack when Taylor is out of town.
He thinks they are gross. Especially when I dip them in mayonnaise.
Perhaps I made a mistake when I married him…
Regardless, a homemade version of my frozen box favorite was something even he could get behind. Much like my baked panko chicken tenders, this fish version is quick and crunchy, everything a fish stick should be.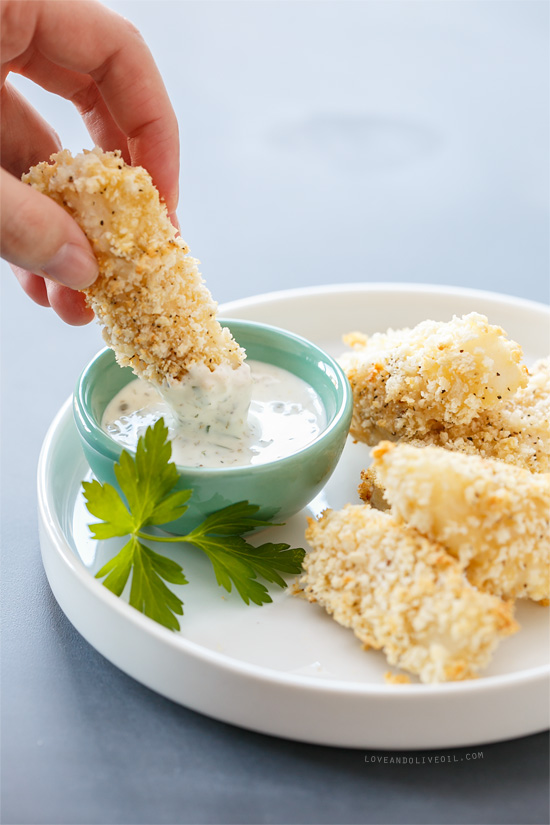 We whipped up a dipping sauce with lemon, capers, and parsley. Like a fancy tartar sauce, if you will. It's the perfect compliment to the rich, buttery fish.
But let's talk fish for a moment. Most fish sticks are probably made of cod, and if you can get some good cod, go for it. We have, however, found cod, much like the more expensive halibut, to be almost too flaky. It will work if you are very gentle, but these varieties of fish tend to fall apart with the lightest breeze. It only works here because these are baked; frying would be a severely frustrating experience.
Ask your fishmonger for a firm, white fish. We liked the Turbot best, but the seafood guru at Whole Foods also said that Porgy would work well too (they happened to be out that day though). You want a nice even filet, maybe 3/4 to 1-inch thick, that you can easily cut crosswise into 1-inch strips (your sticks should ideally be the same thickness as they are wide) about 2 to 3 inches long. If your fish is particularly problematic, there's nothing wrong with making fish bites instead of sticks, as the smaller pieces would be easier to work with.
That's some fishy geometry for you, right there.
Baked Panko Fish Sticks with Lemon-Caper Mayonnaise
Ingredients:
1 1/2 pounds firm, white fish filets
2 large eggs
1/2 cup all-purpose flour
2 cups panko bread crumbs
1/2 teaspoon each salt and pepper
For Mayonnaise:
1/2 cup mayonnaise
2 tablespoons capers, drained and finely chopped
2 tablespoons lemon juice
2 tablespoons finely chopped fresh parsley
2 teaspoons finely grated lemon zest
1/4 teaspoon freshly ground black pepper
Directions:
Preheat oven to 450 degrees F. Line a baking sheet with aluminum foil, and place an oven-proof baking rack inside. Spray with cooking spray.
Using a sharp knife, carefully cut the fish filets across the grain into 1-inch-wide strips. Place flour in one bowl, whisk the eggs in another, and combine the panko breadcrumbs with salt and pepper in a third.
Dredge each piece of fish in the flour, tapping off any excess, then submerge in the egg, and finally press into breadcrumb mixture until completely coated. Arrange on prepared baking sheet so that none of the pieces are touching.
Bake for 10 to 15 minutes (depending on the thickness of your fish), flipping once part-way through baking, until breadcrumbs are golden brown and fish is opaque in the middle.
While fish is baking, prepare dipping sauce by combining mayonnaise, capers, parsley, lemon juice, lemon zest, and pepper and serve alongside fish sticks.
Did you make this recipe?
Let us know what you think!
Leave a Comment below or share a photo and tag me on Instagram with the hashtag #loveandoliveoil.