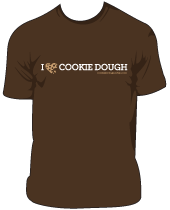 Put your heart on your sleeve, er, chest. Show your undying love for cookie dough with an I (Heart) Cookie Dough T-Shirt, now available for pre-order in the L&OO Shop! Only $19.50, shipped. Printed on soft chocolate brown Alternative Apparel tees with eco-friendly inks, shirts are available in men's and women's styles.
Pre-orders will be accepted through next Wednesday, with expected delivery around May 18th. I'm happy to ship these shirts worldwide, so if you're outside the US and wanting to order, please email me for a shipping estimate.
Also coming soon to the shop: AUTOGRAPHED copies of The Cookie Dough Lover's Cookbook! Stay tuned!
Some folks have been asking if I'll be doing a book tour. The short answer is, no, unfortunately. We will be planning a few events including a signing and demo here in Nashville (mark your calendars for June 16th!) as well as another tentative event in Aspen, Colorado the following week.
June 5th is rapidly approaching… 39 days and counting!