I'm surprised that this is the first quesadilla I've ever posted here. It may be the fact that it's not a common occurrence here, and especially wasn't so during the time I was (mostly) cheese free.
Quesadillas can often teeter on the greasy side. Too much cheese and too much oil is probably the quickest way to get me feeling not so great, and perhaps I've had one too many of those experiences to view quesadillas as a regular dinner option.
But after these quesadillas, that all might change. A true rainbow of flavors. Spicy, but not too spicy. Cheesy, but not overly. And with a cranberry salsa that adds a lovely sharp accent to the rich melty cheese. Wonderful, decadent, melty cheese.
Funny how your grocery bill skyrockets when you start eating cheese again. Oops.
Quesadillas with Onion-Cranberry Salsa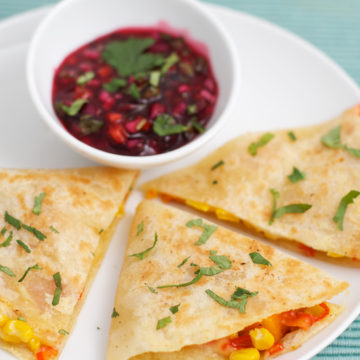 Ingredients:
Onion-Cranberry Salsa
1 1/2 cups finely chopped onion
1 Tbs. sugar
3 Tbs. fresh lime juice (1 lime)
2 Tbs. orange juice
1 to 2 Tbs. red wine vinegar
1/2 cup finely chopped red bell pepper
2 Tbs. chopped fresh flat-leaf parsley
1 cup canned whole berry cranberry sauce
1 Tbs. vegetable oil
1 medium green bell pepper, cut into long strips
1 cup frozen corn kernels
1 cup peeled winter squash (cut in 3/4-inch cubes), such as acorn or kabocha
1 tsp. cumin
1 tsp. chili powder
4 flour tortillas
2 cups grated Monterey Jack cheese
Directions:
Make salsa: In medium bowl, mix onion, sugar and 1/2 teaspoon salt. Let stand 15 minutes. Add remaining salsa ingredients and mix well. Cover and refrigerate until using.
In medium skillet, heat oil over medium heat. Add bell pepper, corn, squash and salt and freshly ground pepper to taste. Cover and cook over medium-low heat until squash is almost tender, about 7 minutes. Stir in cumin and chili powder. Cook, stirring occasionally, until heated through, about 5 minutes. Remove from heat.
To assemble quesadillas, lightly coat large skillet with cooking spray. Place 1 tortilla in pan and heat about 30 seconds each side. Spread about one-third warm vegetable mixture over half the tortilla. Sprinkle with some cheese. Fold tortilla in half to enclose filling. Cook quesadilla until cheese is melted, about 1 minute each side. Slide quesadilla onto cutting board and cut into wedges. Repeat process to make remaining quesadillas. Serve with salsa on the side.
Did you make this recipe?
Let us know what you think!
Leave a Comment below or share a photo and tag me on Instagram with the hashtag #loveandoliveoil.