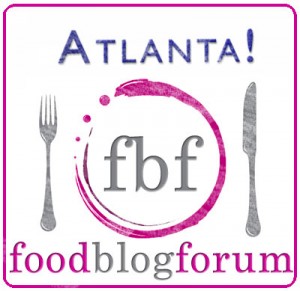 I've always been jealous of the big city, coast to coast, food blogging event extravaganzas. There are events in New York, events on the west coast in San Francisco and Seattle, even events way down south in Texas. But for those of us stuck in the middle, it's a long way and a lot of travel to get to any of them.
Which is why I was so excited when Food Blog Forum (a great resource for food bloggers in and of itself) announced their next forum event in Atlanta. Which is a totally doable drive from Nashville.
The September 11th event is a one-day seminar, full of great technology, branding and food photography information and fun networking for food bloggers, not to mention what promises to be a pretty awesome after party. Needless to say I'm very excited about attending.
For those of you in the area or within driving distance, you should totally come! I'm very excited to finally start putting some faces to names and avatars. For more information, a full schedule, and registration information, please visit the event page at Eventbrite.