There were some truly delicious goodies at the Sweet Relief bake sale a few weeks back (which, by the way, ended up raising $1000 for flood relief! Go us!) Taylor and I, as much as we wanted to take one of everything home, wound up purchasing just a few treats to enjoy later. One of those treats was a bag of these cookies, aptly called Midnights because they are so gosh darn dark. I have to say, as soon as I ate one, I knew I had to ask Kristin to share her recipe. I did. And she obliged. And for that we should all thank her.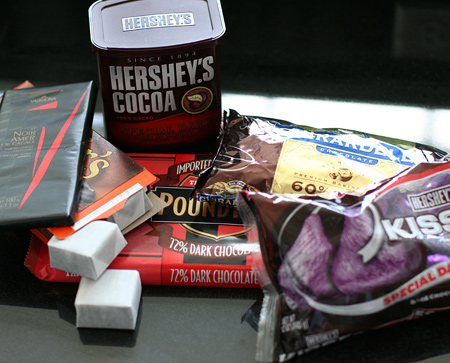 Because these cookies, folks, are ridiculous. For a batch of 4 dozen, it used nearly 40 ounces of chocolate. Five different kinds of chocolate, to be precise. All melted and mixed together with a measly 3/4 cup of flour. The result is practically a hunk of chocolate. With chocolate chips mixed in. And a nice big chocolate kiss on top.
These cookies are not for the faint of heart. Kristin basically told me she's done everything she can to make these cookies darker. Brown sugar? Try dark brown sugar. Semisweet chips? Bittersweet is better. Special dark cocoa powder and special dark kisses, paired with the darkest dark chocolate you can find. There is a reason why they are called midnights and not dusks or early evenings.
Just be sure you have a tall glass of something (water, milk, or otherwise) to wash it all down… you're going to need it.
Midnight Chocolate Cookies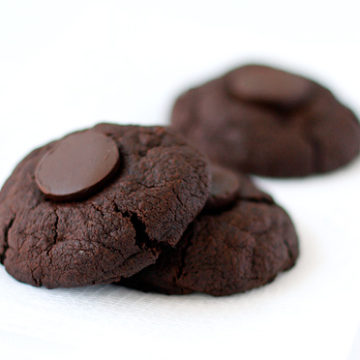 Ingredients:
10 ounces bittersweet chocolate, broken into chunks
6 ounces unsweetened chocolate, coarsely chopped
3/4 cup all-purpose flour
3/4 cup special dark cocoa powder
1 1/4 tsp. salt
1 1/4 tsp. baking soda
2 sticks unsalted butter, at room temperature
1 2/3 cups dark brown sugar
2 eggs
1 tsp. vanilla
2 tsp. espresso powder
10 ounces bittersweet chocolate chips
1 bag Hershey's Special Dark kisses
Directions:
In small saucepan over very low heat, melt together bittersweet and unsweetened chocolate, stirring frequently until almost melted through. Remove from heat and keep stirring until fully melted and smooth. Set aside.
In a small bowl, combine flour, cocoa powder, salt and baking soda. Set aside.
Using an electric mixer on medium speed, cream butter and brown sugar. Beat in eggs one at a time, scraping down sides of bowl as needed. Add vanilla, espresso powder and melted chocolate, mixing until evenly incorporated. Reduce mixer speed to low and add flour mixture. Stir in chocolate chips. Cover bowl and refrigerate until dough is firm but pliable, about 15-20 minutes.
Preheat over to 350 degrees F. Line baking sheets with parchment paper or a silicon mat. Drop dough by tablespoonfuls onto the baking sheets. Bake 9-10 minutes, or until cookies appear set. Remove from oven and immediately press a kiss point-down into the top of each cookie. Let rest on baking sheets for at least 5 minutes, or until cookies are no longer crumbly. Transfer to wire racks and cool completely.
Did you make this recipe?
Let us know what you think!
Leave a Comment below or share a photo and tag me on Instagram with the hashtag #loveandoliveoil.