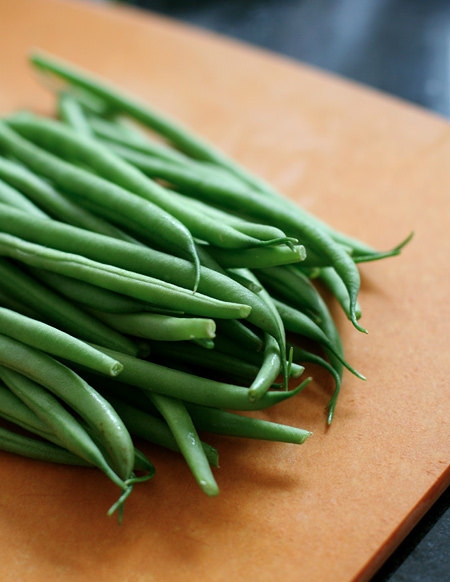 God forbid you don't have something green on the plate at Thanksgiving… you just might go on a brown and tan overload. We like to stick to the traditional green bean, though not in the traditional form of a can-of-soup-and-onion-string casserole (something that has never appealed to me). This year we were able to pick up a bag of beautiful fresh haricots verts (pronounced harry-co-vair, or something, it's french, you figure it out) Delicately thin and more tender than standard green beans, they cook in an instant and disappear off the plate even faster, though you could easily substitute standard green beans as well.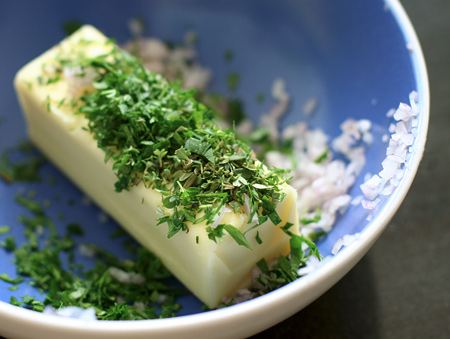 This recipe couldn't be more simple. You can literally put it together in 2 minutes prior to eating. The compound herb butter can be made days in advance and refrigerated, then you simply toss the warm steamed beans with a few pats of it prior to serving. Simple and delicious. And since you've probably got your work cut out for you with everything else on Thanksgiving day, having one recipe that requires virtually no thought or effort whatsoever really helps.
(And this is the LAST Thanksgiving post until next year, I promise!)
Haricots Verts with Herb Butter
Ingredients:
5 tablespoons unsalted butter, softened
3 tablespoons finely chopped shallots
3 tablespoons finely chopped flat-leaf parsley
2 teaspoons finely chopped thyme
1 1/2 teaspoons grated lemon zest
1 tablespoon fresh lemon juice
2 lb haricots verts or thin green beans, trimmed
Directions:
Stir together all ingredients except haricots verts with 3/4 teaspoon salt and 1/4 teaspoon pepper in a large bowl until combined well.
Cook beans in a large pot of boiling salted water (1 tablespoon salt for 6 quarts water), uncovered, until crisp-tender, about 6 minutes (alternatively, place beans in a microwave safe covered dish with a 1/2 cup of water. Cover and nuke for 2-3 minutes or until bright green and just tender). Drain. Toss with herb butter.
Did you make this recipe?
Let us know what you think!
Leave a Comment below or share a photo and tag me on Instagram with the hashtag #loveandoliveoil.