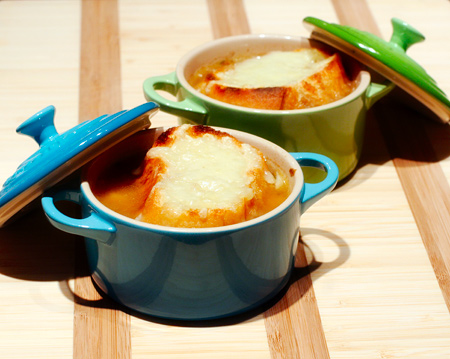 A rare indulgence… Taylor decided he wanted to make French Onion Soup, with all it's rich cheesy goodness. And yes, that cheesy goodness was indeed delicious.
Topped with crusty bread and broiled until the cheese is melted and bubbly, this soup is perfect when you really just want to sit back and savor something warm and satisfying.
I also have to comment on the adorable serving vessels… perfect mini-replicas of our beloved Le Creuset, and in the exact colors to match our rainbow kitchen appliances. A gift from Auntie Sal… we've been waiting for the perfect dish to use these, and I think we've found it!
French Onion Soup with Thyme and Gruyère Crostini
Ingredients:
1 pound yellow onions, halved and thinly cut lengthwise
3 to 5 sprigs of fresh thyme
1 bay leaf
1/4 teaspoon sea salt
Fresh cracked pepper
1 teaspoon all-purpose flour
1/2 cup dry white wine
2 cups beef stock
1 cup water
1 1/2-inch-thick slice of ciabatta bread cut in half
2 tablespoons unsalted butter
1 1/2 cups grated Swiss Gruyère cheese
Directions:
In a heavy 5-quart pot melt the butter over low heat. Add the onions, thyme, bay leaf, and salt and pepper to taste and cook until the onions are deep amber and exceedingly soft, stirring occasionally, 25 to 30 minutes. Add the flour and cook for 1 to 2 minutes, then add the wine, increase the heat, and let the wine bubble away for 2 to 3 minutes. Add the beef stock and water, and let the soup simmer for 25 to 30 minutes, allowing the flavors to meld together. Season with salt and pepper to taste.
Preheat the oven to broil. Arrange a rack in the middle of the oven.
Place the ciabatta on the middle rack of the oven and toast until crispy, about 2 to 3 minutes per side.
Remove the bay leaf and thyme sprigs from the soup and discard. Pour the soup into two ovenproof bowls, float the toasted ciabatta on top, and cover it with a thick layer of the Gruyère. Put the soup bowls under the broiler on the middle rack and cook 3 to 5 minutes, or until the cheese is fully melted and golden.
Did you make this recipe?
Let us know what you think!
Leave a Comment below or share a photo and tag me on Instagram with the hashtag #loveandoliveoil.