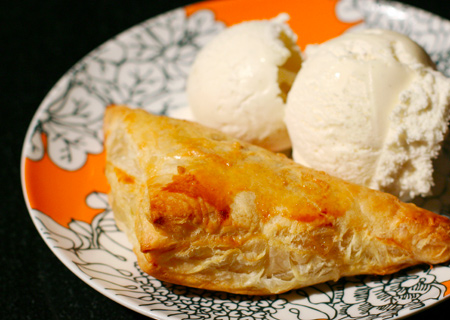 I've done battle with the puff pastry. Not sure if I can claim victory or not, but these were a nice refreshing dessert (if one needs a retreat from chocolate, if that's even possible, these are a good option). We added a bit of cinnamon to the recipe, I think it needed it, and next time might substitute brown sugar for white. Doing so probably makes these less french, but oh well.
We made half the recipe, which gave us enough puff pastry for 4 turnovers, but probably enough filling for 6 or more. So the recipe is a little 'off' in that regard. Though I do have to say that the filling is plenty delicious on it's own, almost like a rustic applesauce, eaten with some vanilla ice cream, you don't really even need the puff pastry part!
French Apple Turnovers
Ingredients:
Filling:
3/4 pound Granny Smith apples
3/4 pound Golden Delicious apples
1/4 cup water
3 tablespoons white or brown sugar
3/4 teaspoon fresh lemon juice
1/2 teaspoon cinnamon
For pastry:
1 14- to 16-ounce package all-butter frozen puff pastry (1 or 2 sheets, depending on brand), thawed
1 egg, beaten to blend (for glaze)
Superfine sugar (optional)
Directions:
For filling:
Peel, core, and cut apples into 1-inch pieces (about 4 cups). Place apples in medium saucepan; add 1/4 cup water, 3 tablespoons sugar, and lemon juice. Bring to boil, stirring occasionally until sugar dissolves. Cover; reduce heat to medium-low and simmer until apples are very tender, stirring frequently, about 12 minutes. Remove from heat. Gently mash apples with fork or potato masher until mixture is very soft but still chunky. Cool completely. DO AHEAD: Filling can be made 2 days ahead. Cover and refrigerate.
Position 1 rack in top third and 1 rack in bottom third of oven and preheat to 400 degrees F. Line 2 baking sheets with parchment paper.
For pastry:
If using 14-ounce package (1 sheet), roll out pastry on lightly floured surface to 15-inch square. If using 16-ounce package (2 sheets), stack sheets together and roll out on lightly floured surface to 15-inch square. Cut pastry into nine 5-inch squares. Place 1 generous tablespoon filling in center of each of 8 squares (reserve remaining square for another use). Lightly brush edges of 1 pastry with beaten egg. Fold half of pastry square over filling, forming triangle. Press and pinch pastry edges with fingertips to seal tightly. Lightly brush pastry with beaten egg. Sprinkle lightly with superfine sugar, if desired. Repeat with remaining squares. Using thin, sharp knife, make 3 small slits on top of each triangle to allow steam to escape. Place triangles on prepared baking sheets. Refrigerate until firm, about 15 minutes.
Bake turnovers until beginning to color, about 15 minutes. Reverse baking sheets from top to bottom. Reduce oven temperature to 350 degrees F; continue baking until turnovers are firm and golden, 10 to 15 minutes longer. Cool at least 15 minutes before serving. Serve warm or at room temperature.
Did you make this recipe?
Let us know what you think!
Leave a Comment below or share a photo and tag me on Instagram with the hashtag #loveandoliveoil.