This was a decent salmon recipe, not the best, but easy and flavorful. I don't think we let our soy sauce reduce enough, it may have been a little 'stickier' had we done so, but the combination of honey and the soy sauce was quite delightful. If you taste it on its own it seems overly sweet/sour/salty (yes, all at once!) but paired with the salmon it's just right.
You also might want to triple the sauce recipe… it really doesn't make nearly enough!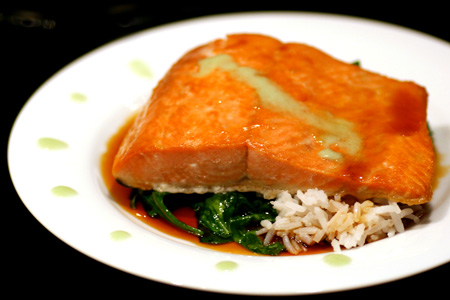 Salmon with Soy-Honey Glaze and Wasabi
Makes 4 servings. Recipe from Epicurious.
Ingredients
For salmon
1/2 cup mirin (Japanese sweet rice wine)
2 tablespoons soy sauce
1/4 cup rice vinegar (not seasoned)
1 tablespoon finely grated peeled fresh ginger
4 (6-oz) pieces salmon fillet

For sauces
2 tablespoons soy sauce
1/4 cup honey
1 tablespoon fresh lime juice
2 teaspoons wasabi powder
1 tablespoon water

Directions
Marinate salmon:, Stir together mirin, soy sauce, vinegar, and ginger in a shallow dish. Add fish, skin sides up, and marinate, covered, at room temperature 10 minutes.

Preheat broiler.

Make sauces: Boil soy sauce, honey, and lime juice in a small saucepan, stirring frequently, until thickened, about 4 minutes.

Stir together wasabi powder and water in a small bowl.

Broil fish, skin sides down, on oiled rack of a broiler pan 5 to 7 inches from heat until fish is just cooked through, about 6 minutes.

Serve salmon drizzled with sauces.