We had found a recipe for mushroom ravioli, but once we found out the filling was nothing more than sautéed mushrooms we were slightly disappointed. So we took it up a notch, and added our own touch using leftover ingredients in our fridge.
Let me just say, if you're looking to indulge, or looking to impressive some important dinner guests, this is the way to do it. And it's really not hard or time consuming at all. Granted, you could make your own pasta, but why bother when wonton wrappers work just as well.
Next time, because our hearts can't take browned butter and hazelnut sauce every night of the week (boy, is it rich!), we'll use the same filling but try out maybe a lighter sauce, something with white or even red wine, maybe lemon… mmmm…. we'll have to play around with that one!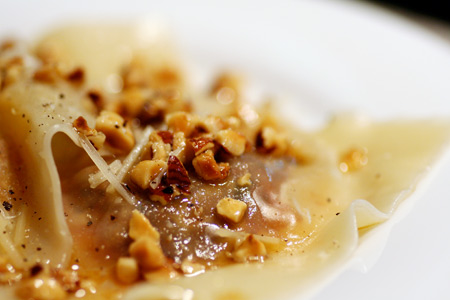 Wild Mushroom Ravioli with Hazlenut Butter Sauce
Makes 4 servings.
Ingredients
1 package square wonton wrappers (your probably won't use them all)
1 tablespoon olive oil
12 oz (ish) mixed mushrooms (we used some crimini and some porcini)
1 shallot, minced
1/4 cup chopped parsley
2 tablespoons tomato paste
salt and pepper, to taste

For sauce:
6 tablespoons butter
1/2 cup hazelnuts, roasted, skinned, and chopped

Directions
Heat oil in skillet. Add mushrooms, and cook until most of liquid is gone (maybe 5 minutes). Push mushrooms to edge of skillet, and add shallot to center. Cook for 1-2 minutes.

Add tomato paste and stir until well combined. Add parsley, season with salt and pepper, and sauté for 1 more minute. Remove from heat and let cool.

Bring large pot of salted water to a boil.

Place a small spoonful of cooled filling on wonton wrapper. Brush edges lightly with water, and top with another wrapper. Carefully seal edges, pressing as much air out of the center as possible. Repeat until all of the filling is gone.

Add to boiling water 4 or 5 at a time (you don't want them to stick together) and let cook for about 3 minutes. Remove with slotted spoon and drain well. Repeat with remaining raviolis.

For sauce, heat butter in small saucepan until barely browned. Toss in hazelnuts. Drizzle over ravioli and sprinkle with parmesan.