The directions for this recipe are absurd… the reason for not letting any of the vegetables touch until the final moment is beyond me, but I have to say, the results are well worth it. Well worth the prep – chopping and dicing and mincing and more chopping – and the mind boggling instructions (wait, the zucchini goes in which pan?). It's a two person job, that's for sure. But if you're brave, you will be rewarded with a truly delicious feast! Served on top of basmati rice (cooked with garlic and thyme)… mmmm!
A note about the leeks… we felt that 2 minutes was no where near enough time to cook them. Leeks can be very tough and fibrous, and can ruin a good meal if undercooked (unless you like your food chewey). We braised the leeks with some white wine for more like 10-15 minutes, or until tender. The addition of the white wine also added a lovely flavor to the dish! Our adjustments to the recipe are included below.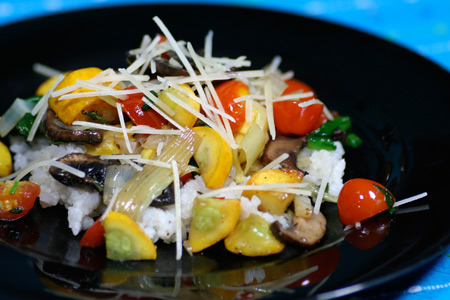 Southern Italian Vegetable Ratatouille
Makes 4 servings. Recipe from Michael Chiarello, with adjustments.
Ingredients
5 tablespoons extra-virgin olive oil
1 1/2 cups thinly sliced fresh wild or domestic mushrooms
Gray salt
Freshly ground black pepper
1 onion, diced
1 tablespoon plus 1 teaspoon minced garlic
1/2 pound yellow squash, cut into 1/4-inch dice, about 1 1/2 cups
1/4 cup diced red bell pepper, cut into 1/4-inch dice
3 tablespoons finely chopped fresh thyme leaves
1/2 pound zucchini, cut into 1/4-inch dice, about 1 1/2 cups
1/2 cup thinly sliced leek, white part only
3/4 cup white wine
3/4 cup peeled, seeded, and chopped vine-ripened tomatoes, about 1/2 pounds (or about 3/4 cup of cherry/grape tomatoes, quartered).
1 cup loosely packed baby spinach, sliced
2 tablespoons coarsely chopped fresh basil leaves
1/4 cup freshly grated Parmesan

Directions
Heat 2 tablespoons of the olive oil in a large skillet over medium-high heat until hot. Add the mushrooms and cook, without moving them, until brown on 1 side, about 1 minute. Continue to saute for another 1 to 2 minutes. Season mushrooms with salt and pepper and pour onto cookie sheet to cool. Set used pan aside.

In a separate, clean skillet, heat 1 tablespoon oil over medium heat. Add minced garlic. Cook until golden brown, about 1 to 2 minutes. Add onion and cook until softened, about 5 minutes. In the pan where the mushrooms were, add 2 tablespoons olive oil over medium heat. Add yellow squash. Cook until browned, about 1 to 2 minutes and drain onto same cookie sheet with mushrooms.

Place peppers in hot pan where squash was cooking, sprinkle with 2 tablespoons of thyme. When heated thoroughly, add peppers to waiting mushrooms and yellow squash. Add zucchini to the same pan, add remaining thyme, cook until browned, about 2 minutes. Pull both pans (onions and zucchini) off the heat, and add to cookie sheet with other vegetables.

In the former zucchini/mushroom pan, cook leeks to soften, about 2 minutes. Add white wine, cover, and simmer until leeks are tender. In the other pan, bring the tomatoes to a simmer. Season the leeks with salt and pepper, to taste, and add spinach. When spinach is wilted, add cooked leeks to cooling vegetables on cookie sheet. Add basil to the tomatoes, then add tomatoes to cookie sheet. Return all vegetables to larger pan, and gently toss together. Top with Parmesan and serve.