Have I mentioned that Taylor is a curry addict? Needless to say he was really excited when I found this recipe, as I don't really like or ever want to cook curry. It's usually too coconut-y and/or spicy for me, but this was pretty darn good! Not to mention easy.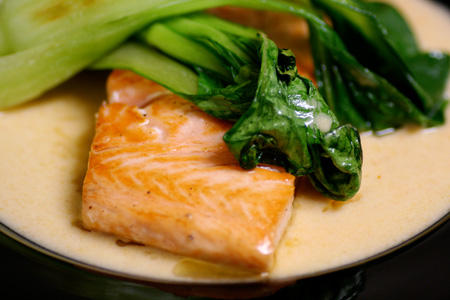 Salmon with Thai Red Curry and Bok Choy
Makes 4 servings (or 2 if one of them is Taylor). Recipe from Epicurious.
Ingredients
8 whole baby bok choy
2 teaspoons plus 2 tablespoons vegetable oil
1/2 teaspoon Thai red curry paste*
1 13 1/2- to 14-ounce can unsweetened coconut milk*
1/4 cup finely chopped fresh lemongrass or 1 tablespoon grated lemon peel
1 tablespoon brown sugar
2 1/2 tablespoons fresh lime juice
2 tablespoons fish sauce (nam pla*)
4 6-ounce salmon fillets

*Thai red curry paste and fish sauce (nam pla) are both available at Asian markets and in the Asian foods section of some supermarkets nationwide.
**Canned unsweetened coconut milk is available at Indian markets, Southeast Asian markets, Latin American markets and many supermarkets.

Directions
Cook bok choy in pot of boiling salted water until crisp-tender, about 2 minutes. Drain. Set aside. Heat 2 teaspoons vegetable oil in heavy large skillet over medium heat. Add curry paste and stir 30 seconds. Add coconut milk, chopped lemongrass and 1 tablespoon brown sugar. Boil until mixture is slightly thickened and reduced to 1 cup, about 5 minutes. Stir in 2 1/2 tablespoons lime juice and 1 tablespoon fish sauce. Set curry sauce aside.

Preheat oven to 400°F. Heat 1 tablespoon oil in heavy large ovenproof skillet over high heat. Sprinkle salmon with salt and pepper; add to skillet. Cook salmon 2 minutes per side. Transfer skillet to oven. Bake salmon until opaque in center, about 6 minutes. Meanwhile, heat remaining 1 tablespoon vegetable oil in large nonstick skillet over medium-high heat. Add bok choy and sauté until beginning to brown in spots, about 4 minutes. Drizzle bok choy with remaining 1 tablespoon fish sauce. Bring curry sauce to simmer and ladle onto 4 plates.

Arrange 1 salmon fillet and 2 pieces of bok choy atop curry sauce on each plate and serve.