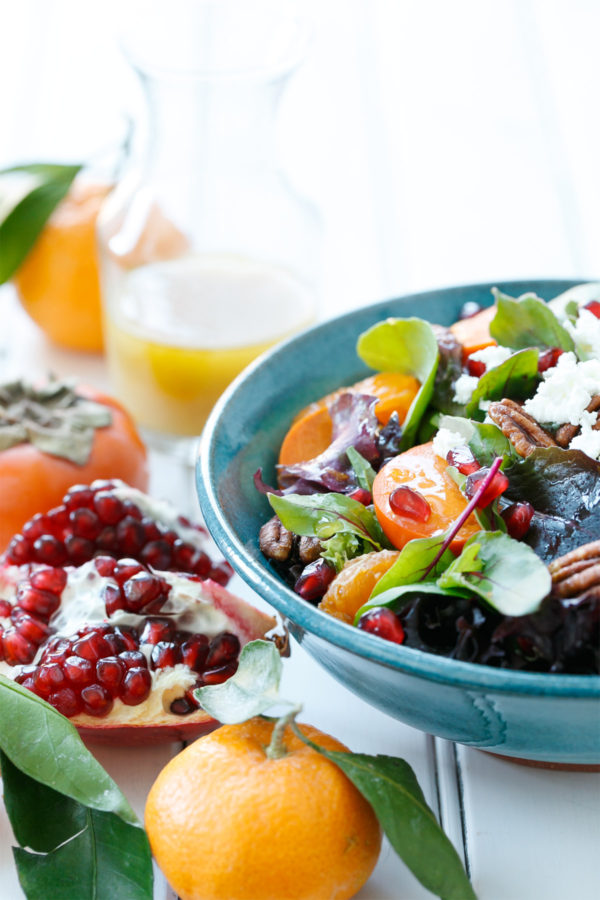 After the gluttony of the holiday season, a big, leafy salad is perhaps the most wonderful thing in the world. And this one is no exception, with bright fruity flavors and a tangy citrus vinaigrette to top it all off.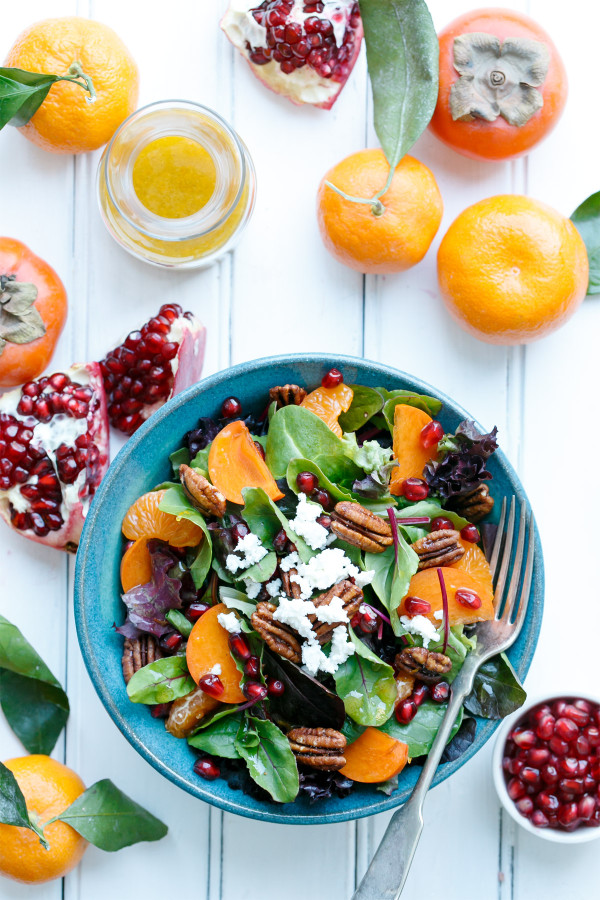 Unlike a summer salad, which has a bounty of fresh fruit and vegetables to choose from, this winter salad makes the most of the fresh fruits in season during this time of year, which are surprisingly more plentiful than you might think. Persimmons, with their smooth sweet flesh, are one of my absolute favorite additions to any salad. Look for Fuyu persimmons, the ones that look like orange tomatoes, which are better for eating raw, especially when they are slightly under-ripe and still have a bit of crunch. Peeling them is optional, although I find the skin a bit tough and so will usually take the extra step to do so.
The dressing is a triple-threat of citrus, made with fresh orange juice, orange zest, and a lovely orange champagne vinegar (but you can use regular champagne vinegar as well) whisked with a bit of honey, extra virgin olive oil, and mustard to bring it all together. Might I suggest making a double batch and saving the rest in the fridge for later (it'll keep in a jar or airtight container for up to a week). You may never buy bottled salad dressing again!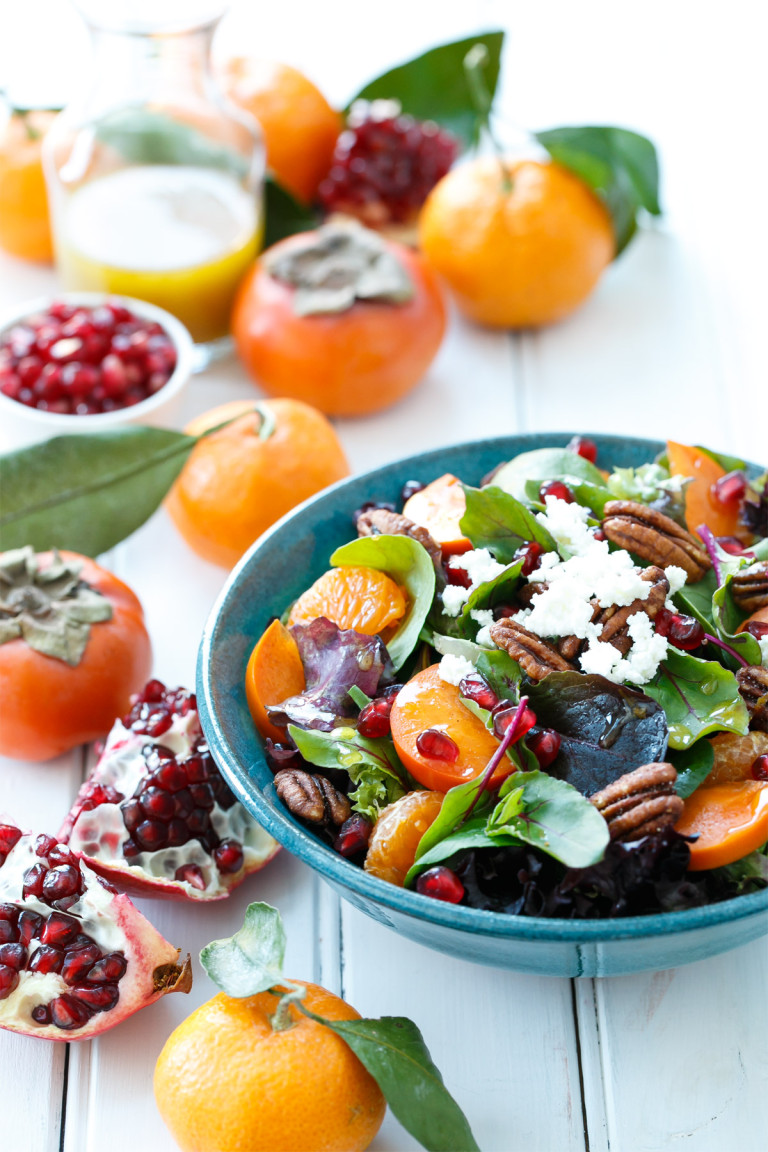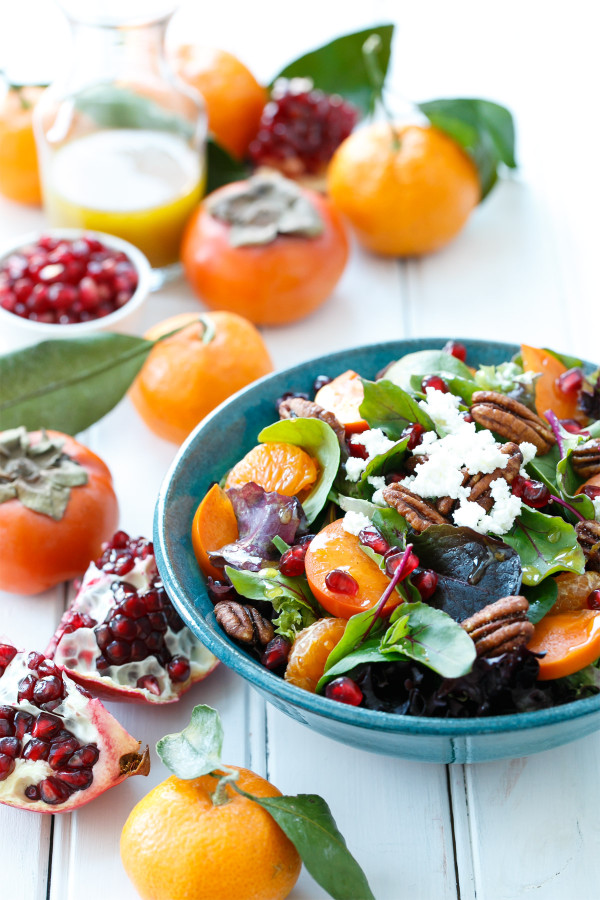 Sprinkled with ruby-like pomegranate arils, studded with segments of juicy citrus, and rounded out with crumbled fresh goat cheese and candied pecans for added sweetness and crunch, this salad is a veritable winter fruit wonderland.
Get the full recipe at FoodFanatic.com »
Winter Salad with Citrus Vinaigrette
This colorful winter salad makes the most of the bright fruity flavors of winter, with citrus, pomegranate, and persimmon, and topped with a tangy citrus vinaigrette.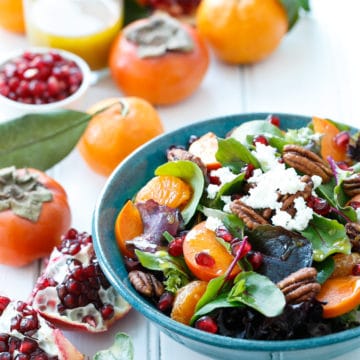 Ingredients:
6 ounces mixed greens
1-2 persimmons, peeled (optional) and sliced
1-2 tangerines or other citrus of your choice, peeled and segmented
½ cup fresh pomegranate arils (from ½ a pomegranate)
½ cup candied pecans
2 ounces fresh goat cheese, crumbled
Directions:
Divide greens among serving bowls. Top with slices of persimmon and citrus, a sprinkle of pomegranate seeds, a few candied pecans, and crumbled goat cheese. Drizzle with dressing, tossing gently to combine.
Did you make this recipe?
Let us know what you think!
Leave a Comment below or share a photo and tag me on Instagram with the hashtag #loveandoliveoil.