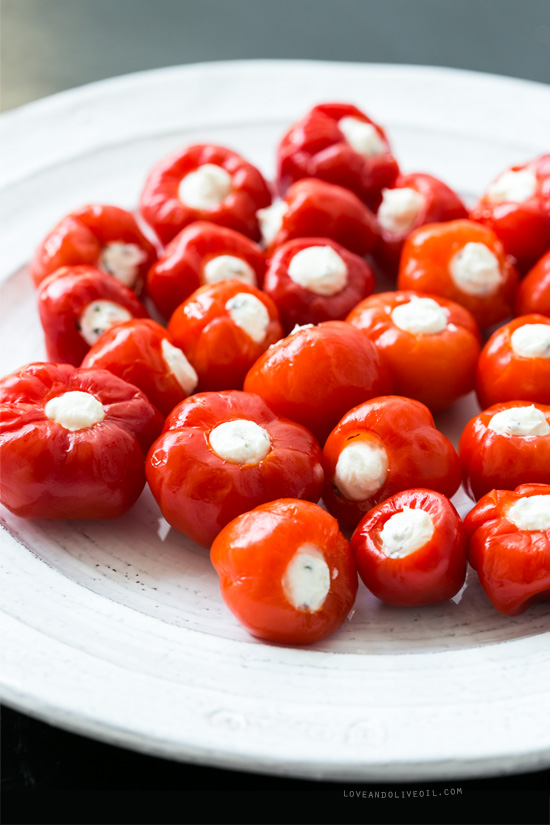 Well wasn't that a spicy week? But let's end it with something mild. Cool off your burning palette with…
More peppers.
Wait, what?
Peppadews, if you've never encountered them before, are sweet little peppers from South Africa. They are most often sold pickled and brined in jars, much like olives, and have a sweet, briny flavor with an oh-so-subtle kick (there are hotter versions available if you're game). But otherwise totally mild, sweet even, especially when compared with the piquant posts earlier this week.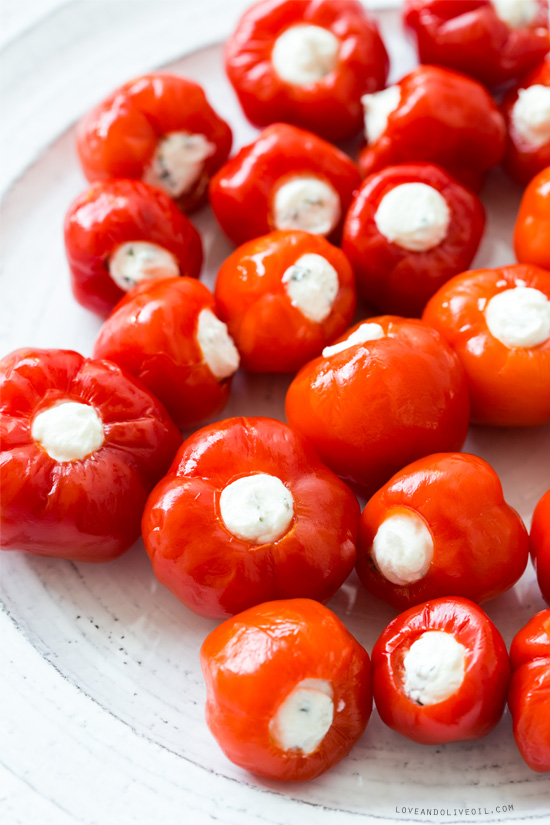 This recipe comes from my friend Beth, who recreated the dish from a local favorite (RIP Rumba). I added garlic and used basil in place of chives (thyme would work well, too!), but the general concept is unchanged: Take pepper. Stuff pepper. Eat pepper.
They make a great, easy appetizer, made up to 2 hours ahead of time and stashed until ready to serve (just resist the urge to sneak one here, two there, or they will be gone before your guests arrive).
A word of warning: peppadews 'aint cheap. Get ready to spend upwards of $11/jar for these babies. But I don't think I need to tell you that they are well worth it.
Goat Cheese Stuffed Peppadews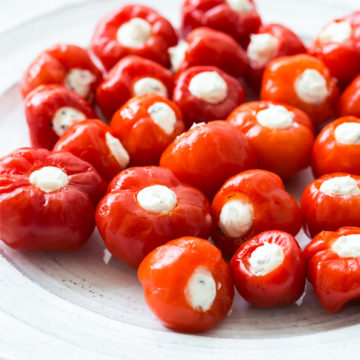 Ingredients:
6 ounces soft goat cheese, room temperature
2 large garlic cloves, minced
2 tablespoons chopped fresh basil, chives, thyme, or other fresh herbs
2 tablespoons heavy cream or half-and-half (as needed)
salt and pepper, to taste
1 jar peppadew peppers (about 20-30 peppers)
Directions:
In a bowl, combine goat cheese with garlic and herbs, stirring until evenly incorporated. Add cream as needed, 1 tablespoon at a time, to thin out filling if necessary (the amount needed will depend mostly on the softness of your goat cheese). The filling should be the consistency of buttercream frosting. Season to taste with salt and pepper.
Fill each peppadew with about 1/2 teaspoon of filling. I find it helpful to load the filling into a piping bag fitted with a 1/4-inch round tip, which makes it very easy to neatly fill each pepper completely full.
Serve immediately or refrigerate for up to 2 hours; let come to room temperature for 15 minutes prior to serving.
Did you make this recipe?
Let us know what you think!
Leave a Comment below or share a photo and tag me on Instagram with the hashtag #loveandoliveoil.