It's not often you find a recipe that is so incredibly simple you almost overlook it, thinking, nah, nothing that easy is ever very good. But in this situation, I was lured in by the title alone. Balsamic? Yes please. Brown butter? Oh hell yes. Simple. Inexpensive. And oh so delicious.
Especially when it is made with fresh, locally made tortellini.
We're a couple of lucky suckers, as a mere two blocks from our home sits Lazzaroli Pasta. Two blocks. Ok, maybe two and a half. But still. The fact that we've lived here over a year and a half and had not been inside, well, for that I am truly sorry. This place is truly awesome. Like pasta heaven. Owner Tom Lazzaro even has "Ravioli" on his license plate, for gosh sakes! That alone should tell you something. We tried out the goat cheese and pear ravioli a few weeks back (I mean, goat cheese and pear? I think they've been reading my mind… or just this blog. Seriously delicious). This week decided to try out the homemade cheese tortellini. Simple, but it puts any store bought stuff to shame. And when it's drenched in brown butter, balsamic vinegar, shredded Parmesan, and toasted walnuts? Do I even need to tell you? Bliss.
But, you know, even if you HAD to use the store bought stuff, I'm sure this dish would still be plenty delicious. :)
Tortellini with Balsamic Brown Butter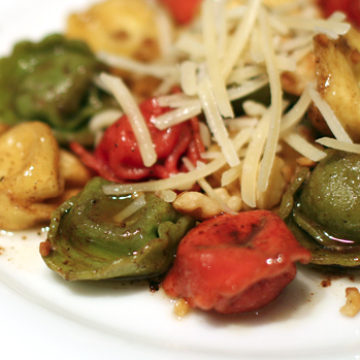 Ingredients:
18 to 20 ounces fresh ravioli or tortellini
6 tablespoons unsalted butter
2 tablespoons balsamic vinegar
1/2 teaspoon salt
1/4 teaspoon freshly ground black pepper
1/3 cup toasted, chopped walnuts
1/4 cup grated Parmesan
Directions:
Bring a large pot of salted water to a boil over high heat. Add the ravioli and cook 4 to 5 minutes, until tender but still firm to the bite, stirring occasionally. Drain ravioli onto a large serving platter.
Meanwhile, in a medium saucepan cook the butter over medium heat, stirring occasionally. When the foam subsides, and the butter begins to turn a golden brown, about 3 minutes, turn off the heat. Let cool for about 1 minute. Stir in the balsamic vinegar, salt, and pepper.
Transfer the ravioli to the pan saucepan with the balsamic brown butter. Sprinkle walnuts and Parmesan over the top. Serve immediately.
Did you make this recipe?
Let us know what you think!
Leave a Comment below or share a photo and tag me on Instagram with the hashtag #loveandoliveoil.