So as I was slaving away during my 3-hour-solo-dinner challenge the other night, I figured, I've already got the phyllo dough out and thawed, why not make baklava too?
While it was good in principal, and actually ended up being pretty tasty, it could have been a disaster.
You see, the recipe calls for 1 to 2 teaspoons of ground cinnamon in the filling.
That, my friends, is cayenne pepper. I don't think I even need to say what happened here. Poor Taylor, still on the floor, heard me start swearing in the kitchen and panicked thinking I cut myself. Nope, but I did just dump in a boatload of cayenne into the freshly ground nut filling.
I hadn't stirred it yet, luckily, and managed to skim off 'most' of the offending spice. Reground some more nuts, and hoped that you wouldn't be able to taste it in the final product.
You couldn't. In fact it was a decent baklava. I used the recipe I found here, using maybe 2/3 almonds (some regular and some marcona), and then the rest walnuts, because I ran out of almonds. I think it could have been better… I wasn't too fond of the walnuts in there. Anyone have a killer baklava recipe that they swear by?
I do have to say, that this experience has reinforced the fact that our spices are out of control. Maybe if the labels hadn't rubbed of the bottles, the above disaster could have been avoided. But the spice rack is just the beginnging…

It all started with the spice rack. Until you realize that you cannot be limited by the 16 random spices that someone decided to fill it with (Dill Weed, anyone?).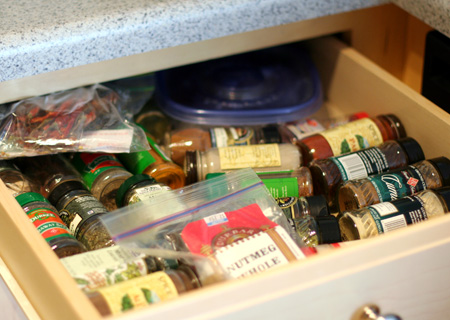 Then things start to migrate into the spice drawer. Good in concept – the drawer is just deep enough to lay down one row of spice bottles. But when that gets full, and you start buying bigger bottles and bags of spices… well..

That's when things really start to get messy. They get thrown on a shelf in the cabinet. The very deep shelf that makes them almost impossible to find ("Taylor, where's the oregano?" I say with my head as deep inside the cabinet as it will go. Maybe I should just get Kitty to get it for me).
They multiply, I tell you! And we've just discovered the wonder of spice that is the international food store, which only sells spices in large bags. Too much to transfer to a bottle (not that there'd be room in the drawer anyway), we need some spice mason jars or something. But where on earth would those go?!?
And thus I pose another question – how do you keep your spices under control? We have limited space – that drawer and some counter is about all of the room we have for any spice-containment-unit.