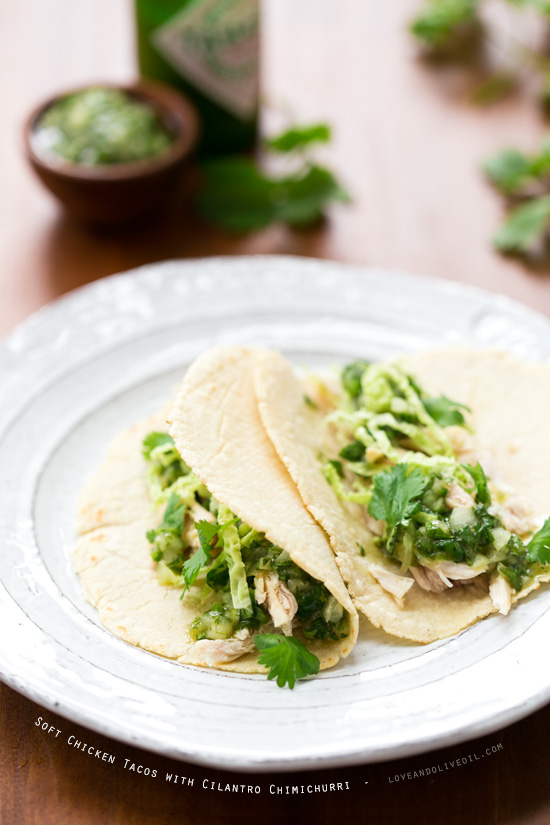 From far East… to South of the border… spice is universal, and these tacos are no exception.
With soft, homemade corn tortillas, shredded rotisserie chicken, shredded cabbage, and a bright green salsa made from onion, jalapeño, cilantro, and TABASCO® Green Pepper Sauce, this recipe is as flavorful as it is quick and easy to prepare.
But can we talk about homemade tortillas for one second? I mean, seriously. They make these tacos. The tender corn tortillas are nothing like the dry, bland things you buy in stores. They are soft and flexible (no cracks!) and a perfect foundation for this simple taco recipe. And, while a tortilla press would speed up the process just a bit, even without one it is not as hard as you might think.
I'd also be curious if this same process works for homemade flour tortillas… anyone tried?

You start by mixing up a simple dough of masa harina (a flour made from corn that has been soaked in lime and dried), salt, and water, then divided and rolled into balls. Store the balls under a moist tea towel to keep them from drying out as you work. If you're like us and don't have a tortilla press, you can press the dough with a large, flat bottomed skillet (make sure it doesn't have any sort of imprint on the bottom or it will impress into your tortillas), then roll thin. We tried parchment and waxed paper, but found that plastic wrap created the smoothest, crease-free tortillas. Once pressed, the tortillas are quickly cooked just under a minute per side.
And that's it.
It's such a simple process that we've even made them for quick, weeknight dinners, like Breakfast Tacos, Garlic-Marinated Skirt Steak Tacos, or Crispy Black Bean Tacos.
I don't think we'll ever buy store-bought corn tortillas again.
Soft Chicken Tacos with Cilantro Chimichurri and Homemade Corn Tortillas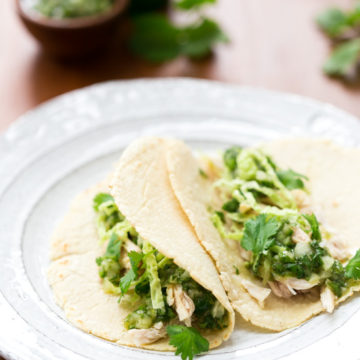 Ingredients:
For Chimichurri:
1/2 small onion, finely chopped (about 1/2 cup chopped)
1 cup fresh cilantro, chopped
1 jalapeño pepper, seeded and finely chopped
2 tablespoons olive oil
2 tablespoons TABASCO GREEN PEPPER® SAUCE
1/4 teaspoon kosher salt
1/4 teaspoon fresh cracked pepper
For Tortillas:
1 cup corn flour (masa harina*), plus more as needed
1/8 teaspoon salt
For Tacos:
2 cups shredded roasted chicken (from 1/2 a rotisserie chicken)
1 cup shredded cabbage
Directions:
Combine onion, cilantro, jalapeño, olive oil, and green pepper sauce in a bowl. Season to taste with salt and pepper. Set aside.
Mix corn flour with salt and 2/3 cups water in medium mixing bowl until dough comes together. Dough should be soft, but not gooey or crumbly. Add more flour or water as needed until desired consistency is achieved. Divide dough into eight equal balls and arrange on a baking sheet. Cover with a damp towel to keep them from drying out as you work.
Place a single dough ball between two pieces of parchment or waxed paper on a sturdy surface. Using the bottom of a heavy pan (or other flat heavy object), press firmly down on dough ball to flatten. Then, using a rolling pin, gently roll the dough ball into a 5 to 6 inch round. You can also use a tortilla press if you have one. Gently peel tortilla from paper and place on flat surface. Cover with damp towel and repeat with remaining dough balls.
Preheat a griddle or non-stick skillet over medium-high heat. One at a time, add tortillas to dry pan and cook for 40 to 60 seconds per side. Keep cooked tortillas in warm oven until ready to use.
To assemble, spoon shredded chicken onto tortillas and top with shredded cabbage and chimichurri. Serve immediately.
*Masa Harina flour is a made from lime-soaked corn kernels. You can find it in the international aisle of most major grocery stores or Mexican food stores, or online.
Did you make this recipe?
Let us know what you think!
Leave a Comment below or share a photo and tag me on Instagram with the hashtag #loveandoliveoil.
Disclosure: This post was sponsored by TABASCO®. As always, all opinions written are purely our own. We're incredibly grateful for opportunities like these that allow us to continue sharing delicious recipes with you, so thank you for supporting us and the brands we love.