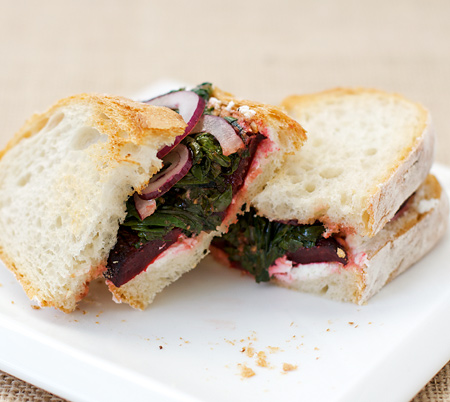 I really hope I haven't alienated a lot of our readers by the excess of beet posts this summer. But I have to say, if you're the kind of person who typically doesn't like beets, this may be the recipe to try. And if not, well, you're in luck, as I've only got one more ruby red recipe to post (well, maybe two – if I can convince Taylor to write up something on his beloved beet pickles). Our CSA shares the past few weeks have been disappointingly beet-free, and I am sad to say the season is likely done for, unless there is some miraculous second coming of the beets in the fall. But for now, Taylor is a sad, beet-deprived boy.
But back to this sandwich. Sure, we've made our fare share of sandwiches. Most of them involving goat cheese in one combination or another (I love me some goat cheese!). But this one might just top them all. The recipe originally called for canned beets (please, don't do it. Fresh beets are what make this sandwich truly magical), and we also substituted sauteed swiss chard for the arugula in the recipe (it's what we had on hand). The creamy goat cheese, the earthy beet, the bite of the balsamic… perfection.
Roasted Beet and Goat Cheese Sandwiches
Makes 4 sandwiches. Heavily adapted from Epicurious.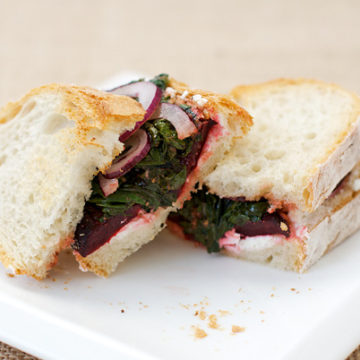 Ingredients:
3-4 medium beets
olive oil
salt and pepper, to taste
8 (1/2-inch-thick) bread slices country bread, lightly toasted
6 ounces soft mild goat cheese, softened
4 very thin slices red onion, rings separated
1 bunch swiss chard, trimmed and coarsely chopped
2 teaspoons balsamic vinegar
Directions:
Preheat oven to 350 degrees F.
Slice beets into even 1/4″ slices. Arrange slices in a single layer on a parchment or foil lined baking sheet. Brush beets with olive oil and season with salt and pepper. Roast beet slices for 35-45 minutes, or until fork tender.
Meanwhile, heat a splash of olive oil in a large saute pan. Add chard and quickly saute until wilted. Add balsamic vinegar and remove from heat.
Spread 4 slices of bread with goat cheese. Top with roasted beet slices, chard, and red onion, and top with remaining bread slices.
Did you make this recipe?
Let us know what you think!
Leave a Comment below or share a photo and tag me on Instagram with the hashtag #loveandoliveoil.