Cilantro and Kiwi? What the…?
No. Seriously. Try it. It's amazing.
It's like salsa. But bright green. And spicy. And slightly sweet. And delicious.
We saved the leftovers and ate it on chips the next day.
Mom… you have to make this. I know you'll like this one.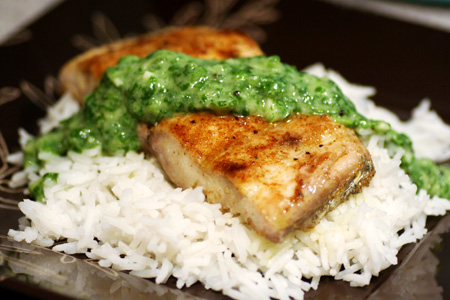 Mahi-Mahi with Fresh Cilantro & Kiwi Chutney

Makes 2 servings. Recipe from Bon Appetit.

Ingredients
1 cup (packed) chopped fresh cilantro
1 large kiwi, peeled, cubed
1/4 cup canned unsweetened coconut milk
1 large garlic clove, peeled
2 teaspoons chopped jalapeño chile
2 6- to 7-ounce mahi-mahi fillets
Ground cumin
1 tablespoon extra-virgin olive oil

Directions
Coarsely puree first 5 ingredients in processor. Season chutney with salt and pepper. Sprinkle fish with salt, pepper, and cumin. Heat oil in medium skillet over medium heat. Add fish. Saute until just opaque in center, about 5 minutes per side. Transfer to plates; top with chutney.