Based on one of my grandmother's classic recipes, this moist and tender sour cream chocolate chip coffee cake is studded with chocolate chips and features a crunchy cinnamon sugar topping that's a delight to behold (and even more so to eat!)
Grandma's famous coffee cake is back… now with chocolate chips! Sure the apple version is good and all, but let's be honest with ourselves here: chocolate chips are so much better.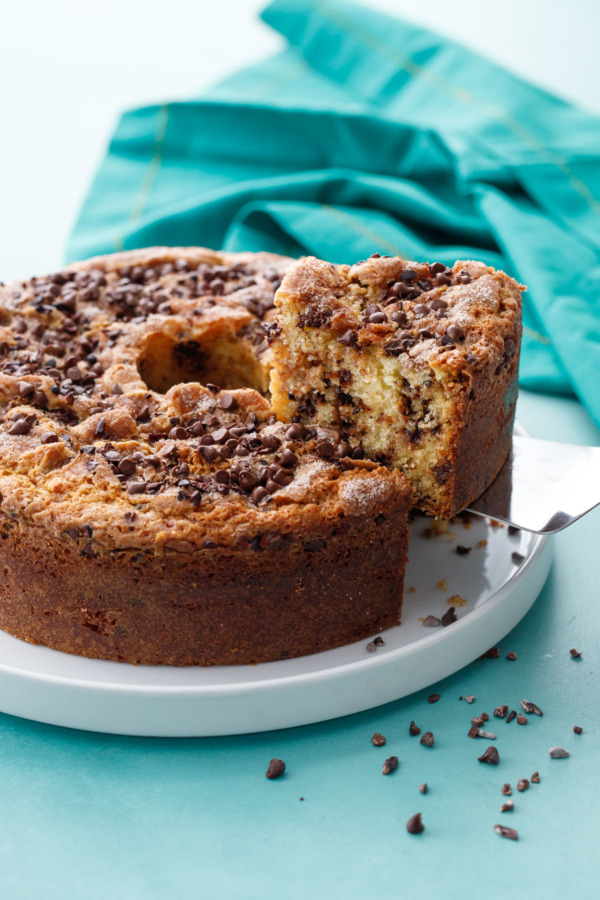 The cake itself is moist and tender, slightly more dense and rustic-crumbed than a standard white layer cake. It falls somewhere in between the texture of a cake and a muffin. And we'll go ahead and go all in on that muffin influence as excuse to eat this cake for breakfast (that IS why they call it coffee cake, after all).
Whoever decided to call it coffee cake was a freaking genius I tell you. One, because cake and coffee were clearly meant to be enjoyed together, and two, because cake for breakfast is always a good idea.
Knowing my grandma and her enormous sweet tooth, I'm sure she would have approved of such behavior (and would likely join in on the fun).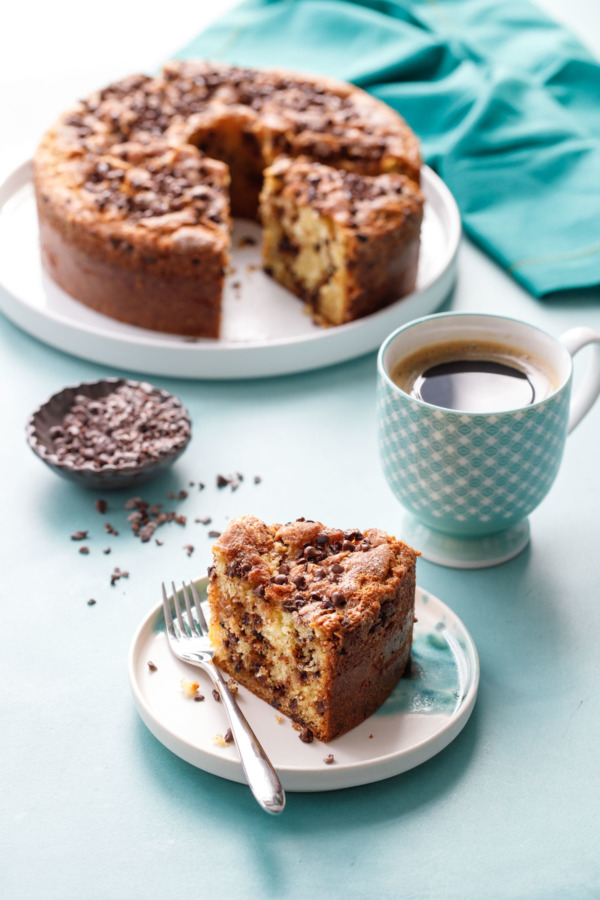 But the best part of this coffee cake, aside from the chocolate chips of course, is the crispy sugar topping. There's really no need for a complicated crumb here (or anywhere, really), as simply sprinkling and swirling some cinnamon sugar inside and on top of the cake batter results in a delicately crispy topping that's simply divine. With a few extra chocolate chips and some crispy cacao nibs, it's practically perfect in every way.
I opted out of the nuts this time (but my all means, go nuts if you like!) and sprinkled the top with a few cacao nibs for some added crunch.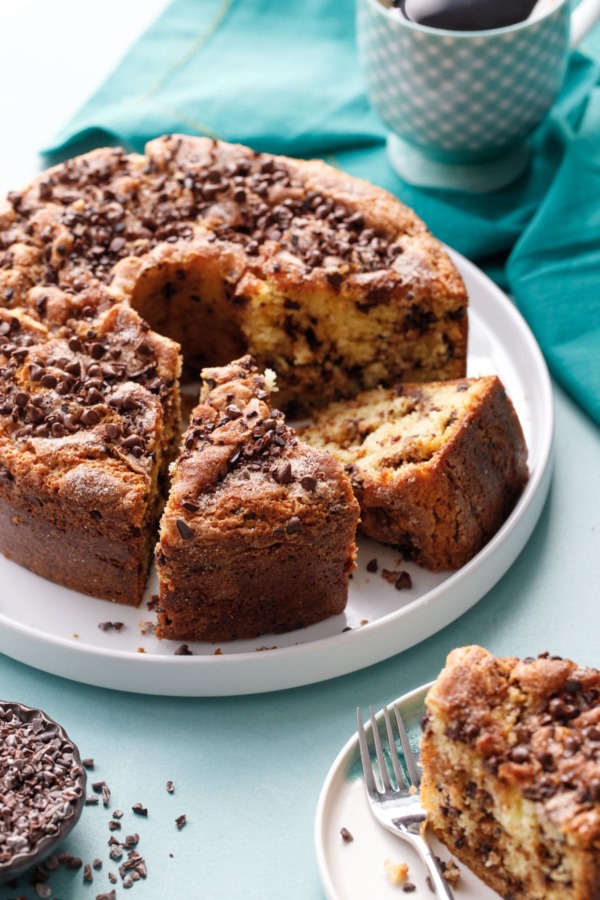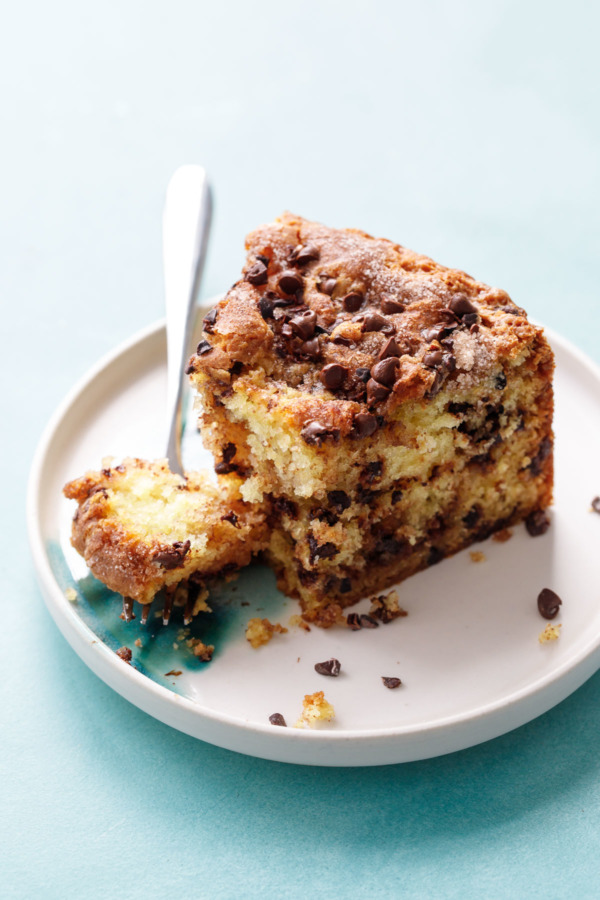 This is one of those recipes—not unlike my shortbread cookie bars or soft amaretti cookies—that serves as a base for myriad flavor variations. Swap out the chocolate chips or the apples for… well, anything, really. Blueberries maybe (with a touch of lemon zest?) Chopped pecans or dried tart cherries maybe? A pinch or two of instant espresso powder (then would it be coffee coffee cake?)
The sour cream base is as flexible as it is delicious. Let your tastebuds (and your imagination) run wild!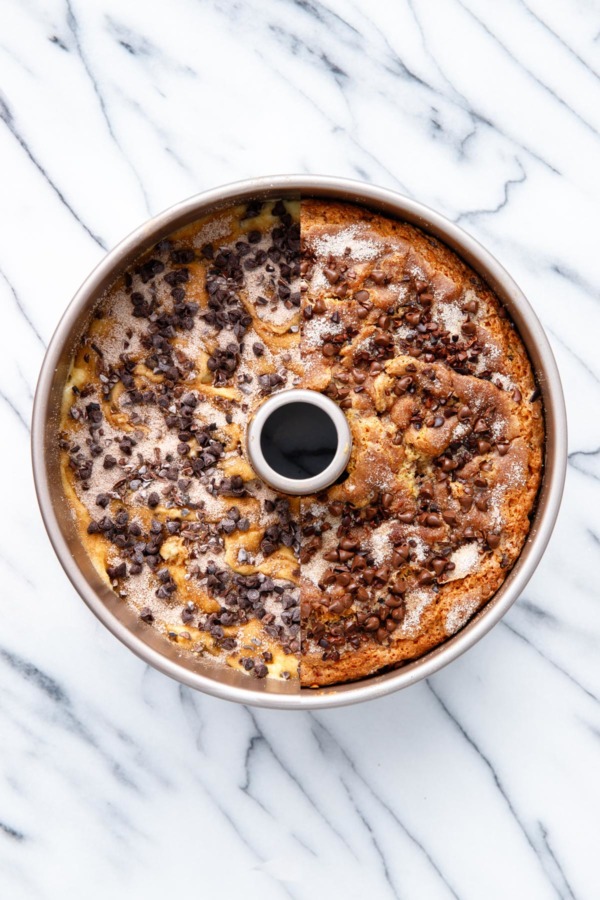 I baked the cake this time in an 8-inch tube pan, which took a bit longer than the deep 9-inch cake pan I used previously (thicker cake = longer bake). Both pans have removable bottoms, which makes for much easier removal. A springform pan would work, although I often find the sides of these too thin to conduct heat very evenly (so your edges will get browner before the center is fully cooked).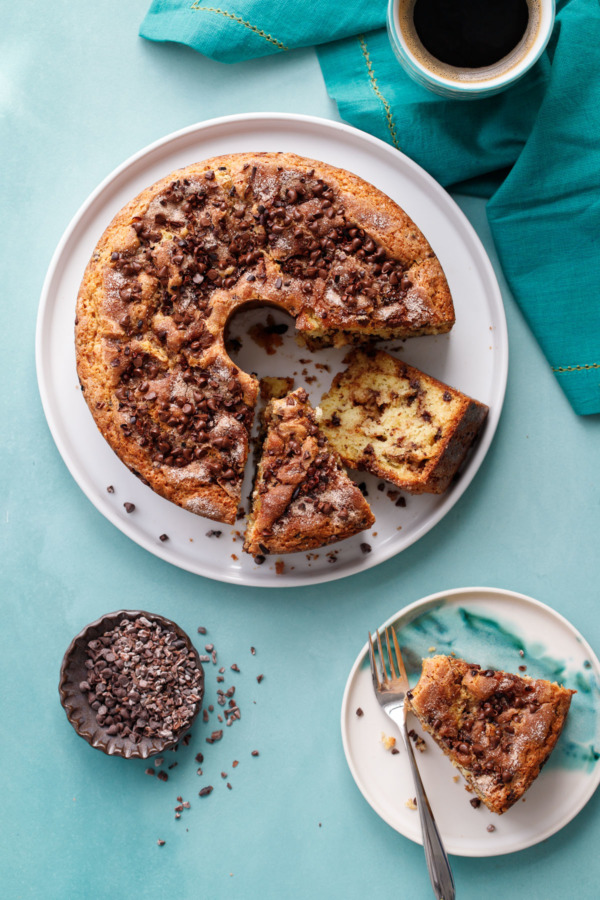 While the recipe is quite flexible in terms of baking pan size, just know that the bake time might need to be adjusted (a 9-inch square pan, for example, has a larger total volume and would produce a thinner cake, so you'd want to bake it for less time). Start checking it after 30 to 35 minutes or so (when the top is no longer visibly jiggly) and go from there. You'll know it's done when the top is golden and crispy and a toothpick inserted near the center comes out clean or with just a few moist crumbs attached.
Whatever pan you use, just be sure you don't fill it over 2/3 of the way full, lest your batter overflow in the oven (and trust me, cake overflow is no fun to clean up). It's slightly too much batter, for example, than a standard 9-inch cake pan can take. So unless you have a 3-inch deep pan, you'd best leave some of the batter out (or, better yet, make a muffin or two – you won't regret it!)
Sour Cream Chocolate Chip Coffee Cake
This sour cream chocolate chip coffee cake is based on one of my grandmother's classic recipes, most and tender and studded with chocolate chips, with a crunchy cinnamon sugar topping.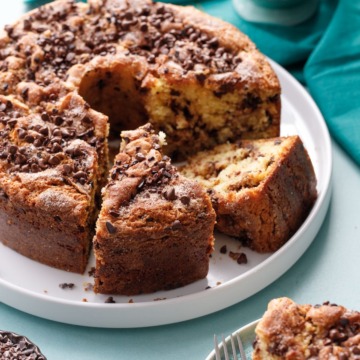 Ingredients:
1/2 cup (1 stick) unsalted butter, room temperature
1 cup granulated sugar
2 large eggs, at room temperature
1 cup sour cream
1 teaspoon baking soda
1 3/4 cup (7.5 ounces) all-purpose flour
1 1/2 teaspoons baking powder
1/2 teaspoon fine sea salt
1 teaspoon vanilla extract
1/2 teaspoon almond extract
1/2 cup mini semisweet chocolate chips (plus more for topping)
For topping:
1/2 cup granulated sugar
2 teaspoons ground cinnamon
cacao nibs, for topping
Directions:
Preheat oven to 350 degrees F. Butter a 9-inch round by 3-inch deep cake pan (preferably with a removable bottom) or an 8-inch nonstick tube pan. Lightly spray with cooking spray or coat with butter.
In a mixing bowl or the bowl of a stand mixer fitted with the paddle attachment, cream butter and sugar together until fluffy, 2 to 3 minutes. Add eggs, one at a time, mixing well after each addition.
Mix baking powder and salt in with flour until evenly incorporated; mix baking soda in with sour cream.
Alternate adding half of sour cream to batter, followed by half of dry ingredients, mixing well after each addition. Scrape down the sides of the bowl, then repeat with remaining sour cream and flour until just incorporated. Mix in vanilla and almond extracts, then fold in chocolate chips until evenly distributed.
In a small bowl, whisk together sugar and cinnamon.
Spread half of the batter into prepared cake pan. Sprinkle with half of sugar mixture; gently swirl a few strokes through the batter with a knife. Top with remaining batter, then sprinkle with remaining sugar and swirl once again. Sprinkle with a few more chocolate chips and cacao nibs, as desired. If using a different size cake pan, just be sure you don't fill the pan more than 2/3 full to avoid it overflowing.
Bake for about 45 to 50 minutes or until top is golden brown and a toothpick inserted near the center comes out clean. Note that different sized pans may take more/less time to bake; you can start checking after 30 to 35 minutes or so, once the top of the cake is no longer obviously jiggly.
Place pan on a wire rack to cool. Run a knife around the edge to release, then remove from pan and cool completely. Cake will keep, covered in an airtight container, for up to 3 days.
Did you make this recipe?
Let us know what you think!
Leave a Comment below or share a photo and tag me on Instagram with the hashtag #loveandoliveoil.