Luscious, creamy vanilla cheesecake bars with a swirl of fresh peach puree and a sweet and salty pecan-infused cookie crust are just what you need to top off the summer!
Baking cheesecake in bar form transforms a fussy, formal dessert into a casual, everyday delight—this summery version pairs a delicate vanilla bean cheesecake with a swirl of vibrant peach.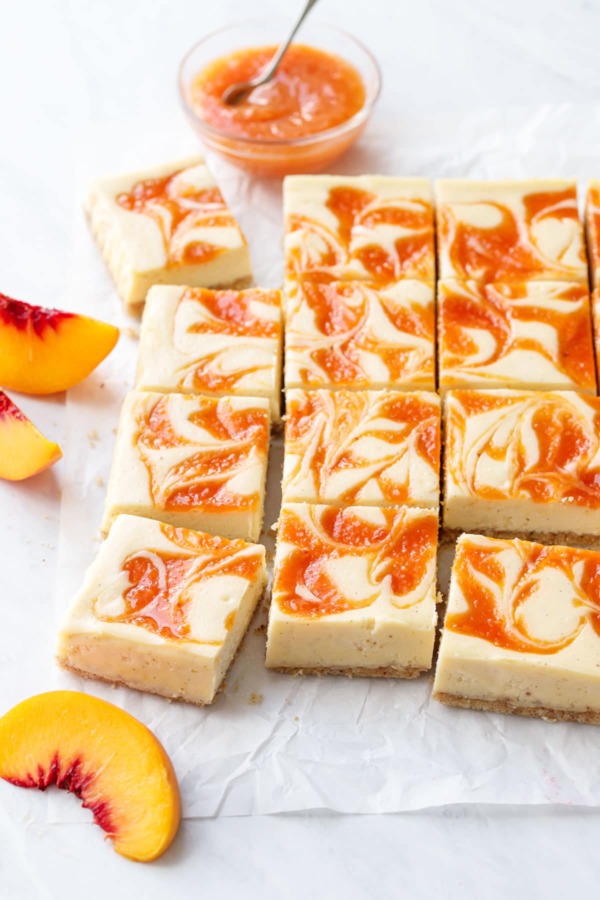 Peach season is sadly coming to an end. I still had a few peaches left from that box of seconds I bought that needed to be used. And after toying with the idea of some sort of pie or cobbler bar, I ultimately decided to make a cheesecake since I feel like cheescakes are lacking representation on this here blog (I admit to being slightly biased towards other desserts… cream cheese just isn't my favorite thing in the world). That said, I can totally get behind a really good cheesecake, and these peachy squares are just that.
The delicate vanilla bean cheesecake and the sweet and salty pecan and vanilla wafer crust combined with the bright and fruity peach swirl on top makes for a truly wonderful (and gorgeous) combination.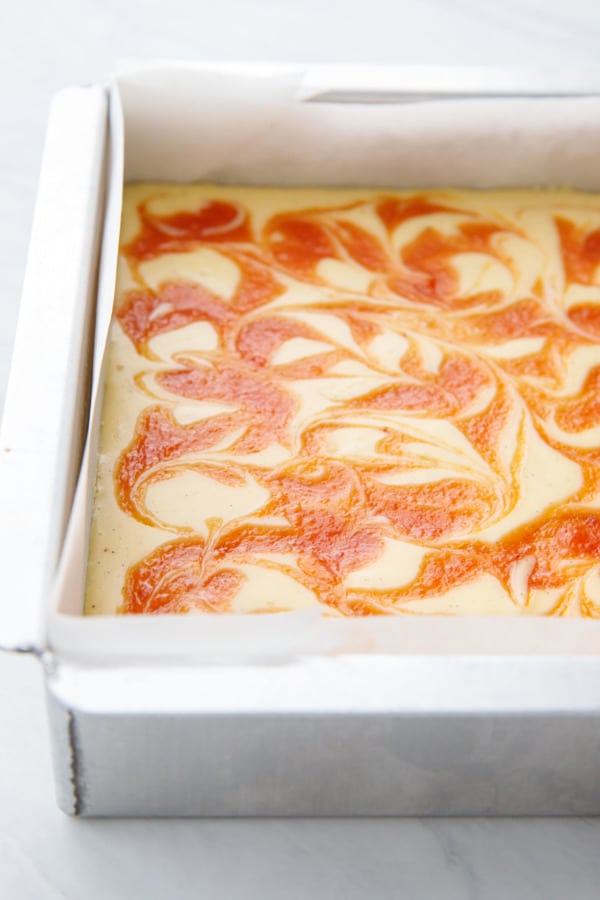 This recipe is loosely based on my blueberry crème fraîche cheesecake, minus the blueberries and the top glaze (because why cover up that beautiful swirl?) It's my favorite cheesecake base, light and silky smooth with a bit of tang from the crème fraîche that cuts the sweetness perfectly.
Obviously I had to make some adjustments in addition to the peach swirl (namely halving the recipe, removing the blueberry, and adding vanilla bean paste for a subtle vanilla flavor and precious vanilla bean specks throughout). I was optimistic that it would translate into bars, and was pleasantly surprised that these turned out so well on the first try. That's the sign of a solid recipe, when it can be adapted into different shapes and sizes without any hassle whatsoever.
I was especially pleased with how defined the peach swirl turned out; I was worried about it sinking or bubbling but it stayed pretty much pristine throughout the entire baking process!
But let's talk about that peach swirl for a sec, because that's really what makes this recipe.
I basically pureed a few peeled peaches, then cooked them down slightly with a bit of sugar and cornstarch for thickening. Call it a quick jam, if you will.
It's hard to cook a very small quantity of this type of thing, so you'll notice that the recipe will yield quite a bit more puree than you really need for the swirl (you'll probably only use 1/4 cup or so in all).
What to do with the leftover? Well, treat it like a fruit sauce or even like a jam, drizzling it over ice cream, spreading it on toast, or even serving it with cheese. Or, you know, eat it with a spoon like applesauce.
The leftover puree will keep in a jar in the fridge for a week, or you can freeze it too for longer-term storage.
I toyed with adding more of the peach puree to the cheesecake base itself, which I definitely think you could do (my blueberry cheesecake has a full 1 cup of berry puree in the batter, and peach wouldn't be much different). And while the idea of a more intense peach flavor was appealing, I ultimately wanted the focus of these particular bars to be the swirl. And adding more peach to the batter would turn it orange, making the swirl less prominent. Hence my decision to leave it out.
But these bars are by no means lacking in flavor, and I think the delicate vanilla bean cheesecake is perfectly balanced by the intense peachiness of the swirl in each and every bite.
While this recipe was written for peaches, you could use the same proportions and process for other fruits as well. I imagine blueberry, strawberry, or even other tropical flavors like mango or passionfruit would work equally well here.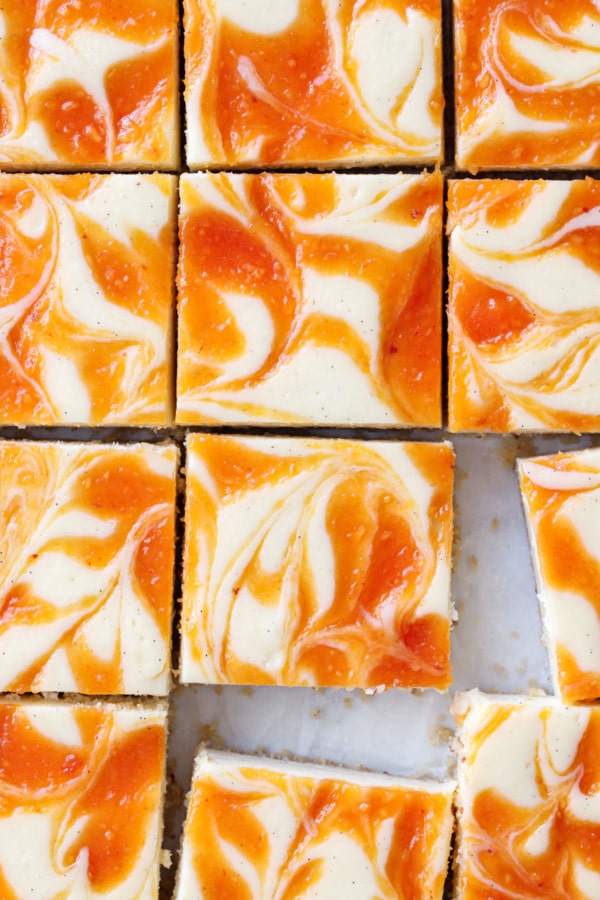 If you get nothing else out of this post at least take this crucial nugget with you: room temperature ingredients are paramount. Your cream cheese, eggs, and crème fraîche/sour cream MUST be at room temperature. For me that means taking them out of the fridge AT LEAST an hour before baking, more if your kitchen is on the cool side. Softening cream cheese in the microwave is a recipe for disaster (it's far too easy to overheat, liquefying the cream cheese instead) so I always try to have my ingredients out and ready well before I begin baking.
If you're not sure if your ingredients are indeed room temperature, stick an instant read thermometer into the block of cream cheese (seriously). You're looking for about 70 degrees in this case.
Having room temperature ingredients will ensure your batter mixes smoothly without lumps. Cold cream cheese is the quickest way to make a lumpy cheesecake, and let's face it, no one likes a lumpy cheesecake.
So, plan ahead. Get your ingredients out of the fridge well ahead of time, and mix your way to smooth, creamy perfection.
I prefer to use a food processor when making cheesecakes, since it will mix the batter into a smooth, even consistency without overmixing or incorporating too much air (and air will cause the cheesecake to puff as it bakes, subsequently sinking in the middle as it cools—while this is good for some recipes like my grandma's New York Cheesecake, for this recipe in particular we want it to bake up nice and flat).
Just be sure you scrape down the sides of the processor bowl before and after adding the eggs to ensure that no lumps of unmixed cream cheese are left behind.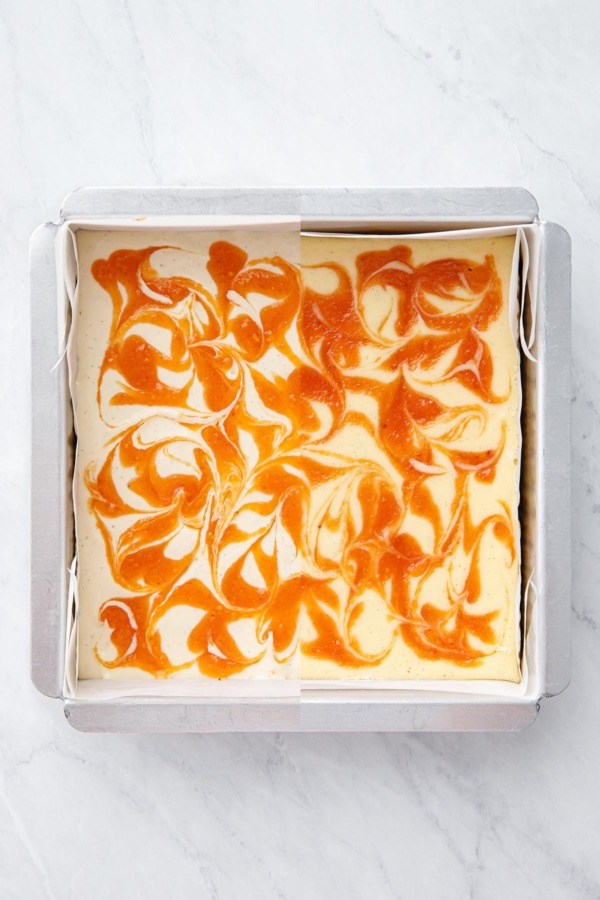 If you prefer a standard slice of cheesecake over bars, this recipe works just as well in a 6-inch pan (baking time will be slightly longer to account for the increased thickness), or double the crust/filling for a 9-inch cheesecake. I always prefer to bake cheesecakes in thick aluminum cake pans with removable bottoms; I find most standard springform pans to be too thin, resulting in uneven baking and cracked tops. A quality pan will let you bake perfect cheesecakes without the need for a waterbath.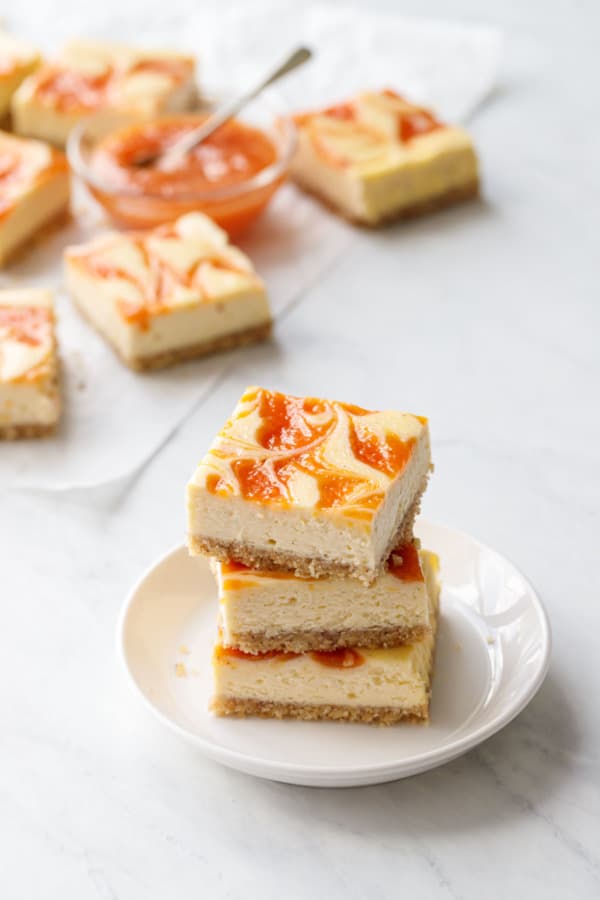 Another helpful cheesecake tip: to get super clean slices, warm a large chef's knife under hot water for a minute or two. Pat dry and make your cut, pressing the knife down into the bars in one clean motion, then pull the knife down and out, rather than up and out. Wipe off the blade completely between every single cut, and you'll be rewarded with crisp, clean slices. This goes for full size cheesecakes as well as cheesecake bars. Wiping off the blade is really the secret here, though I definitely find a slightly warm knife to cut more smoothly and cleanly than a cold one.
Peach Swirl Cheesecake Bars
Luscious, creamy vanilla cheesecake bars with a swirl of fresh peach puree and a sweet and salty pecan-infused cookie crust.
Ingredients:
For Peach Puree:
2 peaches (about 8oz worth), peeled* and pitted
1/3 cup granulated sugar
1 1/2 teaspoons cornstarch
1 teaspoon lemon juice
For Crust:
5oz (142g) vanilla wafer cookies, finely ground (1 cup crumbs)
1/4 cup pecans
pinch sea salt
3 tablespoons unsalted butter, melted
For Filling:
12 ounces (340g, 1 1/2 packages) full fat cream cheese, at room temperature
1/3 cup crème fraîche or sour cream, at room temperature
1/3 cup granulated sugar
2 tablespoons all-purpose flour
2 large eggs, at room temperature
1 tablespoon lemon juice
2 teaspoons vanilla bean paste or extract
pinch salt
Directions:
To make peach puree, pulse peeled and pitted peaches in a food processor or blender until completely smooth. Transfer to a saucepan set over medium heat. Whisk together sugar and cornstarch in a small bowl, then whisk in to peach puree along with lemon juice. Bring to a boil, stirring occasionally (it will spit quite a bit so be cautious). Let boil for 2 minutes or until noticeably thickened. Remove from heat and let cool completely. Peach puree can be made ahead of time and refrigerated in a jar or airtight container for up to a week.
Preheat oven to 350 degrees F. Butter a 9-inch square pan; line with parchment paper, leaving an overhang over two of the edges.
Combine pecans, cookies and salt in a food processor and pulse until very finely ground. Drizzle over melted butter and pulse until evenly moistened. Press into bottom of prepared pan. Bake crust for 8 to 10 minutes or until set, then remove from oven and let cool completely.
Reduce oven temperature to 325 degrees F.
In a food processor or the bowl of a stand mixer, pulse room temperature cream cheese, crème fraîche, sugar and flour until smooth. Add eggs, one at a time, mixing well after each addition and scraping down the sides of the bowl as necessary to be sure all ingredients are evenly incorporated. Add lemon juice, vanilla and salt and pulse once or twice more.
Pour batter into cooled crust, spreading into an even layer. Drop dollops of the peach puree on top of the cheesecake batter (you won't use all the puree, save the rest for another use). Use a toothpick or bamboo skewer to swirl the puree into the batter.
Bake for 25 to 35 minutes or until the center of cheesecake is set but still barely jiggly. Let cool on a wire rack to room temperature, then refrigerate at least 2 hours or overnight until ready to serve. Gently use the parchment overhang to lift the entire slab out of the pan. Place on a cutting board and slice into squares (use a large chef's knife, run it under hot water to warm it up and wipe it clean between each slice). Serve chilled or at room temperature. Bars will keep in an airtight container in the refrigerator for up to 5 days.
*To quickly peel peaches, cut a shallow X in the bottom of the fruit. Boil for 30 seconds, then transfer with a slotted spoon to an ice bath to cool. Once cool, the skin should peel off easily.
*It is VERY important that all your refrigerated ingredients be at room temperature, this means your cream cheese, eggs, and crème fraîche/sour cream. Doing so will ensure a silky smooth filling. I recommend taking your ingredients out of the fridge at least 2 hours before you bake, longer in cooler temperatures.
Did you make this recipe?
Let us know what you think!
Leave a Comment below or share a photo and tag me on Instagram with the hashtag #loveandoliveoil.