Cue cookie craving: with crisp edges, chewy centers, and a hidden pocket of rich chocolate ganache baked right in the middle, you should probably go make some, like, now.
If you thought classic chocolate chip cookies couldn't get any more perfect, think again! I've gone and stuffed them with chocolate ganache and the results are mind-blowing (and tongue-pleasing).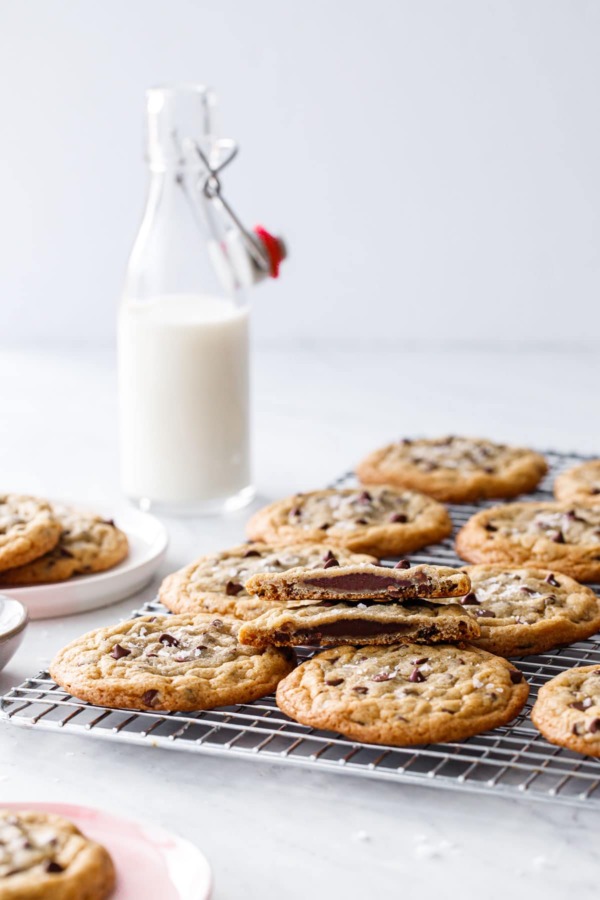 I'm seriously obsessed with stuffed cookies… if you hadn't already noticed.
These particular stuffed cookies may not be quite as an unusual flavor combination as some of my others (ahem, black sesame and matcha) but they are surely not your typical chocolate chip cookie.
Might I suggest serving these without mentioning what's inside; your friends will think they're biting into what looks like the most perfect chocolate chip cookie on earth (the flake sea salt on top is dazzling enough as is), but once they hit that pocket of rich ganache, well, the surprised and delighted look on their face is priceless.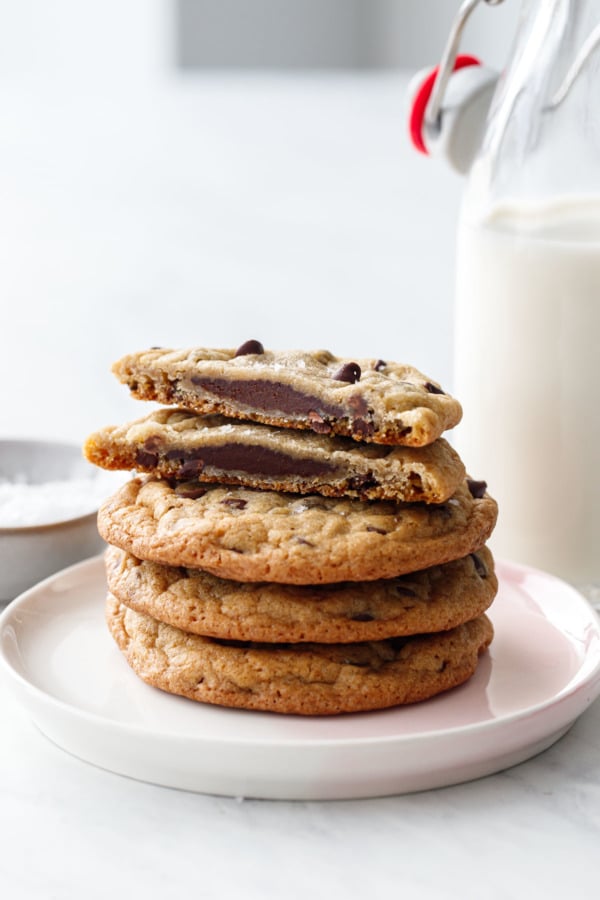 Yes, chocolate chip cookies are always amazing right out of the oven, but this is one cookie where I actually prefer it cooled.
Hear me out!
You might think that molten ganache is a good thing, but it doesn't behave like plain melted chocolate would. When it's hot, the ganache filling has a bit of a greasy/separated feel that 'breaks' rather than oozes. Guessing this is due to the fact that ganache is not very stable at high temperatures (if you've ever overheated your ganache and ended up with a greasy mess you know what I mean here).
Luckily, when the cookies are fully cooled, the ganache settles into a soft and smooth chocolate center that's simply perfection.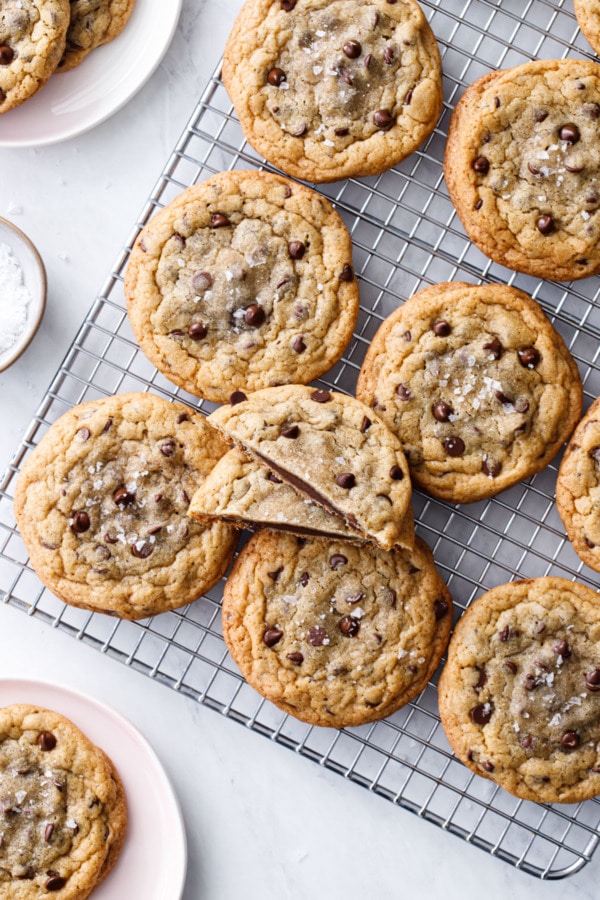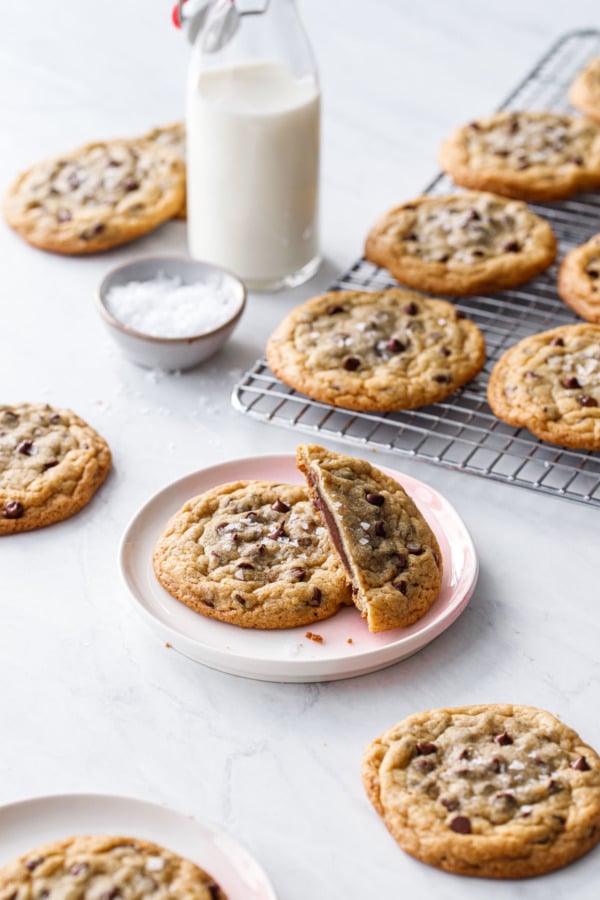 I did opt to use mini chocolate chips here even though these are full size cookies. The reasoning behind this choice is that the cookies are more flexible and easier to stuff with smaller bits of chocolate than with larger ones.
Plus, the diminutive chips make the massive core of ganache even more apparent.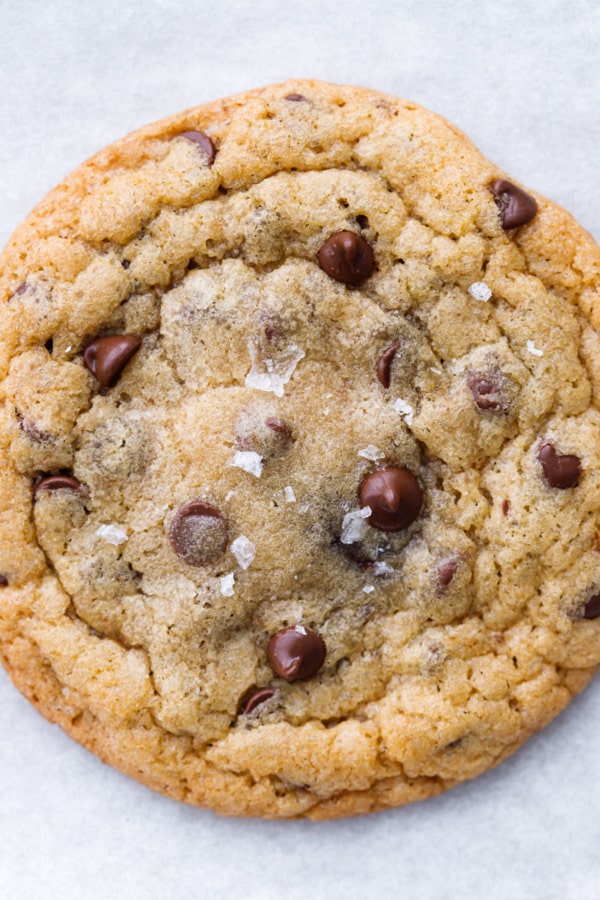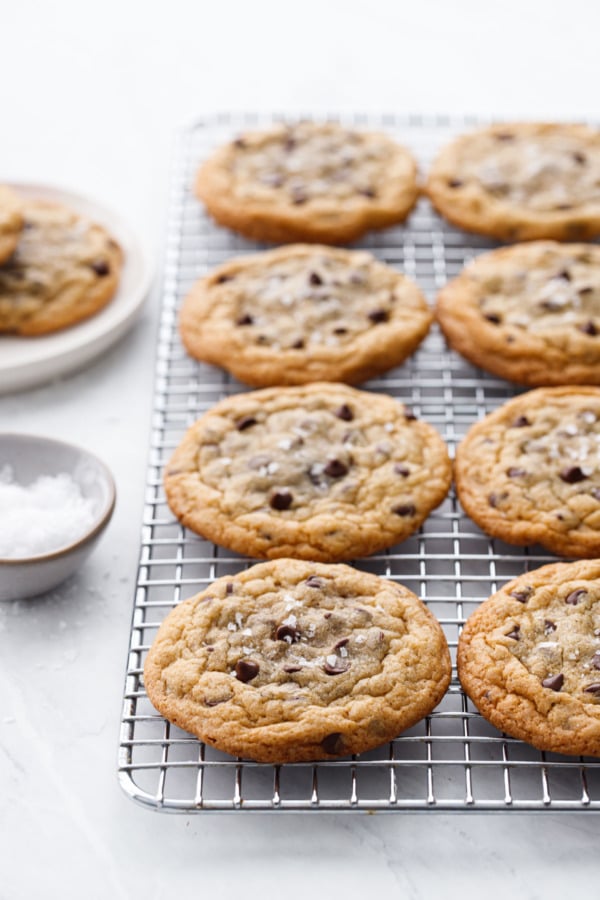 Interestingly enough I tested the exact same recipe using both creamed butter and melted butter. Both tasted delicious, but the melted butter dough baked up much more consistently (with the creamed butter, my first pan was beautiful, but my second spread like crepes). Consistency is always a good thing in my book, so melted butter it is!
Bonus that you don't have to worry about bringing your butter to room temperature first, just cut it up into cubes and melt half of it, then stir in the remaining cubes until they melt from the residual heat, at the same time bringing down the temperature of the melted butter to about 90 degrees.


Since this dough uses melted butter, it won't 'cream' like other cookie recipes. However, you still want to mix it for a good 3 to 5 minutes. You can sort of see in the images above how the batter will lighten in color ever so slightly; it'll also appear more homogenous and less greasy than when you first added the melted butter.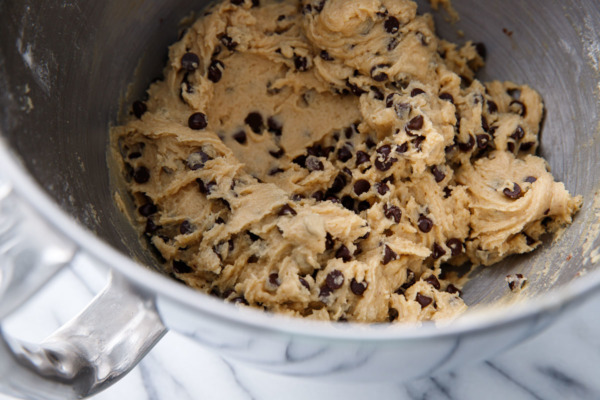 The stuffing technique is nothing new, I've used it many times before with many different kinds of fillings (from maraschino cherries to chunks of marzipan).
Basically, you split your ball of dough in half, flatten the pieces into pancakes, then wrap them around the filling which has been frozen until it's totally firm. You want to really seal the dough around the filling so it doesn't leak out as it bakes.
I piped dollops of the ganache to achieve a more even shape, but you can also scoop it by the teaspoonful as well (just be sure you've let it cool enough so it holds its shape).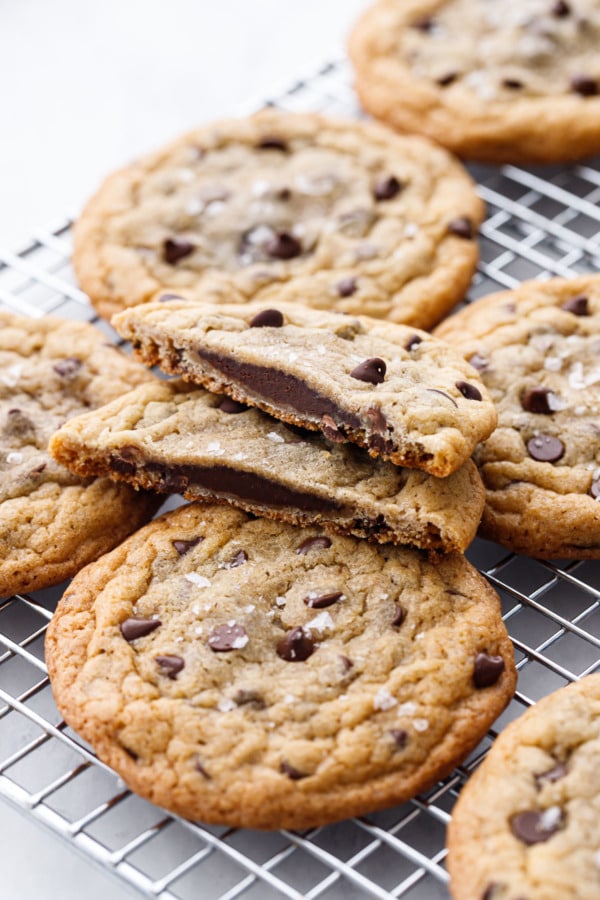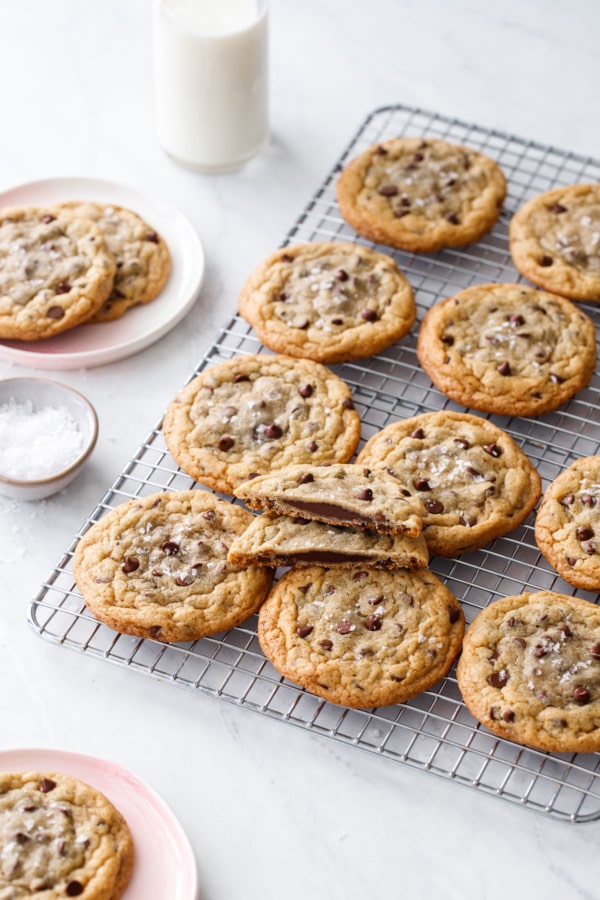 The stuffed balls of cookie dough can also be shaped and then frozen to bake later (I didn't actually get to test baking them from frozen because we had to dump our entire freezer after the power went out for 5 days – however it's typically about 2 minutes additional bake time to bake a cookie directly from frozen dough).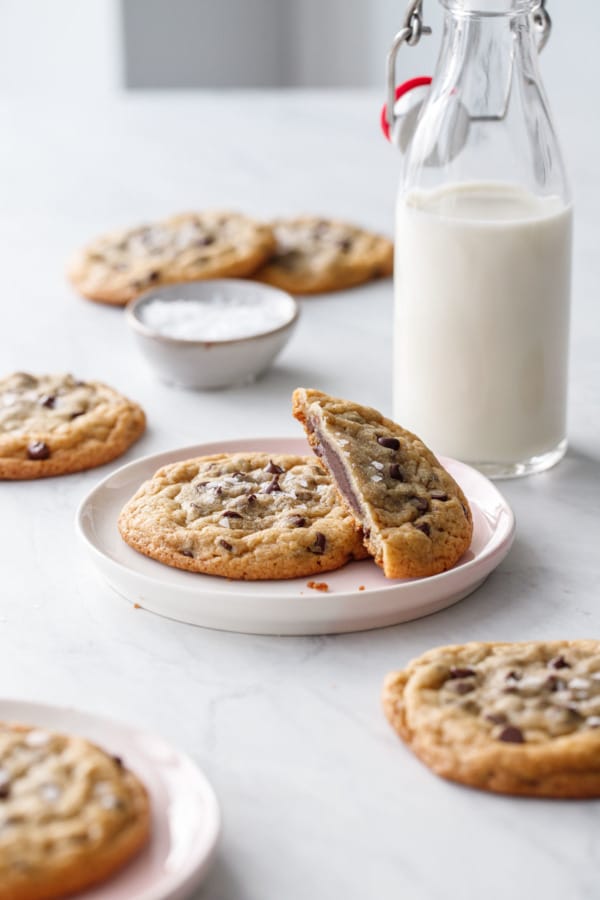 Can you make these without the ganache filling?
Certainly (they're based on my classic go-to chocolate chip cookie recipe that's fabulous in its own right).
Ganache-Stuffed Chocolate Chip Cookies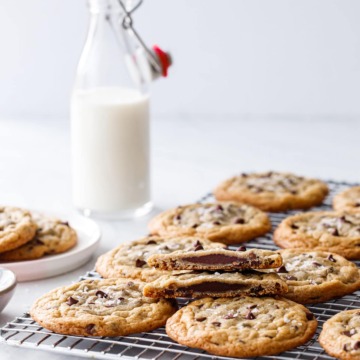 Ingredients:
For Ganache:
100g (1 3.5 bar) good quality dark chocolate (60-70%), finely chopped
1/4 cup (60g) heavy cream
For Cookies:
1 3/4 cup (212g) all-purpose flour
3/4 teaspoon baking soda
1/4 teaspoon baking powder
1/2 teaspoon kosher salt
1/4 teaspoon instant espresso powder
1/2 cup (1 stick/113g) unsalted butter, cut into cubes
3/4 cup (175g) packed brown sugar
1/4 cup (50g) granulated sugar
1 large egg, at room temperature
1 teaspoon vanilla extract
1 cup (175g) mini chocolate chips
Directions:
To make ganache, place chopped chocolate in a heat proof bowl. Line a small baking sheet or flat plate with parchment paper (I don't recommend silicone mats for this recipe as it will result in overly greasy bottoms).
Warm cream in a small saucepan until it just begins to bubble around the edges (do not let it boil). Pour over chopped chocolate. Let sit for 30 seconds then slowly whisk, working from the center outward in concentric circles until an emulsion forms. Continue to gently whisk until cream is fully incorporated and chocolate is melted. Let cool, scraping the sides and folding a few times to ensure the ganache cools evenly, for about 30 minutes or until ganache is thickened to the consistency of peanut butter.
You can either scoop teaspoonfuls of ganache onto parchment-lined baking sheet, or, for more precise centers, transfer ganache to a piping bag fitted with a 1/2-inch round tip and pipe dollops of ganache onto baking sheet. You should end up with about 18 to 20 centers. Chill until completely set, at least 30 minutes (you can also freeze them).
To make cookie dough, whisk together flour, baking soda, baking powder, salt and espresso powder in a bowl and set aside.
Place half of cubed butter in a heat-proof bowl or measuring cup. Cover with a vented lid or a paper towel so it doesn't splatter, and microwave (use the 'melt' setting for 1/2 stick if you have one, or use 50% power in 20 second increments) until melted. Add remaining butter cubes and gently stir until all butter is melted and cooled to below 90 degrees F.
Place sugars in the bowl of a stand mixer fitted with the paddle attachment. Add melted butter and beat on medium-high speed until emulsified, about 3 to 5 minutes (it won't get fluffy liked creamed butter, but it should become less greasy and separated looking the more you mix it).
Reduce mixer speed to low and add egg, mixing until emulsified. Mix in vanilla.
Add dry ingredients and mix on low speed until almost fully incorporated. Add chocolate chips and mix until evenly distributed.
Press a layer of plastic wrap on the surface of the dough. Refrigerate for at least 2 hours (you can chill it longer, just let it come to room temperature for 15 minutes or so before scooping).
Preheat oven to 350 degrees F. Line two baking sheets with parchment paper.
Use a medium cookie scoop to form dough into balls (approximately 35g each). Split one dough ball in half and flatten both halves into a pancake shape. Place one frozen ganache dollop in the center of one pancake, then top with the other. Seal the edges around the ganache, then shape into a smooth ball (I also had luck using more of a puck shape too, so a slightly flattened ball). Repeat with remaining dough. (At this point the stuffed and shaped dough balls can also be frozen if you want to save them to bake later).
Arrange shaped cookies on prepared baking sheets, leaving at least 3 inches of space between them (I only fit 8 cookies on one sheet). Before baking, press a few more chocolate chips onto the outside if you want, and sprinkle with flake sea salt.
Bake for 12 to 13 minutes or until tops are puffed and no longer shiny and cookies are just starting to brown around the edges.
Remove from oven and let cool for 10 minutes, then transfer to a wire rack to cool completely.
Cookies will keep in an airtight container for up to one week.
If your cookies spread out more than you'd like, use the spoon trick: as soon as they come out of the oven and are still hot and pliable, use the inner curves of two large spoons to press the edges of the cookie back in, giving them a perfectly round, perfectly wrinkled appearance.
Did you make this recipe?
Let us know what you think!
Leave a Comment below or share a photo and tag me on Instagram with the hashtag #loveandoliveoil.