This unique piquant twist on pesto is made with broccoli rabe and toasted pistachios and served with creamy chunks of fresh burrata cheese.
Mix up your dinner game with this fast and flavorful pesto-coated casarecce. No basil and pine nuts here: this beaut is made with earthy broccoli rabe and toasted pistachios. It may sound weird, but trust me, this recipe will quickly become one of your new weeknight staples!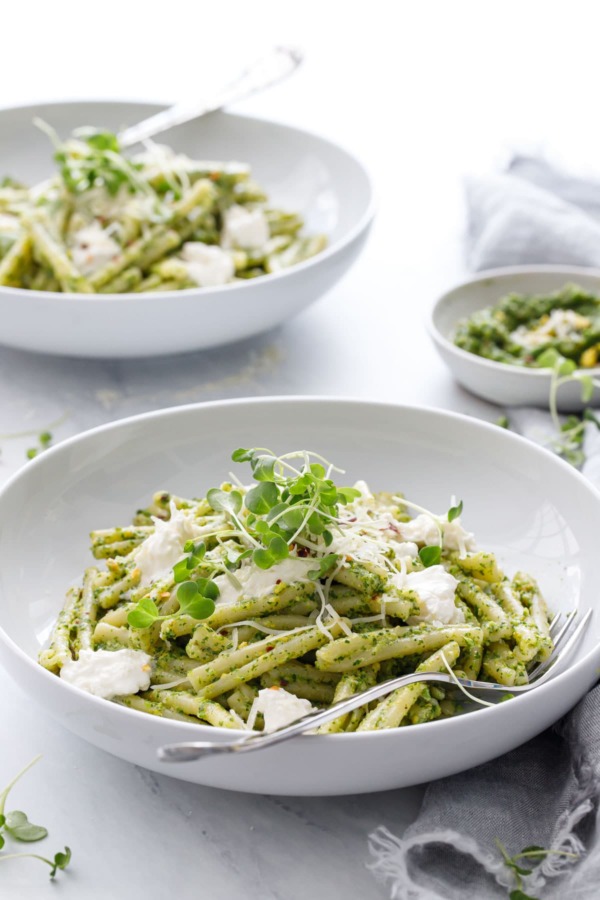 I'm of the opinion that if it's green, it can probably be made into pesto.
I've done it with arugula and beet greens and kale and even garlic scapes.
Need further proof? Take broccoli rabe. And pistachios. Both green. And together they make for a fabulous homemade pesto.
Broccoli rabe, also called broccoli raab or rapini, somewhat resembles an extra leafy and leggy broccoli with very small, loose florets (although technically speaking, it's more closely related to a turnip than anything). It has a flavor somewhere in between broccoli and turnip greens, slightly bitter and mildly earthy (but less so than say, beet greens).
If you can't find it, you can use a mix of regular broccoli or broccolini and dark leafy greens such as turnip greens or kale.
Broccoli rabe can be quite bitter in its raw form (it tends to mellow as it cooks), so we've blanched it first to help remove some of that bitterness, before blending it into a piquant pesto along with pistachios, pecorino and parmesan cheeses, and even a splash of toasted pistachio oil for another layer of buttery richness.
Also helping to offset that bitterness? Chunks of rich, creamy burrata cheese scattered on top. (Seriously though, is there any pasta recipe out there that's not improved by the addition of burrata? I think not.)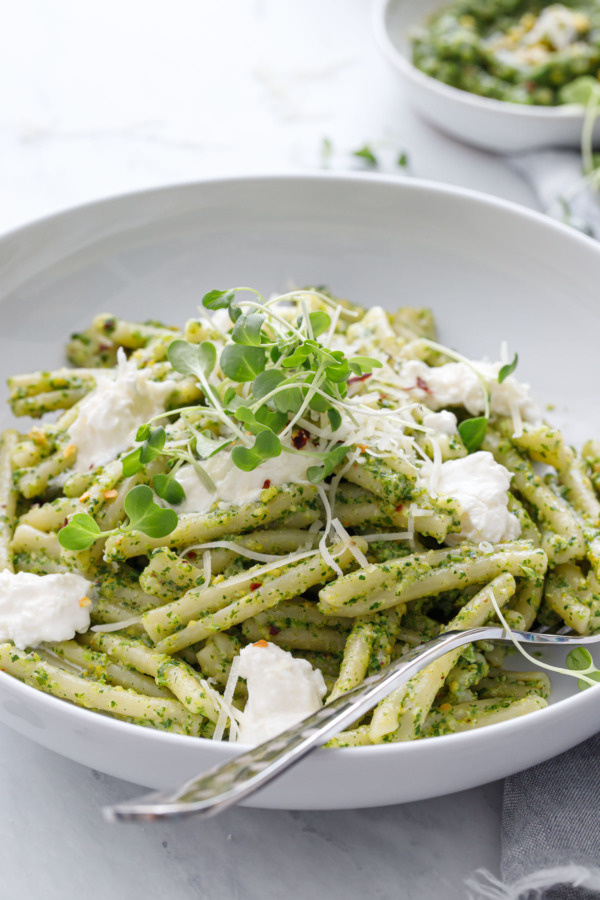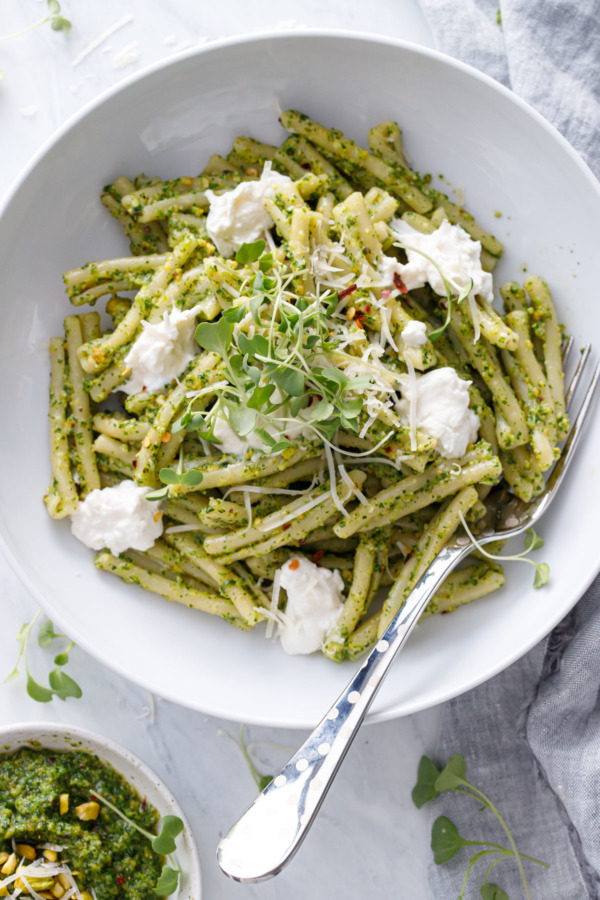 This is one of those dinner recipes that comes together in a flash—or, more accurately, a whir of the food processor.
After blanching your broccoli rabe (and you can use the same pot to cook the pasta, though I would recommend changing out the water first), wring it out and blend it up along with some fresh garlic, toasted pistachios, parmesan and pecorino cheeses, good quality extra virgin olive oil and a glug of toasted pistachio oil. Seasoned with sea salt and red pepper flakes for a bit of a kick, it's a perfectly balanced pesto through and through.
After your pasta is cooked to al dente, drain it and return it to the same pot (hooray for not having to wash multiple pots!) Toss it with your freshly churned pesto and a splash of pasta water to bring it all together.
Spoon into some nice shallow pasta bowls, top with torn chunks of creamy burrata and some microgreens, and dig in!
Casarecce is one of our favorite pasta shapes: the rustic twists and curls serve as the perfect carrier for a chunky pesto such as this. Needless to say we were extra excited to hear that it's one of DeLallo's brand new pasta shapes!
All of DeLallo's pastas (now available in their brand new, stunning packaging!) are made in Italy with the highest quality durum wheat and mineral-rich mountain spring water. The traditional bronze dies used to extrude the pasta give it a rough texture that allows it to better absorb and capture sauces. It really is the best dried pasta you can get this side of Naples. Their whole wheat pasta is stellar too (and this coming from someone who normally despises whole wheat pasta).
We've also utilized DeLallo's new Private Reserve Extra Virgin Olive Oil in this recipe. In most pesto recipes, olive oil makes up the majority of the pesto's bulk and flavor, so you really want to use a good quality oil. That said, you are using 1/2 cup of it, so that single-origin first-press limited-edition gilded bottle you got on your trip to Rome last year probably isn't what you want to use here. DeLallo's Private Reserve is an incredible quality olive oil at an amazing price, making it absolutely perfect for pesto.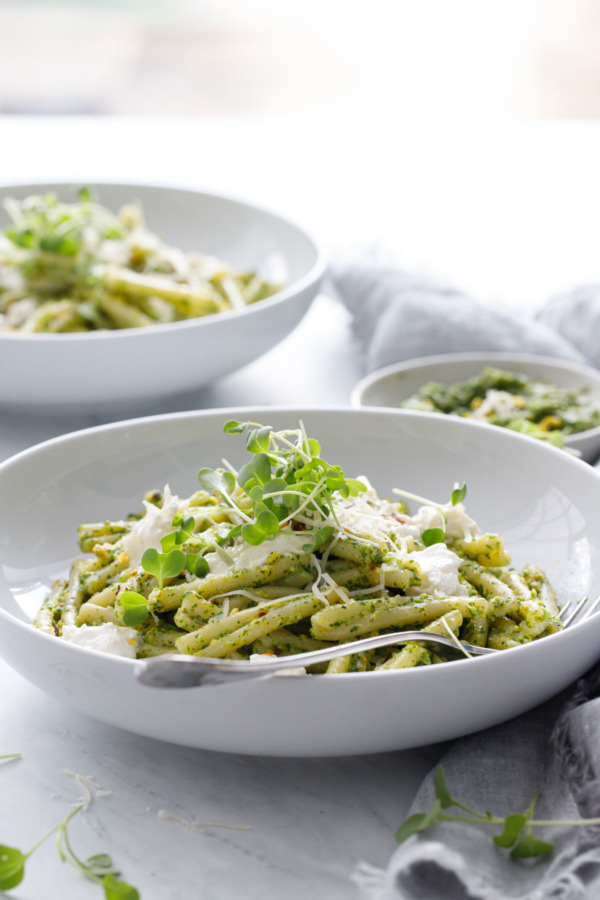 In addition to the burrata and a bit more grated Pecorino, I finished this dish with a scattering of micro broccoli greens, mainly because I have an obsession with microgreens and feel that they make a normal weeknight dinner feel like something served at a fancy restaurant. They're also really, really pretty on a dish like this.
They are totally optional, of course (you could also finish this off with a bit of fresh basil or arugula even).
Broccoli Rabe and Pistachio Pesto Pasta with Burrata
A unique twist on pesto: made with broccoli rabe and toasted pistachios and served with creamy chunks of fresh burrata cheese.
Ingredients:
1 8oz bunch broccoli rabe, trimmed to remove large stems (about 6oz trimmed)
1/3 cup (1.5oz) shelled pistachios, lightly toasted
2 large garlic cloves
1/4 cup (1/2oz) finely grated Parmesan cheese
1/4 cup (1/2oz) finely grated Pecorino cheese, plus more for serving
1 teaspoon flake sea salt
1 teaspoon red wine vinegar
1/2 teaspoon red pepper flakes
1 tablespoon toasted pistachio oil
1 (1lb) bag DeLallo Casarecce pasta
8 ounces (2 balls) fresh burrata cheese, torn into bite-sized pieces
micro greens (such as micro broccoli), optional, for serving
Directions:
Bring a large pot of salted water to a boil. Blanch trimmed broccoli raab for about 1 minute until bright green. Drain and transfer to an ice bath to stop the cooking. Drain well, squeezing out as much water as you can.
Place blanched broccoli raab in the bowl of a food processor along with pistachios, garlic, parmesan and pecorino, salt, vinegar, red pepper flakes and pistachio oil. Pulse until finely chopped.
Drizzle in olive oil, a few tablespoons at a time, scraping down the sides of the food processor as you go. Add enough oil to form a thick but creamy paste (slightly thicker is preferable here, since you'll likely be thinning it out with pasta water). Taste and add additional salt and/or pepper flakes as desired.
Meanwhile, bring a fresh pot of salted water to a boil. Add casarecce pasta and cook according to package directions until al dente. Set aside 1 cup of pasta water, then drain pasta well and return to empty saucepan. Add pesto and toss until evenly coated.
Divide among serving bowls. Top with a few chunks of fresh buratta, microgreens and additional grated cheese, as desired.
Did you make this recipe?
Let us know what you think!
Leave a Comment below or share a photo and tag me on Instagram with the hashtag #loveandoliveoil.