Roasting carrots brings out their natural sweetness; when topped with a tangy pesto made with the parsley-like carrot tops (just say no to food waste!) it makes for a perfect seasonal side dish.
The feathery carrot greens are blended with sweet basil, pine nuts, olive oil and vinegar to make a tangy green sauce that's a perfect compliment to the natural flavor and sweetness of the carrots.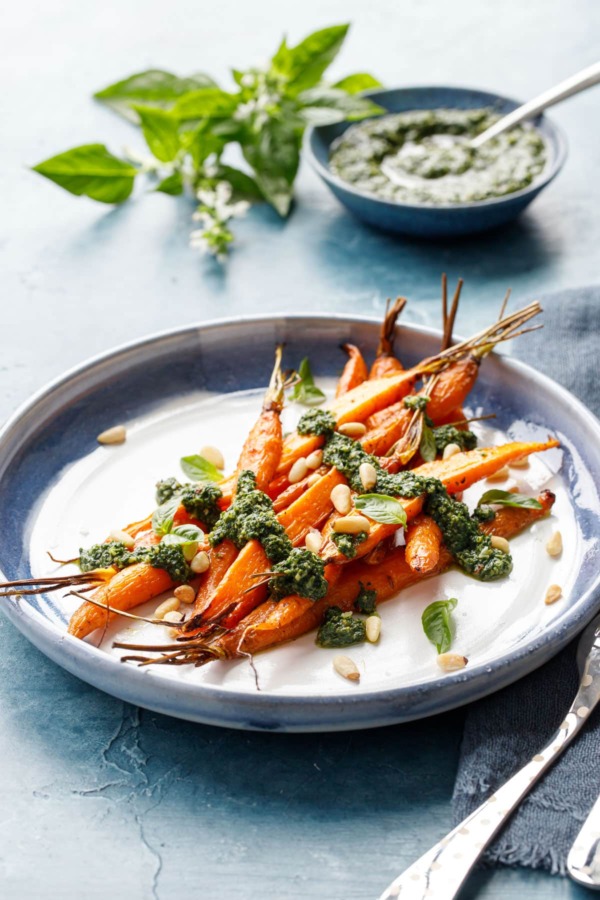 We've been getting big beautiful bundles of carrots in our CSA lately, vibrantly orange and sweet, with plumes of feathery greens still attached that I hate to just throw away (yes, they're edible just like beet greens or turnip greens). Add in bunches of fragrant sweet basil that came with our most recent share, and this recipe basically developed itself.
If you haven't had them before, carrot greens have an earthy, parsley-like flavor that can be used in myriad different ways, including this unique and flavorful pesto-like green sauce. It's somewhat similar to the carrot top pesto I served with this creamy carrot soup; the flavors of the sweet carrot and grassy pesto are perfect compliments to each other. You know what they say, if they grow together, they go together (actually, I don't know anyone who says that, but in this case it totally fits).
The carrot tops are mixed with basil and blended into a vibrant green sauce, which I'm calling pesto even though it's definitely not an authentic Genovese pesto (no cheese, for one, and I've added a splash of red wine vinegar which is definitely not an ingredient in traditional pesto). In that sense it's similar to a South American chimichurri, which is made with red wine vinegar, garlic, and red pepper flakes paired with parsley, cilantro, or a mix of the two.
When you spell it out like that, this sauce falls somewhere in between a pesto and a chimichurri… pestochurri if you will. Or should it be chimisto? Or maybe it's more like a gremolata? The world of green sauces is as a wide one, that's for sure.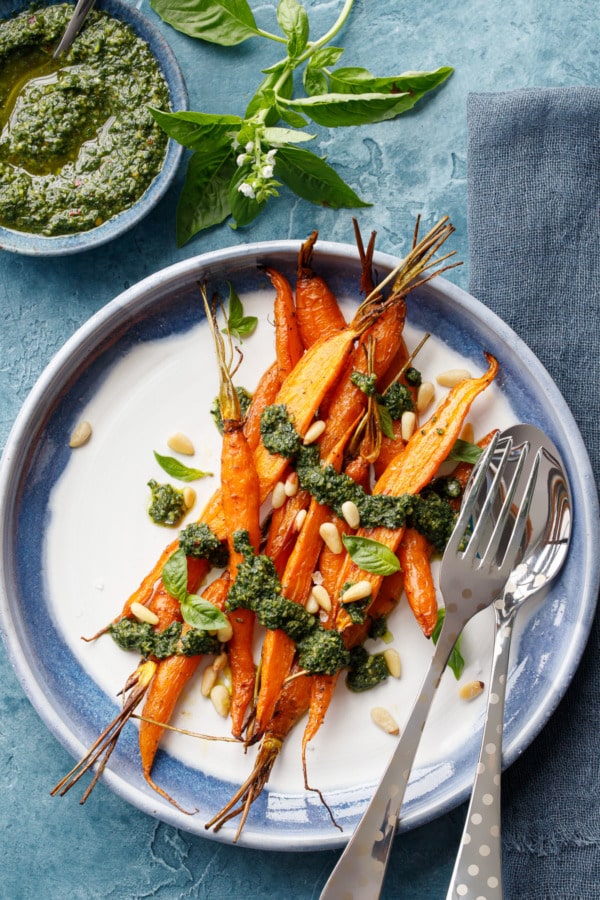 Simply roasting veggies is one of the easiest and most flavorful ways to cook them: from asparagus to broccolini to (obviously) carrots. Just toss the veggies with a bit of olive oil, sprinkle with salt and pepper, spread on a baking sheet and pop it in a hot oven until browned and tender.
I like leaving a bit of the stem on top of the carrots, for aesthetics and also function: it serves as a nice handle for utensil-free eating, if you're into that kind of thing. But feel free to cut them off entirely.


Smaller carrots tend to be sweeter and more tender (compared to the storage carrots sold in giant bags… those are more appropriate for juicing or for horses). Generally carrots sold in bunches with greens are smaller and freshly harvested, with a sweeter and more delicate flavor. Look for bunches of carrots of a similar size (5-6 inches in length and under 3/4-inch diameter ideally), and lacy, bright green tops.
This recipe calls for cutting carrots in half lengthwise, which gives you a flat face that can go down on the cookie sheet (this helps with browning). If your carrots are very small, you can skip this step. If your carrots are varying sizes, only cut the bigger carrots in half and leave the smaller ones whole. You're ideally looking for even thickness for all your carrots to ensure even cooking.
Cook the carrots cut side down on an oiled baking sheet. Depending on the size of your carrots they may take more or less than ours did (about 15 to 20 minutes, though if your carrots are on the larger side it could be slightly longer).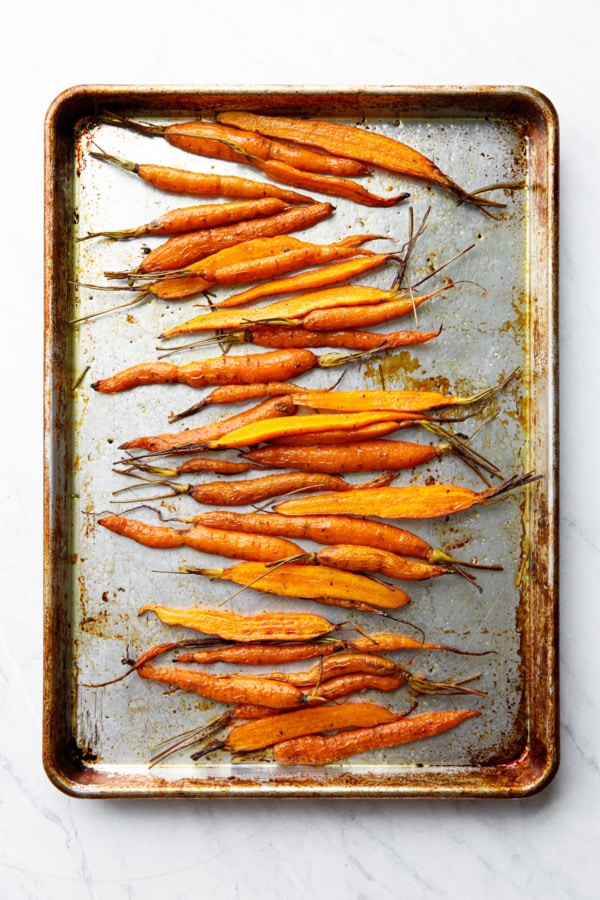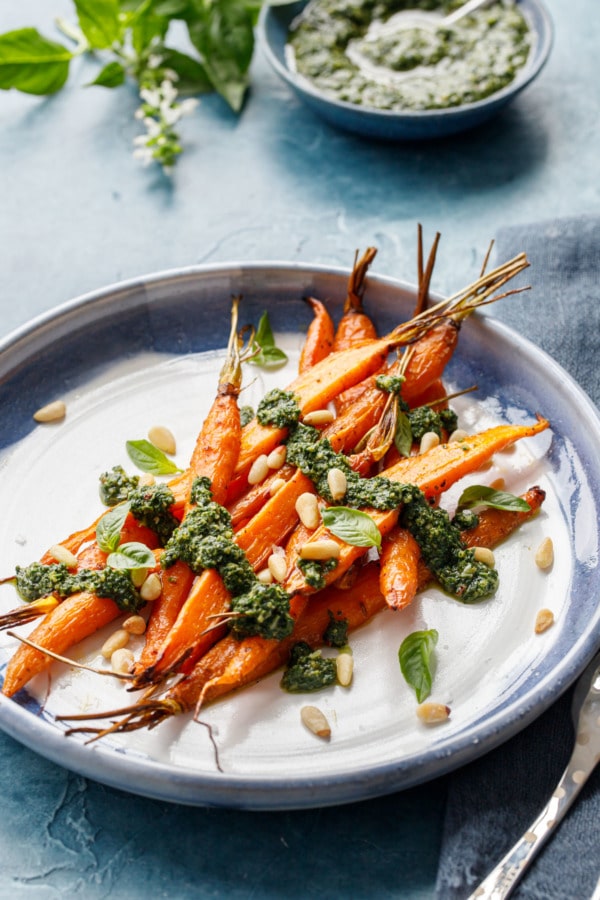 Serving Suggestions
As a side dish, these roasted carrots would be lovely served alongside a roasted chicken breast or chicken piccata, juicy pan-seared steak, or a delicately flavored fish en papillote.
I also think they'd be fabulous served with a spread of whipped feta or goat cheese, or even chunks of fresh burrata or a dollop of stracciatella cheese (the later being basically the filling of burrata). There's a restaurant in our neighborhood that always has a stracciatella dish on their menu paired with seasonal vegetables, and it's always completely mind blowing. For that reason, I originally wanted to present this recipe on a bed of stracciatella cheese, but was unable to track it down locally or even find a place online that would ship it to me (if you have any secret cheese sources, please share!)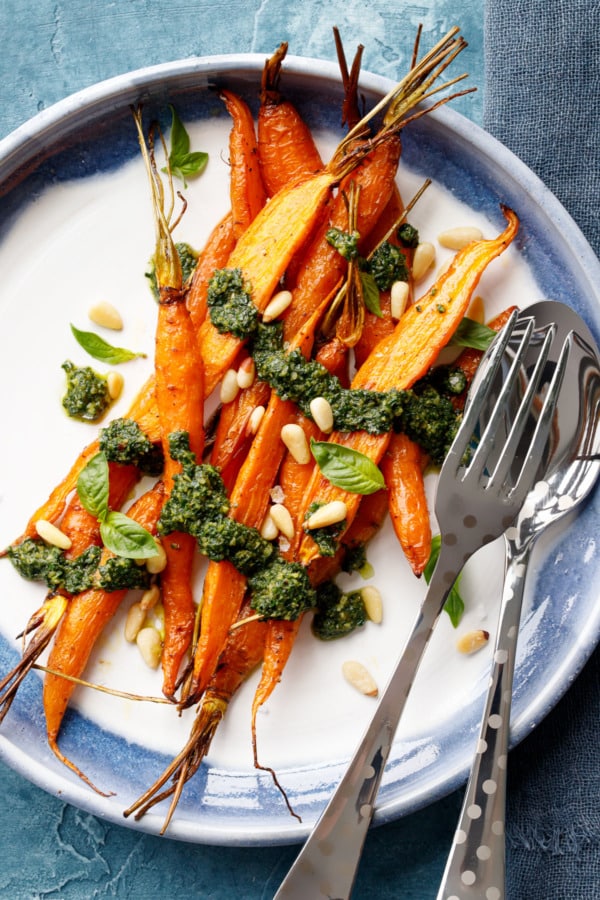 If your carrots don't come with greens, you can use all basil for a more classic pesto, or a combo of basil and parsley for a similar flavor. Arugula also makes for a wonderful, and slightly spicy flavored pesto.
You can also use lightly toasted pistachios in place of the pine nuts, and white wine vinegar or lemon juice in place of the red wine vinegar.
Roasted Carrots with Basil and Carrot Top Pesto
Roasting carrots brings out their natural sweetness; when topped with a tangy pesto made with the parsley-like carrot tops it makes for a perfect seasonal side dish.
For Pesto:
1 ½

cups

/

50

g

lightly packed carrot greens

,

large stems removed

1

cup

/

28

g

lightly packed basil leaves

4

large garlic cloves

,

coarsely chopped

2

tablespoons

pine nuts

,

lightly toasted (plus more for topping, if desired)

1

teaspoon

red wine vinegar

1

teaspoon

honey

½

teaspoon

red pepper flakes

½

cup

/

108

g

extra virgin olive oil
Preheat oven to 400 degrees F. Coat a large baking sheet with olive oil.

Remove greens from carrots and set aside. Cut larger carrots in half lengthwise; leave smaller ones whole (ideally all your carrots should be equal diameter to ensure even cooking).

Spread on baking sheet, drizzle generously with more olive oil and season with salt and pepper. Toss with your hands until evenly coated, then spread out and arrange carrots in an even layer, cut sides down, without any carrots overlapping.

Roast for 15 to 20 minutes (slightly longer if your carrots are on the large side), until fork tender and lightly browned on the bottoms.

Meanwhile, to prepare pesto, combine carrot greens, basil, garlic, pine nuts, vinegar and honey in a food processor or blender. Pulse a few times until greens are evenly chopped into small pieces.

With the processor running on low, slowly drizzle in olive oil until evenly mixed. Transfer to a bowl and serve alongside roasted carrots, plus extra pine nuts or torn basil leaves as desired.
All images and text ©
for Love & Olive Oil.