This striking black hummus is made with black beans and black sesame tahini for a unique flavor and color; topped with a richly spiced beef plus fresh parsley and pomegranate seeds for a touch of fruity sweetness.
Black linguine. Green shakshuka. Blue moon milk… I'm pretty obsessed with unexpected (natural) colors in my recipes lately. Because, let's face it, with eat with our eyes before anything even touches our lips. And this hummus, perplexingly black where you'd expect pale yellow, is no exception.
Good hummus is like a culinary mix tape, if you will.
On its own, it's rather lackluster, bitter even. But in its final form, all the elements in and on the hummus—salt, acid, fat, and sweet—all serve to offset and balance out that bitterness perfectly.
I'd argue that each element is essential in its own right: the recipe just isn't quite the same without the fatty richness of the beef or the tart sweetness of the fresh pomegranate.
When you take that perfect bite, one with a hearty dollop of hummus on top of soft pita bread with a bit of spiced beef, spices and olive oil, herbaceous fresh parsley, and a few pomegranate arils for good measure, your tastebuds will sing.
Ok, so I'll admit: while the final result is quite pretty once you've got all the toppings on there, there's no ignoring the fact that the hummus itself looks a bit like dark gray, wet cement.
Black beans, as it turns out, aren't black on the inside, so even with the addition of the black tahini it's not enough to turn this hummus pure black (which I think is what I envisioned when I set out to make it). Appearances aside, this hummus would make quite a splash at your next dinner party or gathering.
Pomegranates are by far one of the prettiest fruits, don't you think?
(Also, I recently discovered a new way to cut a pomegranate and it has officially changed my life).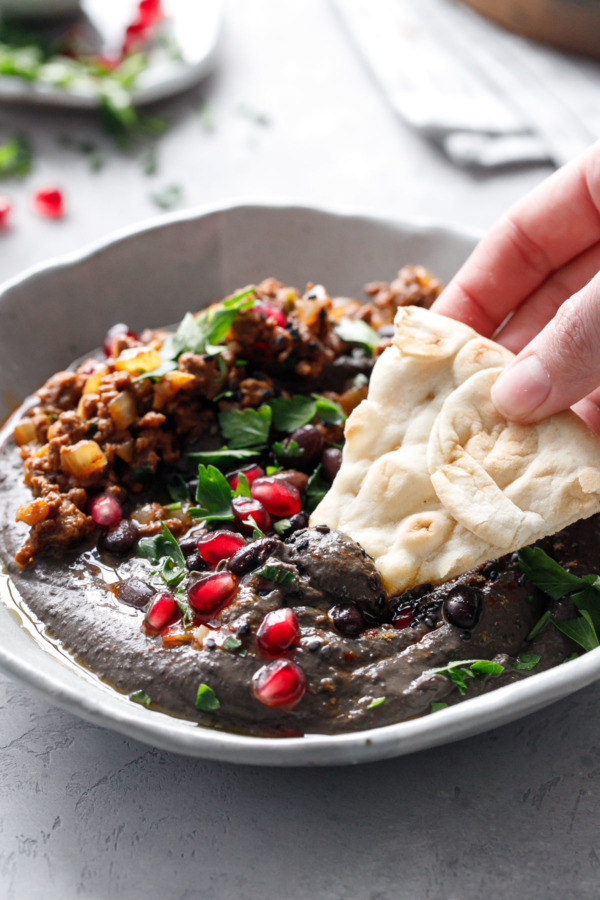 While I used dried black beans here (soaked overnight to speed up the cooking process), you can also use canned, though I find the flavor and consistency of dried beans to be far superior.
1 cup of dried black beans is about the equivalent of 1 can. Drain the beans, preserving the juice (you'll need some of it to prepare the hummus) and proceed as instructed below.
This recipe calls for black sesame tahini or black sesame paste. You can certainly use regular tahini, your hummus will just be lighter in color and you'll also want to adjust the lemon juice to taste; you'll likely need less of it since white sesame is less bitter than black.
Black Sesame Hummus with Spiced Beef
Ingredients:
1 cup (7 ounces) dried black beans
1/2 cup black sesame tahini
3 tablespoons lemon juice, or to taste
2 tablespoons olive oil, plus more for topping
1 tablespoon honey
1 teaspoon red wine vinegar
1 teaspoon salt, or to taste
fresh parsley, for topping
pomegranate seeds, for topping
cumin, paprika, and black sesame seeds (optional), for topping
warm pita or lavash bread, cut into wedges, for serving
za'atar spice blend, for topping (optional)
For Spiced Beef:
1 tablespoon olive oil
1/2 pound lean ground beef
1/2 medium onion, chopped
2 garlic cloves, minced
1 teaspoon sweet paprika
1/2 teaspoon smoked paprika
1/2 teaspoon ground cumin
1/4 teaspoon ground cinnamon
1/4 teaspoon cayenne pepper
1/4 teaspoon ground oregano
3/4 teaspoon kosher salt
1 tablespoon tomato paste
1 tablespoon freshly chopped parsley
1 1/2 teaspoons lemon juice
Directions:
In a jar or lidded container, cover black beans with cool water. They will absorb quite a bit of water, so cover them by at least twice the depth of the beans themselves. Refrigerate overnight.
The next day, drain black beans and discard liquid. Place in a large sauce pot and fill with water to about 2-inches from the top. Bring to a gentle simmer and cook, partially covered and stirring occasionally, until beans are very tender and cooked through (beans shouldn't have any bite left in them and be somewhat the consistency of a boiled potato when fully cooked). Depending on the beans and how long they have soaked, this could take anywhere from 45 to 75 minutes. Drain beans; setting aside 1 cup of cooking liquid.
Place beans in a food processor along with tahini and 1/4 cup of reserved cooking liquid. Process 2 to 3 minutes or until smooth. Add lemon juice, olive oil, honey and salt and process until incorporated. If necessary, thin out the hummus to the desired consistency using additional cooking liquid, 1-2 tablespoons at a time (I used about 1/2 cup liquid in total and ended up with a pretty soft hummus, which I like. Use less water for a thicker hummus).
Meanwhile, for spiced beef, heat olive oil in a large skillet or saucepan. Add beef, onion, garlic and spices and cook, stirring occasionally and using the back of your spoon to break up the meat, until the beef is no cooked through, about 6 to 8 minutes. Stir in the tomato paste and stir until coated, about 30 seconds. Remove from heat and stir in lemon juice and parsley.
To serve, spoon warm hummus into a serving bowl, swooping your spoon through the bowl to leave large valleys. Drizzle with olive oil. Sprinkle with cumin, paprika, and black sesame seeds, and top with a generous spoonful of spiced beef, freshly chopped parsley, and pomegranate seeds. Serve with warm pita or lavash wedges.
Did you make this recipe?
Let us know what you think!
Leave a Comment below or share a photo and tag me on Instagram with the hashtag #loveandoliveoil.