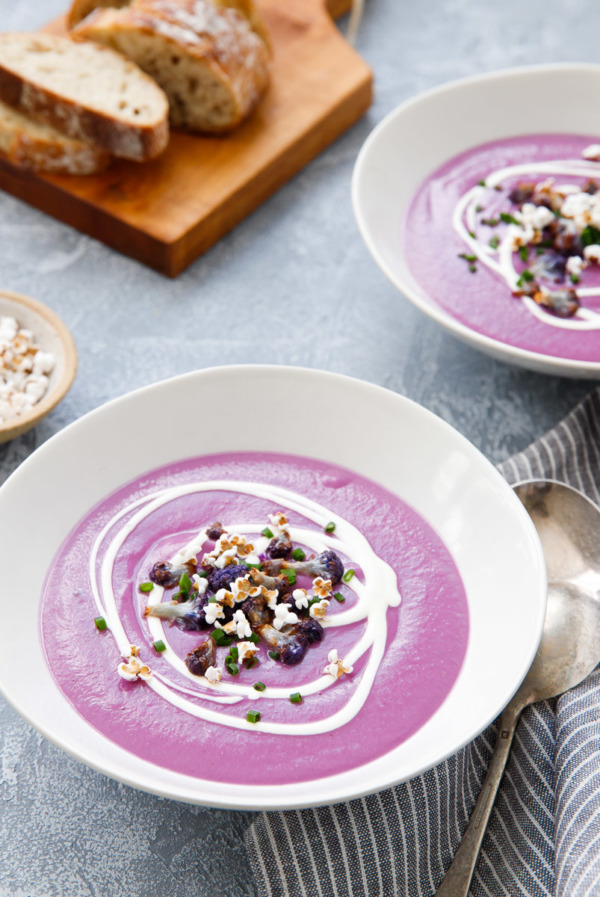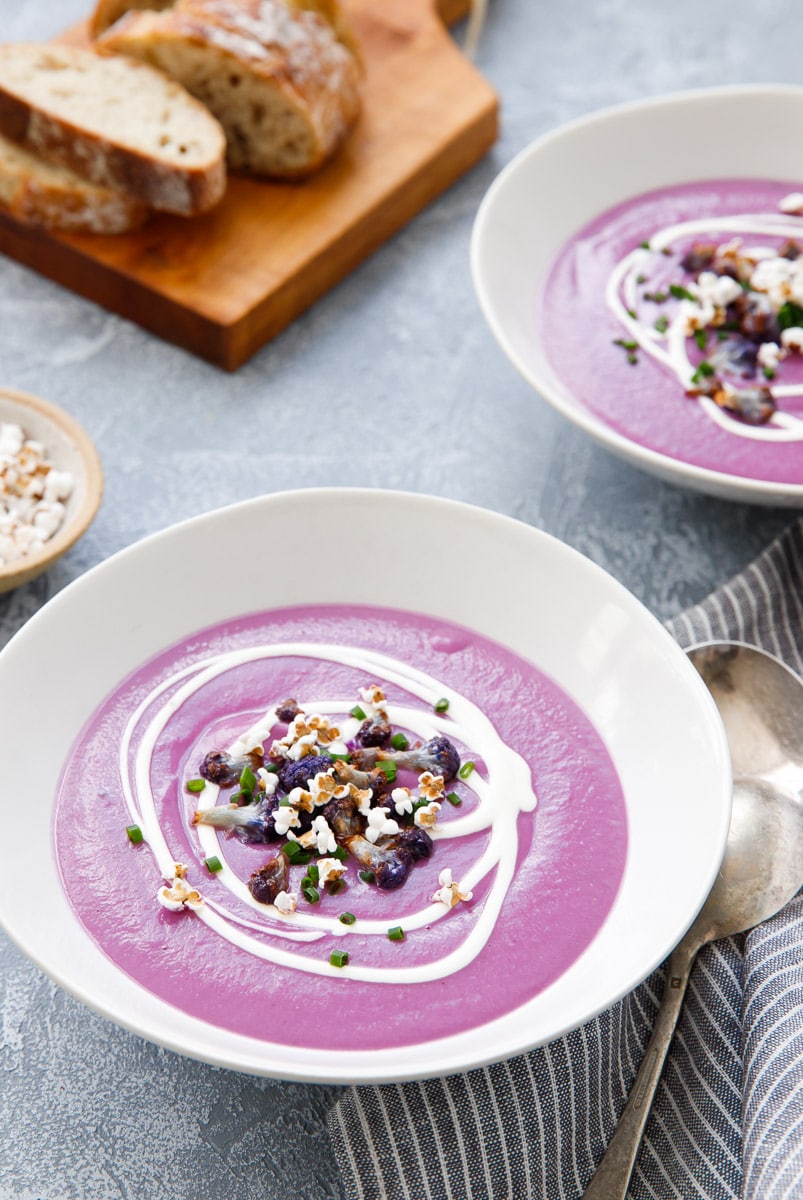 I have a thing for naturally purple foods, apparently. I went purple crazy at the farmers market earlier this spring, with purple spring onions, purple cauliflower, and gorgeous purple garlic.
One thing is for sure, all that purple makes for some stunning photos.
Cauliflower is a cool weather vegetable, so it usually disappears from the local markets during the heat of the summer. But now that it's cooling down again it's back with gusto, including my favorite purple variety (I swear it tastes better than the white kind. Just me?) What I love most about this violet vegetable is that it holds its hue even after cooking, unlike other purple produce like asparagus and beans, making for a particularly stunning presentation.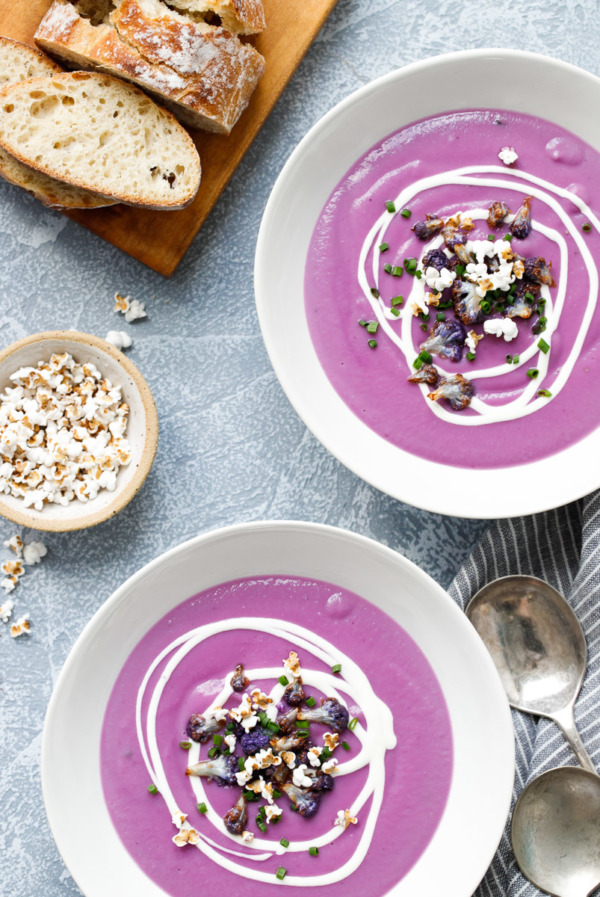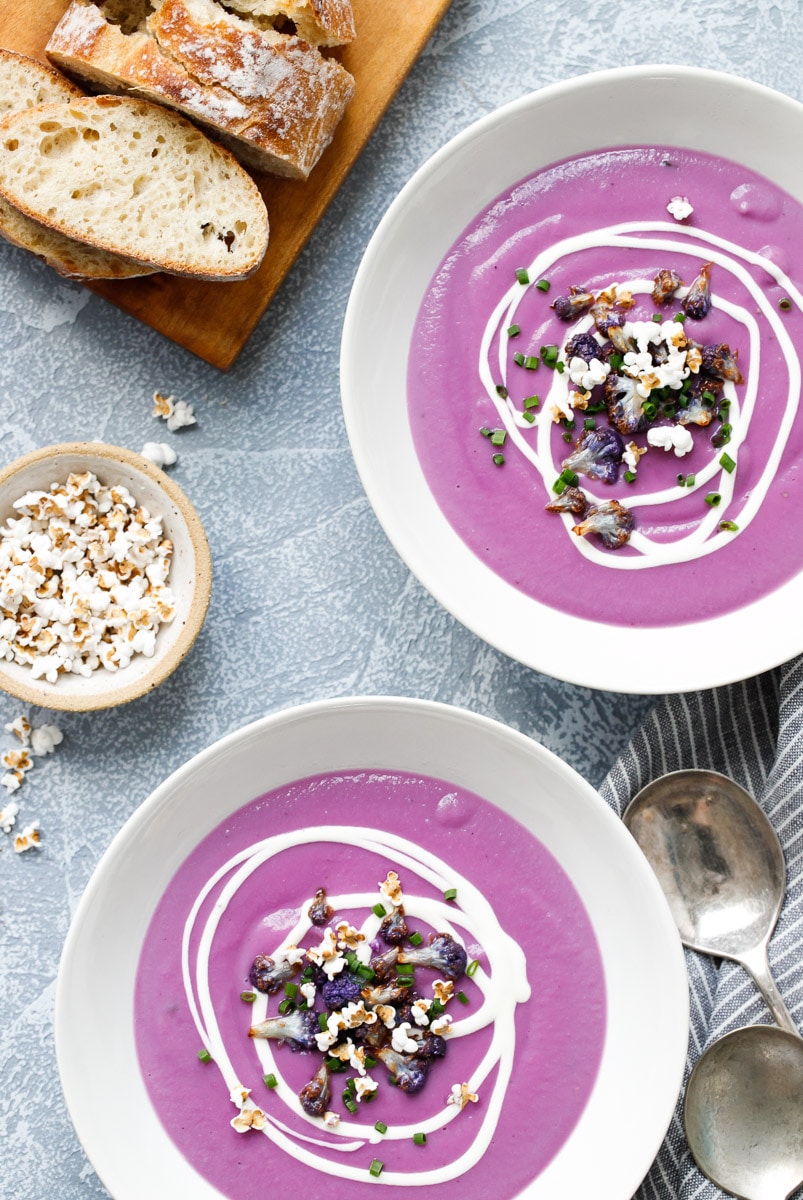 This soup recipe emerged from a simple desire to make a vibrantly purple soup that highlighted the beautiful color of the cauliflower.
The recipe itself is a variation on the creamy cauliflower soup with brown butter we've made before. We simply swapped the purple cauliflower for the white, and also added some purple sweet potatoes for an added punch of color and flavor. Also red onion (more purple) in place of yellow and shallot instead of leek, because if 1 purple vegetable is good then 4 is better.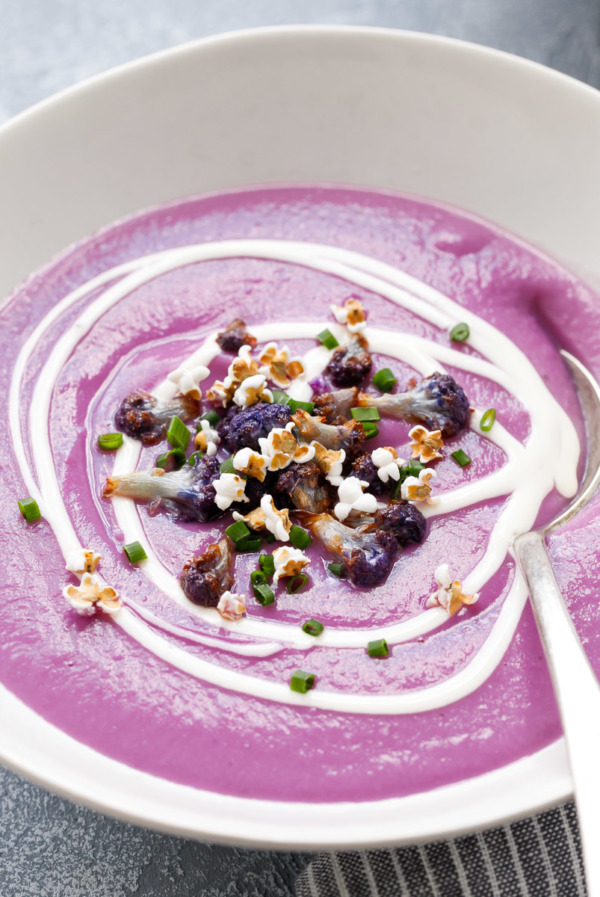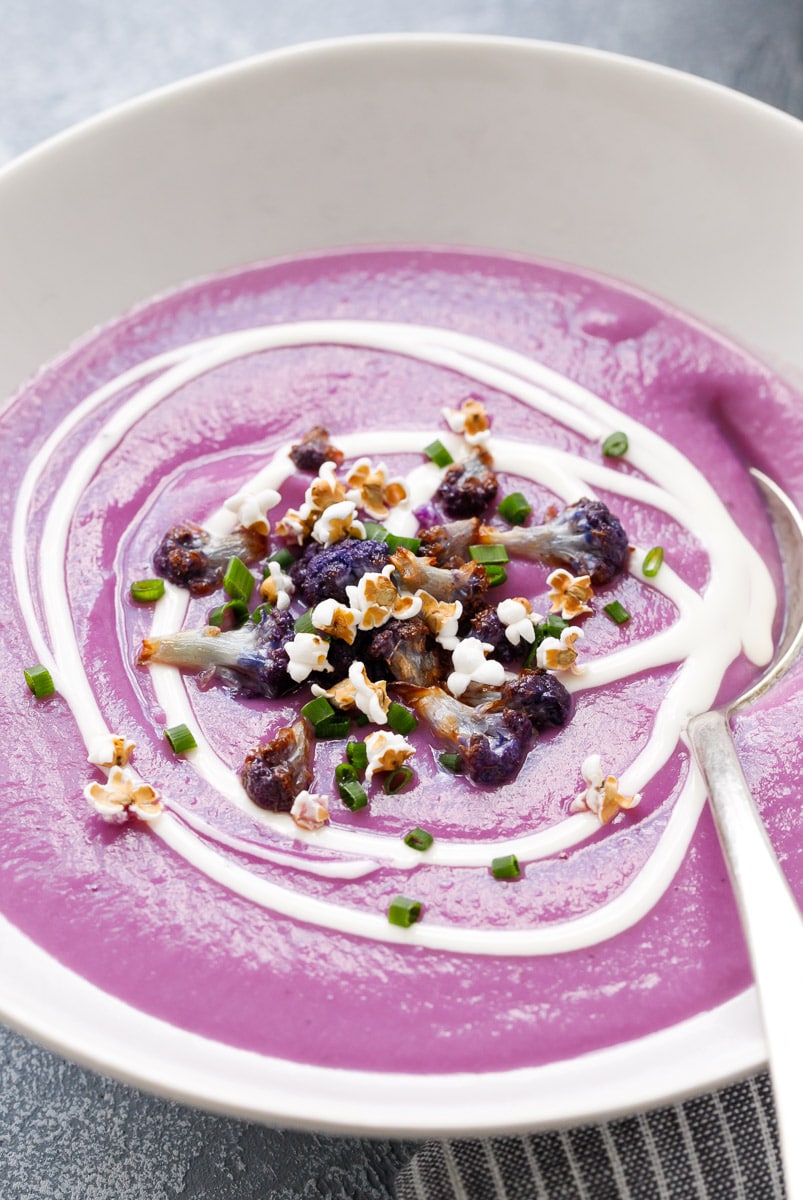 For toppings (since all creamy soups of this nature need some textural contrast to really be enjoyable to me at least), we added some crispy cauliflower, fresh chives, and drizzle of crème fraîche, and a sprinkle of popped sorghum.
Popped sorghum?!? Indeed!
Sorghum, a cereal grain grown throughout the Southern US as well as in Africa, is most commonly processed into a sweet syrup with a flavor somewhere in between honey and molasses. It's very popular here in the south (I love it smeared with butter on a warm buttermilk biscuit). Sorghum flour is also becoming more widely used, being that it is gluten free. The whole grain can also be cooked and eaten whole, in many of the same contexts as you'd see rice, quinoa or farro… even risotto.
But, popping it is perhaps the most interesting use of this ancient grain, and the result looks just like popcorn on a miniature scale. I found the microwave method the easiest (place the grain in a paper bag, fold over the top, and microwave for 2-4 minutes until pops are spaced more than 5 seconds apart). It's not as consistent as popcorn, you'll probably have to pick out more duds, but that little bit of nutty crunch is the perfect topping for this mauvelous soup.
You could certainly make this with white cauliflower and orange sweet potatoes, and the result would be a pale orange soup that's no less delicious. I probably wouldn't recommend purple cauliflower and orange sweet potatoes though, as anyone familiar with color theory would be well aware of the murky hue that would result from mixing nearly opposites on the color wheel.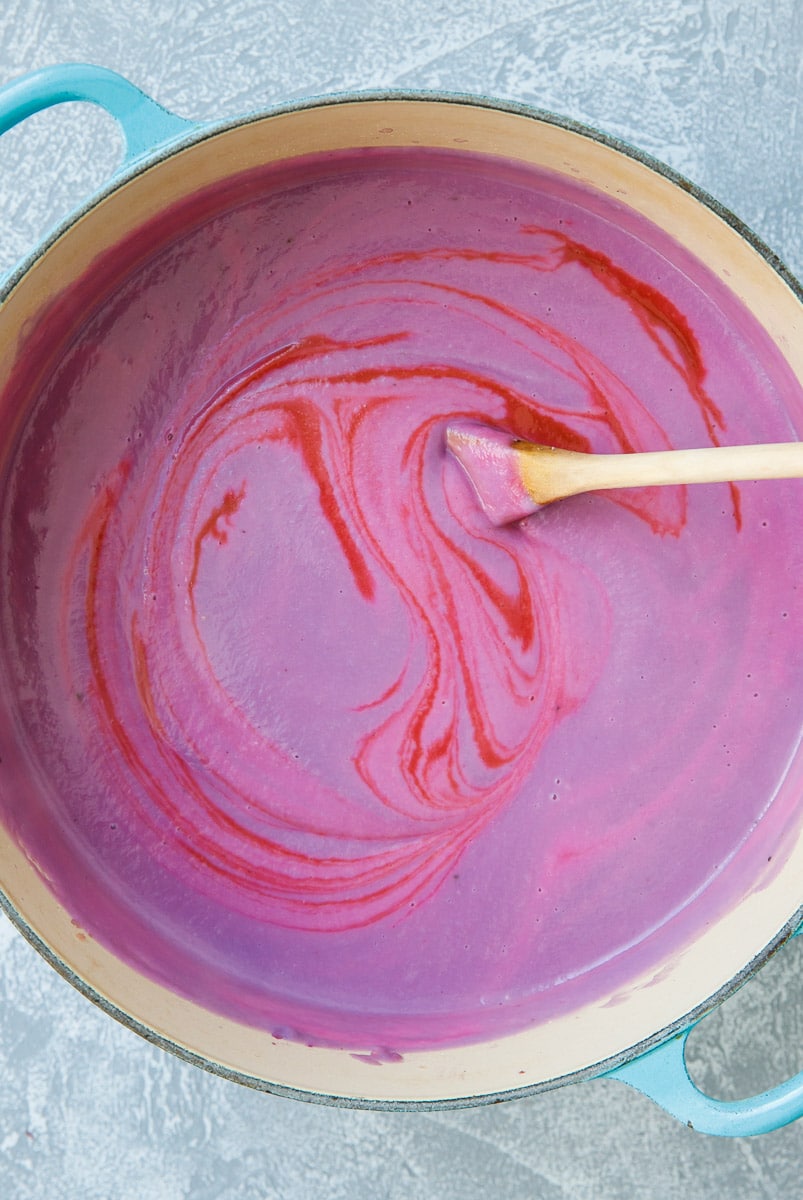 Interestingly – this soup has it's own magic color changing effect, same as the Magic Butterfly Lemonade I made a while back. As it turns out, anthocyanin, the same compound that gives the butterfly pea its beautiful blue hue and color changing effect, is what also makes purple cauliflower purple. So when we added the vinegar at the end, thereby changing the ph of the soup, the color changed from a bluer shade of purple to a slightly more pinkish purple, as you can see in the swirl above.
Pretty cool!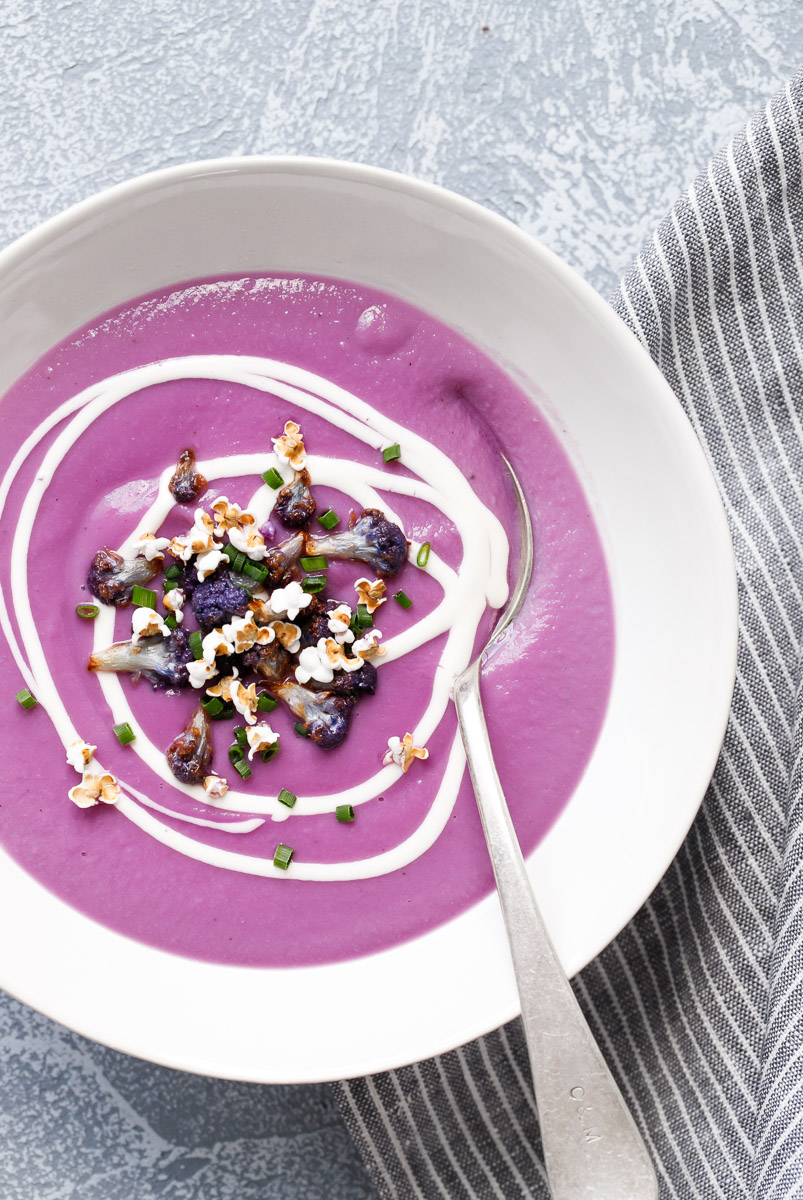 I'll admit that the color, while gorgeous, is a bit… unexpected. I couldn't quite wrap my head around what I was eating or seeing. I felt like it could have been blueberry yogurt or some gelatinous Japanese dessert. So when you tasted the creamy, buttery cauliflower, well, it didn't quite line up in my brain, and that took some getting used to. Still for a purely vegetarian soup (vegan even if you left off the crème fraîche) it's quite tasty, and I loved the textural contrast of the toppings as well.
Purple Cauliflower & Sweet Potato Soup
Made with purple cauliflower and purple sweet potatoes for a naturally purple hue, this creamy (and yet cream free!) soup is topped with crispy cauliflower florets, chives, crème fraîche and popped sorghum.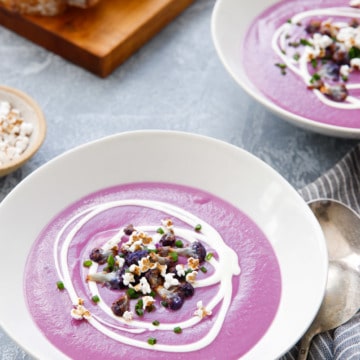 Ingredients:
1 head purple cauliflower
2 medium purple sweet potatoes (about 1 pound worth), peeled and chopped into 1 to 2 inch pieces
2 medium shallots, chopped (about 1/4 cup chopped)
1/2 medium red onion, chopped
1/4 cup olive oil, divided
6 tablespoons butter, divided
4-5 cups filtered water
1-2 tablespoons sherry vinegar, or to taste
salt and freshly ground black pepper, to taste
1/4 cup whole sorghum grains
snipped chives, for topping
crème fraîche, for topping (thin with a splash of milk if you want to 'drizzle')
Directions:
Trim the cauliflower, removing any green leaves and leaf stems. Remove stem and core; trim and slice into thin pieces.  Cut 1 1/2 cups of small florets and set aside for later. Coarsely cut the rest of cauliflower into thick slices and chunks.
Melt 2 tablespoons of butter with 2 tablespoons of the olive oil in a large saucepan set over medium low heat. Add shallot, onion, and a pinch of salt and sauté until softened, about 7-10 minutes.
Add water and increase heat to high. Add the half the cauliflower chunks and the sweet potato; bring to a boil, then reduce heat to maintain a gentle simmer. Cook for 15 minutes, then add other remaining cauliflower chunks and cook for about 10 to 15 minutes more, or until cauliflower is tender and cooked through and sweet potato is fork tender.
Meanwhile, melt the remaining 4 tablespoons of butter and 2 tablespoons olive oil in a pan. Add the reserved florets and cook over medium heat until the browned, stirring occasionally, about 10 minutes. Transfer the florets with a slotted spoon to a small bowl; sprinkle with sea salt. Pour browned butter into a small bowl and set aside.
For popped sorghum, place whole sorghum grains into a brown paper lunch bag. Fold over the top to close. Place in microwave, folded side down. Heat on high for 2 to 4 minutes or until popping sounds are spaced more than 5 seconds apart. Let cool, then pick out popped kernels, discarding duds.
Transfer soup into blender and puree until smooth (use caution when blending hot liquids). Return soup to the saucepan over medium-low heat until heated through. Season to taste with vinegar, salt and pepper, plus additional water if desired for a thinner consistency. To serve, ladle into serving bowls and drizzle with crème fraîche, garnish with florets, snipped chives, popped sorghum and freshly ground black pepper as desired. Serve warm.
Did you make this recipe?
Let us know what you think!
Leave a Comment below or share a photo and tag me on Instagram with the hashtag #loveandoliveoil.