(Psst! Have you entered two amazing giveaways going on right now from KitchenAid and White Lily? Don't miss your chance to win! And stay tuned for even more fun, we're not done celebrating yet!)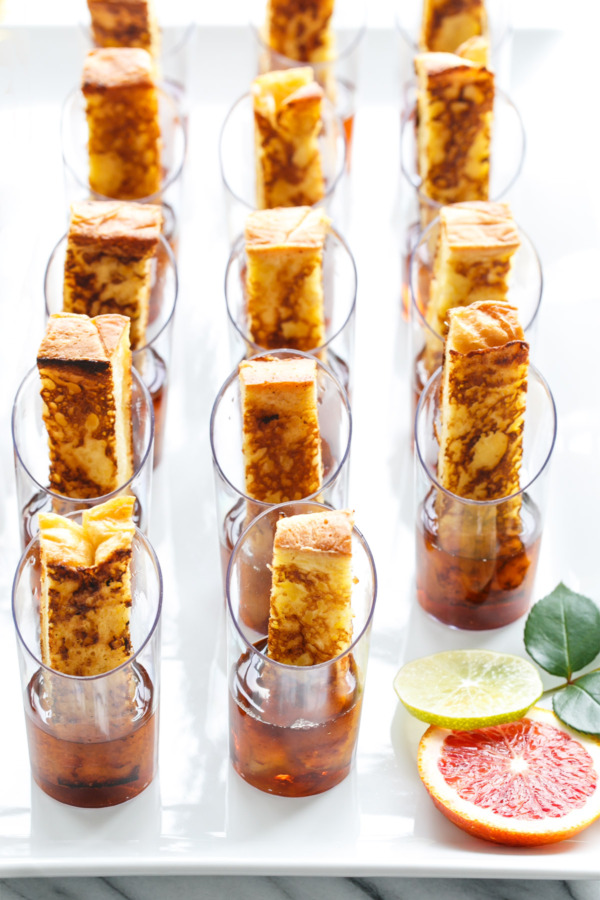 We wanted our brunch party full of brunchy bites, edible tidbits that could (for the most part) be eaten without a fork or other utensils. But when I decided wanted to serve French toast, it proved to be a bit of a bite-sized dilemma.
The solution came to me from above (actually, just Pinterest) where I saw bite-sized sticks of French toast served in shot glasses of maple syrup.
Brilliant and perfect.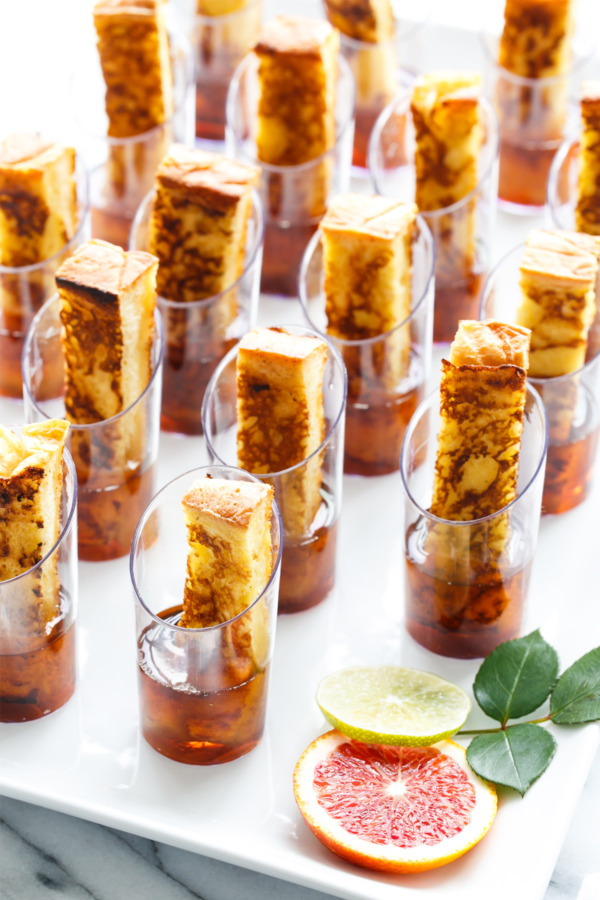 I added some bourbon to my favorite basic French toast recipe, which seemed more than appropriate seeing as I was serving it in shot glasses.
My motto? Where a vanilla is good, bourbon is better.
I used these slanted cylinder cups (since I didn't exactly have 20+ shot glasses on hand and wouldn't have wanted to wash them even if I did), but small jars or dixie cups would work here too.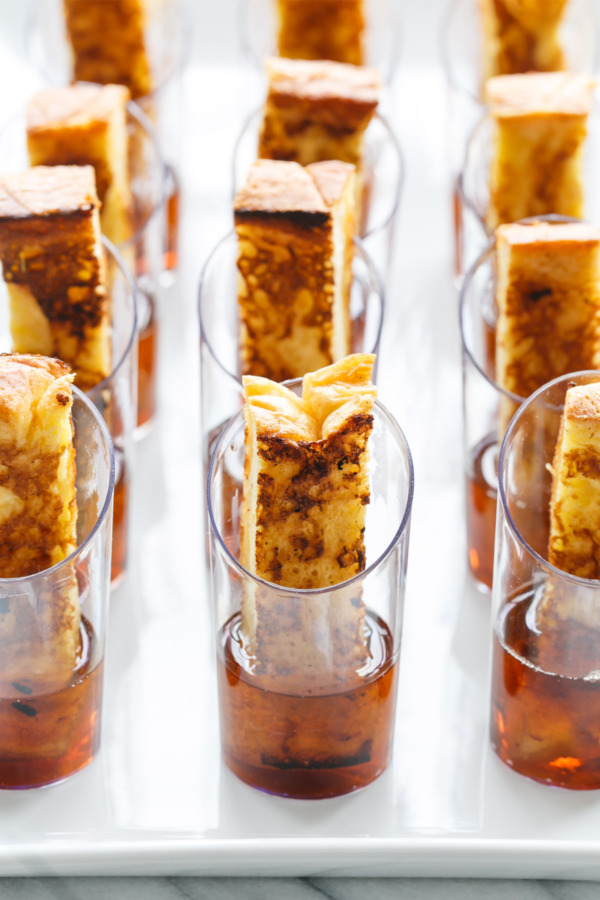 My favorite French toast recipe is below, spiked with a bit of bourbon for good measure, but you can use your favorite recipe, or mix it up and make something extra special like this Horchata French Toast or even Boozy Salted Caramel French Toast (served with a shot of boozy caramel sauce instead of straight maple syrup).
French Toast Shooters
A perfect brunch party recipe, these individual sized French toast sticks are served with a shot of maple syrup.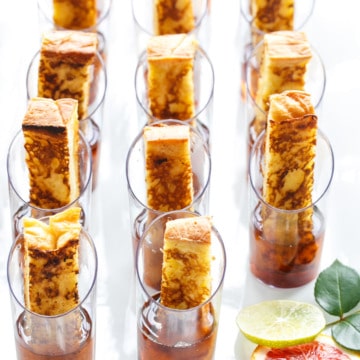 Ingredients:
4 large eggs
1 cup whole milk
2 tablespoons sugar
1 tablespoon bourbon or 1 teaspoon vanilla extract
pinch salt
1 loaf brioche bread, sliced into 8-10 1-inch thick slices
butter, for cooking
maple syrup, for serving
Directions:
Preheat oven to 350 degrees F. Arrange bread slices on a foil-lined baking sheet in a single layer. Bake for 5 minutes or until bread is slightly dried out and toasted,  but not yet starting to brown.
To prepare batter, whisk together eggs, milk, sugar, bourbon or vanilla, and salt. Pour into a shallow baking dish (a small-ish casserole dish is usually perfect for this).
Preheat a large non-stick skillet over medium-high heat.
Dip bread slices into batter, working one batch at a time (so if your pan can fit 2 slices, only dip 2 slices at once). Let soak for 10 to 15 seconds then flip and soak other side for another 10 to 15 seconds.
Add 1/2 tablespoon butter to skillet, it should sizzle upon hitting the pan (if it doesn't, the pan isn't hot enough).
Gently lift bread slices out of batter, letting excess drip off. Place into hot skillet. Cook for 2 to 3 minutes per side or until golden brown, then flip and cook for 2 to 3 minutes more. Transfer to a foil-lined baking sheet lightly sprayed with cooking spray. Repeat with remaining slices.
Once all slices are cooked, cut each slices vertically into fourths, creating long 'fingers' of French toast. Return to baking sheet, then bake at 350 degrees F for 5 to 10 minutes or until heated through, slightly longer if the French toast was completely cooled before baking. The French toast can be pan-cooked up to an hour ahead of time and then baked just prior to serving.
To serve, fill shot glasses with about 1/2 inch of maple syrup, then place a single piece of French toast inside it. You can serve a platter of shooters with another plate of extra pieces alongside, since the syrup in one glass is more than enough for a few slices.
Did you make this recipe?
Let us know what you think!
Leave a Comment below or share a photo and tag me on Instagram with the hashtag #loveandoliveoil.