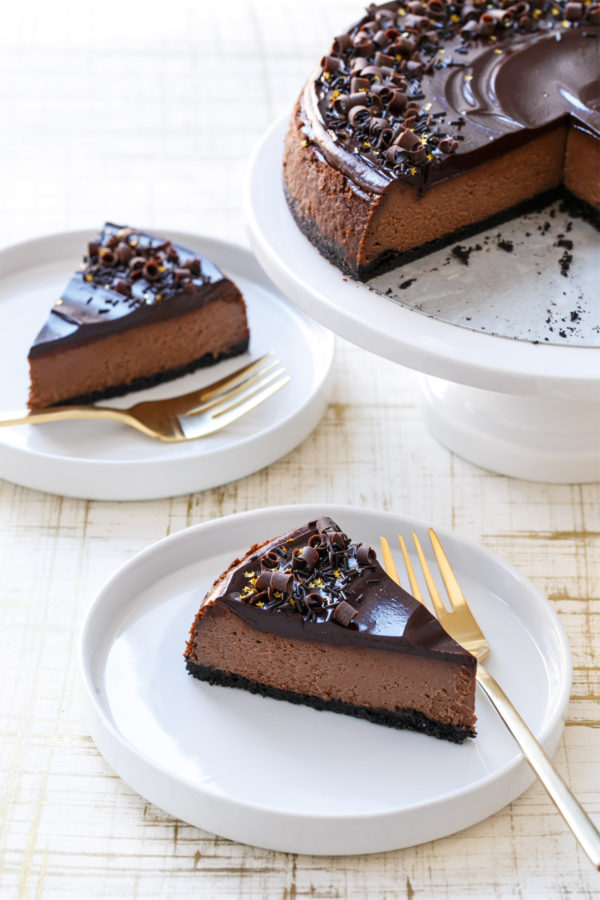 Let's face it, cheesecake recipes never come out right on the first try, and require at least 2-3 tests (or in this case, 4) before they are deemed post (and photo) worthy.
And if you're a household of two people, well, that's a lot of cheesecake to consume on your own. Even making half-size cheesecakes for the first couple tests, it's still more than the two of us can (or want to) eat.
Turns out the holiday party season is the perfect time to work on a new cheesecake recipe.
I mean, when else will there be multiple joyous occasions to force full-size cheesecakes on festive party-goers? And not only that, but you'll be that awesome friend who generously showed up to the party with a decadent triple chocolate cheesecake, rather than the friend that's secretly using you all as test subjects and human garbage disposals so she doesn't feel guilty about a good cheesecake going to waste.
Happy holidays, suckers.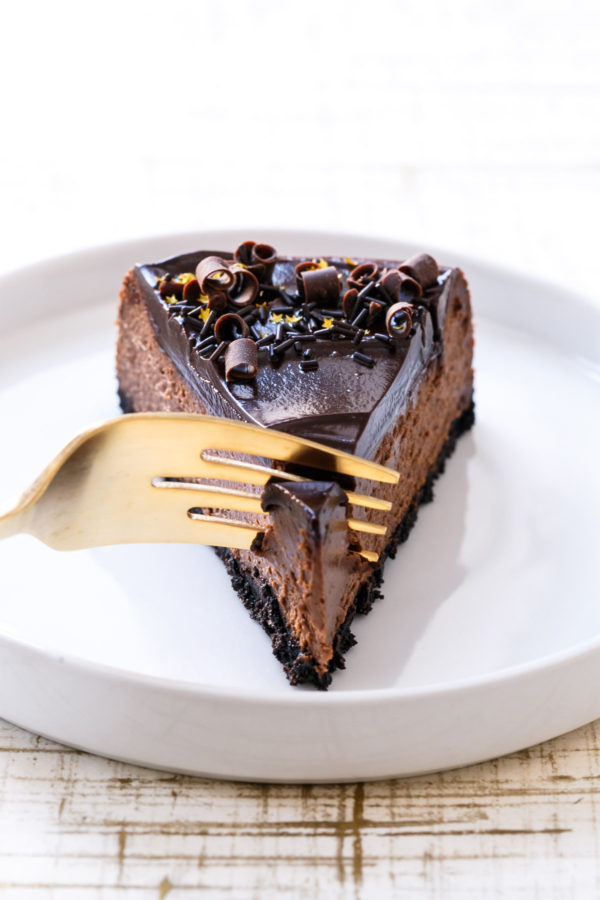 I will say that as a food blogger, there's one skill that I take extreme pride in, and that is the ability to package and present a cake in such a way that no one will know a slice is missing.
I needed that slice for the photos, you see, otherwise how would you be able to visualize the silky consistency of this divine cake? Not to mention that quality control is absolutely essential to ensure the final product lives up to my stringent standards of cheesecake texture, flavor, and appearance. I wouldn't dare bring a cake to a party without tasting it first.
The trick to accomplishing such a feat? Pre-slice the whole thing and arrange it on a platter with a little bit of space between each slice to make up for the missing one, and in the process, you've made enjoyment of said dessert so much easier for those who might have had one too many glasses of eggnog (Pre-sliced cheescake? What a concept! You're so thoughtful, Lindsay!)
Trust me, no one will ever know.
Until they read your blog, that is.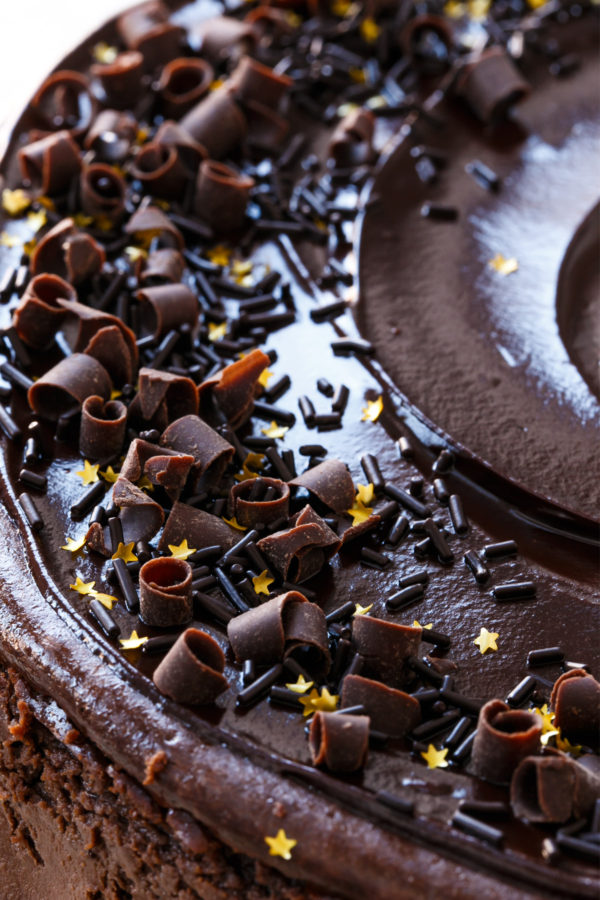 I do hope said party hosts (if you are indeed reading this, you know who you are) forgive this food blogger for her party fouls and honest admissions.
But you have to admit, the cheesecake was pretty darn fantastic, wasn't it?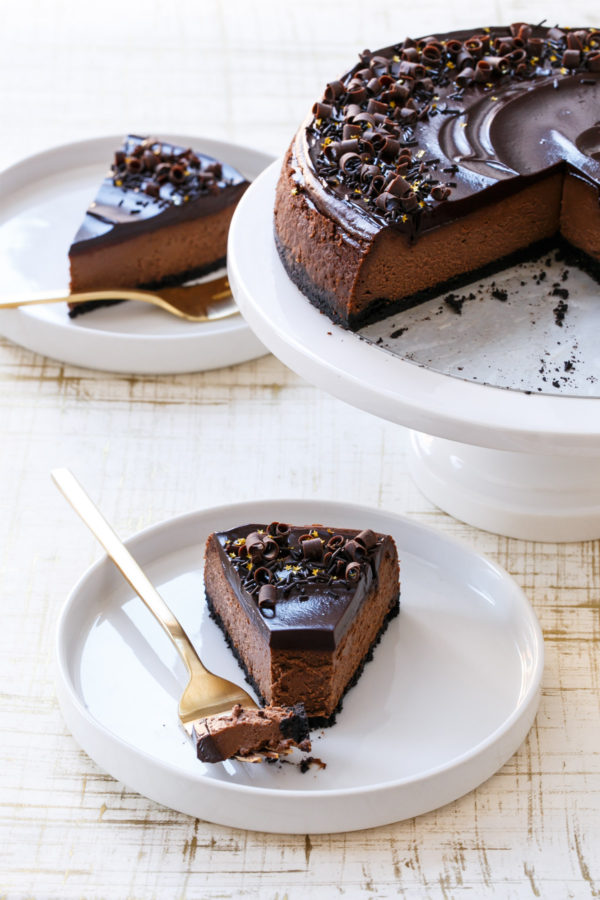 I set out to make a dark chocolate cheesecake, but quickly learned that it's much harder to get a divinely light and airy texture in a chocolate cheesecake than, say, a blueberry one. I like my cheesecakes light in texture but not in flavor, and that proved challenging with this recipe.
I eventually dialed back on the chocolate, using unsweetened in place of dark or semisweet for maximum chocolate flavor, but the cheesecake still didn't meet my standards, its sad sunken sides looked as deflated as I felt after three tries already.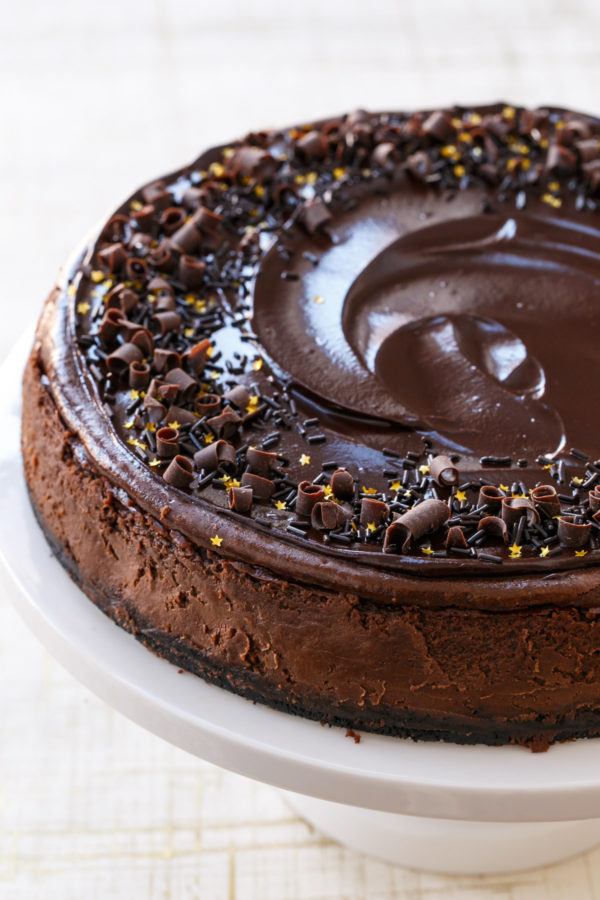 Luckily Alisa came to my rescue, offering a slew of valuable suggestions and advice to turn my sunken shipwreck into a treasure. Trust me, Alicia knows her stuff, baking up hundreds (maybe thousands) of cheesecakes during her 10-year tenure as pastry chef at the Loveless Cafe. When she tells you to ditch the springform pan, you throw it in the garbage and don't look back. Use a cake pan instead, which will insulate your cheesecake in much the same way a water-bath would (without the leakage). I discovered an amazing cake pan with a convenient removable bottom, that's truly the best of both a springform and a heavy duty cake pan in one, and makes for near-perfect cheesecakes. You can also use a regular 9-by-3-inch cake pan, but either way, the heavier the better and the more evenly your cheesecake will bake.
A new pan and few tweaks later, and we have ourselves a winner-winner-cheesecake-for-dinner.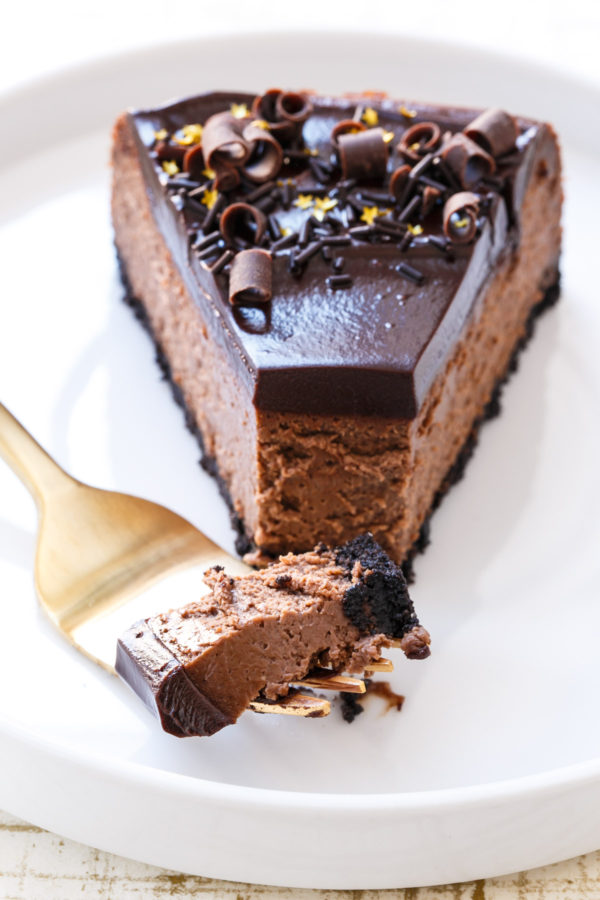 The balance of texture and flavor and richness is perfect. For as much chocolate flavor as is packed into this cheesecake, the texture remains astoundingly light and silky smooth, thanks in part to the addition of sour cream to offset the density of the cream cheese as well as impart a delightful tartness that plays off the sweet, rich chocolate in ways you never knew possible.
The "triple" chocolate part comes from the fact that the crust, filling, AND glaze are all intensely chocolate. Technically I could probably call it quadruple since the filling contains both melted chocolate and cocoa powder, but triple just rolls off the tongue a little bit better (clearly I like calling things triple [insert ingredient here]… like triple citrus or triple ginger or triple almond… I'm sensing a pattern).
I topped the cheesecake with a mix of chocolate jimmies, chocolate curls, and edible gold glitter stars. The stars add a glitzy touch that makes for a festive presentation. It is a cheesecake that is just dying to adorn your New Year's Eve table.
Triple Chocolate Cheesecake
The perfect chocolate cheesecake, with plenty of dark chocolate flavor and a light and silky texture (thanks in part to the addition of sour cream), and a creamy chocolate ganache glaze on top.
Ingredients:
For Crust:
6 ounces chocolate wafer cookies or chocolate sandwich cookies with filling removed
1 tablespoon granulated sugar
pinch salt
1/4 cup (4 tablespoons) unsalted butter, melted
For Filling:
1 pound (2 8-ounce packages) full fat cream cheese, room temperature
1 cup granulated sugar
2 tablespoons all-purpose flour
2 tablespoons cocoa powder
1 teaspoon instant espresso powder
3/4 teaspoon kosher salt
3 large eggs, room temperature
2 large egg yolks, room temperature
2 teaspoons vanilla extract
1 1/4 cup sour cream, room temperature
4 ounces unsweetened chocolate, finely chopped
For Glaze:
5 ounces dark or semisweet chocolate (50-70%), finely chopped
1/3 cup heavy cream
1 tablespoon unsalted butter, cut into cubes
Directions:
Preheat oven to 300 degrees F. Lightly butter a 9-by-3-inch cake pan. Line the bottom with parchment paper; lightly butter parchment. Get out your cream cheese, eggs, and sour cream and let come to room temperature for at least and hour before you start baking (this is VERY important to ensuring your cheesecake is smooth and lump-free).
For crust, crush cookies in a food processor until finely ground. You should have just over a cup of cookie crumbs. Add sugar and salt and pulse to combine. Drizzle in melted butter and pulse until crumbs are evenly moistened. Spread into bottom of prepared pan and press firmly into an even layer (use a tamper or a flat-bottomed glass to help pack the crumbs tightly). Place crust in freezer for 15 to 30 minutes to set while you prepare the filling.
For filling, place cream cheese in bowl of food processor and pulse until smooth. Add sugar and pulse 2-3 times until combined. Scrape down the sides of the bowl.
Whisk together flour, cocoa powder, espresso powder, and salt and add to bowl with cream cheese, pulsing once or twice to combine. Add eggs and egg yolk and pulse until just incorporated, scraping down the sides of the bowl as needed. Add vanilla and sour cream and pulse once or twice to blend.
Place chocolate in a heat-proof bowl. Microwave on half-power for about 1 minute, stirring after every 15 seconds, until chocolate is mostly melted. Remove from microwave and continue to stir until completely melted and smooth, using the residual heat from the chocolate and the bowl to melt the chocolate the rest of the way.
Slowly drizzle in chocolate through the feed tube of the food processor, pulsing as you go, until chocolate is incorporated and no white streaks remain in batter. Remove crust from freezer and pour batter into chilled crust.
Bake for 55 to 60 minutes or until center is set but still barely jiggly. Gently run a thin knife around the edge of the cheesecake to release it from the sides (this will help prevent cracking). Turn off oven and prop door open with a wooden spoon; let cheesecake cool in oven for 1 hour, then remove and set on a wire rack to cool to room temperature. Once cool, run a knife around the edge of the cheesecake again to release it, then invert onto a plate. The parchment on the bottom should ensure the cake comes out cleanly. Invert again onto a serving plate. Cover lightly with plastic wrap and refrigerate overnight until firm (you can also glaze the cheesecake before refrigerating overnight, however your glaze will not be as soft or shiny after refrigeration).
To prepare glaze, place chopped chocolate in a heat-proof bowl. Heat cream in a small saucepan until it just starts to bubble around the edges (do not let it boil). Pour cream over chopped chocolate and let sit for 30 seconds, then slowly whisk, working in concentric circles starting in the middle, until chocolate is fully melted and smooth. Add butter, one cube at a time, slowly whisking until melted and smooth.
Pour glaze over top of cheesecake, spreading to edges with an offset spatula. Decorate as desired. Let set for about 1 hour, or refrigerate for 20 minutes or so until glaze is set.
To slice, run a large knife under hot water for 30 seconds. Wipe try with a clean towel, then slice. Wipe your knife off after each slice, and run it under hot water again after every 2-3 slices. This will ensure your slices are clean and crisp.
Cheesecake will keep, lightly covered in the refrigerator, for up to 3-5 days. Cheesecake can also be frozen, though I recommend freezing it naked and then glazing before serving for the prettiest presentation.
Did you make this recipe?
Let us know what you think!
Leave a Comment below or share a photo and tag me on Instagram with the hashtag #loveandoliveoil.