When I get on a kick, my thoughts and behavior border on compulsive, the topic of my current obsession permeating the far corners of my brain. Whether it's food, travel, or a crazy notion to refinish our dining table with faux cement. An idea, when I get a good one, is like a splinter, so tiny you have a hard time finding it, but just irritating enough that you can't relax until you've dealt with it.
Although, I'd bet that my ideas, when fulfilled, are far more satisfying than splinters. So maybe that's a bad metaphor.
Take eclairs, for example. Ever since the Challenge last month (when I realized they really weren't as hard as I had made them out to be), I haven't been able to stop thinking about the pillowy pastries, about rich chocolate glazes and about bright fruit fillings like strawberry, peach, passionfruit (speaking of, if I could find the darn stuff I'd be living in a passionfruit world right now, alas, it eludes me). Which brings us back to the next best thing, strawberry.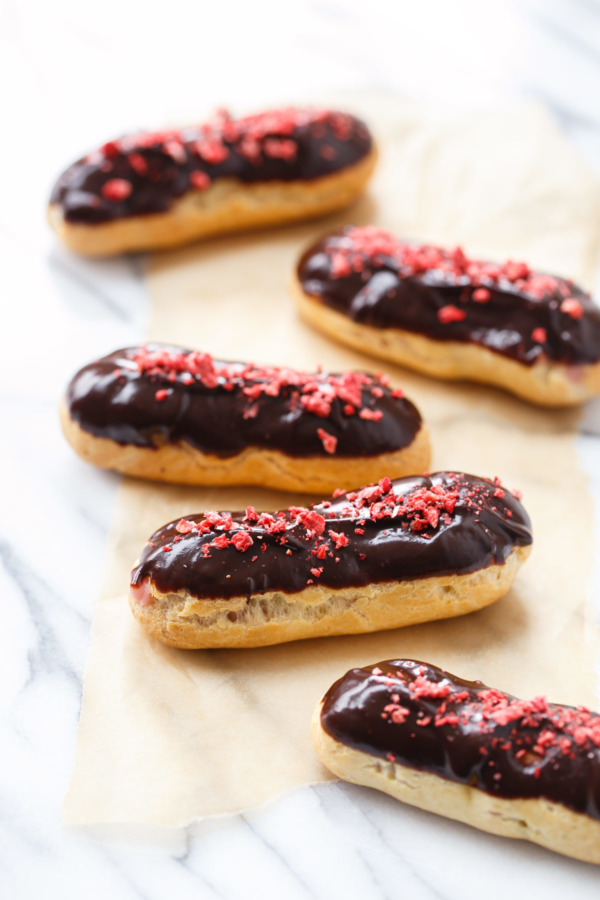 As is often the case, I picked more berries than I had use for, and despite my grand ideas and lofty ambitions, I knew I wouldn't be able to use them all before they turned. So, not willing to leave a single berry behind, I pureed what was left and froze the purée, with the clear intent on using them in an eclair filling when I had more time.
Baking, to me, is more enjoyable when there is no deadline. When you really don't feel like baking and would rather sit on your haunches and watch Game of Thrones all day, you can do so without the guilt of letting those things you bought or picked or ordered go bad. When it doesn't affect the integrity of the recipe (the strawberries would have to be puréed anyhow so it didn't affect the final product), being able to preserve amazing ingredients to be used later on, any day when the mood strikes you, is ideal.
The main difference between this batch and the first one is the ratio of shell to filling. I made the same quantity of pastry cream for half as many eclairs. That way, without fear of running out, you can fill them until almost bursting.
I love the smell of freshly baked eclairs. The eggy, pancake like scent reminds me of one of my favorite breakfast dishes, German pancakes (or Dutch babies). Imagine a Dutch baby filled with strawberry pastry cream and dipped in chocolate ganache. That's pretty much what these pastries smell (and taste) like.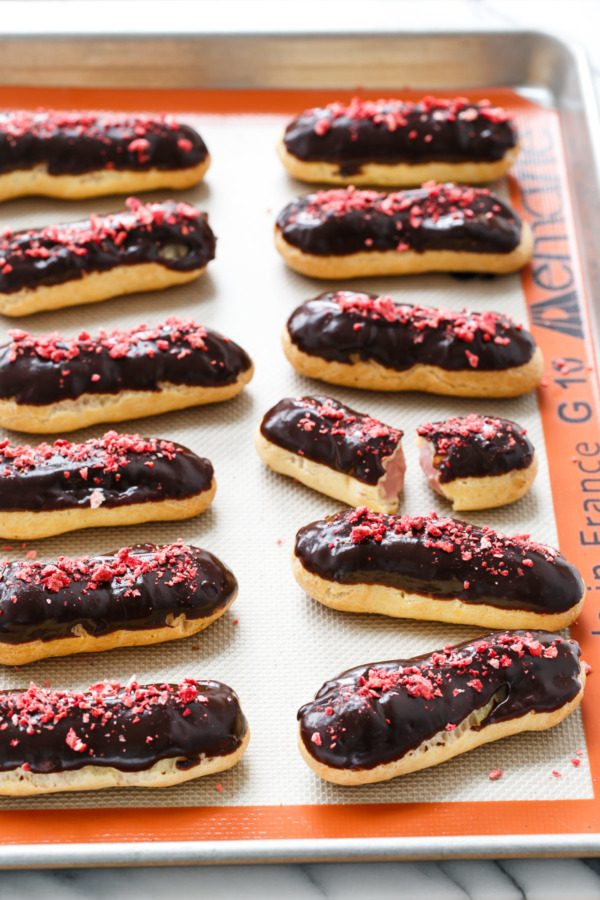 A note about color: maybe we have an unrealistic expectation of what hue strawberry-flavored things should be, but I guarantee you it's rarely natural. That pink milk your kids like? Or that neon pink cake mix? I don't know about you, but I've never seen a strawberry that color.
Still, there's something a bit fleshy about the color of cooked strawberries, especially in a recipe like this one where they are diluted with milk and eggs. The same is true of strawberry cakes and cupcakes. If the color bothers you (let's call it pale mauve in lieu of other less appetizing descriptors), simply add a few drops of red food coloring. You'll be so busy stuffing your face that you probably won't even notice the color, so this addition is totally optional. Your call.
Chocolate Covered Strawberry Eclairs
Ingredients:
For Pastry Cream:
1 3/4 cups whole milk
2 large eggs
1 large egg yolk
2/3 cup (5 ounces) granulated sugar
1/3 cup fresh strawberry purée
1/4 cup cornstarch
1/8 teaspoon salt
1 teaspoon vanilla extract
1-2 drops red food coloring (optional)
For Eclairs:
1/4 cup milk
1/4 cup water
1/8 teaspoon salt
1 teaspoon granulated sugar
1/4 cup (1/2 stick) unsalted butter
1/2 cup all-purpose flour
2 large eggs
For Chocolate Glaze:
4 ounces bittersweet chocolate, shaved or finely chopped
1 tablespoon light corn syrup
1/2 cup heavy cream
crushed freeze-dried strawberries (optional, for garnish)
Directions:
The day before, prepare the pastry cream filling as it needs sufficient time to set.
In a saucepan, bring the milk to a gentle simmer.
In a medium bowl, whisk the eggs and yolk together with sugar, strawberry purée, cornstarch, and salt until combined and no lumps remain.
Slowly whisk a 1/4 cup of hot milk into the eggs; it will be thick at first but will loosen up as the milk incorporates. Continue adding hot milk, 1/4 cup at a time, until about half of the milk has been added and mixture is hot to the touch. Whisk the tempered egg/milk mixture back into the hot milk on the stove. Continue to whisk over medium heat until the mixture thickens and starts to bubble (careful as it will spatter). Continue to cook for exactly one minute to thoroughly out the starchy flavor of the cornstarch. Stir in vanilla extract and food coloring, if desired.
Pour the pastry cream into a container or heat-proof bowl, pressing plastic wrap against the surface to prevent a skin from forming, and refrigerate at least 2 hours or overnight.
To prepare the eclairs,  preheat oven to 425 degrees F. Line two baking sheets with parchment paper or silicone baking mats.
In a heavy saucepan, combine the milk, water, salt, sugar, and butter and bring to a full boil over medium heat. Add the flour all at once, stirring vigorously with a wooden spoon. Keep stirring until the mixture comes together and dries out slightly so that it pulls away from the sides of the pan, about 3 minutes.
Transfer dough to the bowl of a stand mixer fitted with the paddle attachment or a heat-proof mixing bowl. Add the eggs, one at a time, mixing well after each addition and scraping down the sides of the bowl as needed. When all the eggs have been added, the dough will be thick, smooth, and shiny.
Spoon some of the dough into a pastry bag fitted with a 1/2-inch-round tip. Pipe out tubes about 5 inches long and 1 inch wide, or 3-4 inches long and 1 inch wide for mini eclairs. Leave about 2 inches of space between eclairs as they will puff up quite a bit when baking. If you have any "tails" or imperfections, you can smooth them out with a damp fingertip.
Bake until puffed and just starting to show some color, about 10 minutes. Reduce oven temperature to 375 degrees F and continue to bake until hollow inside and evenly golden brown outside, about 12 minutes more. Remove from the oven and, using a metal skewer, poke a small hole in the end of each shell to allow the steam to escape. Let cool on wire racks.
To prepare glaze, combine chocolate and corn syrup in a heat-proof bowl. Heat the cream until it just starts to bubble (do not let it come to a full boil), and then pour over the chocolate. Let sit for 1 to 2 minutes, then stir gently until smooth and shiny.
To assemble the eclairs, stir the cold pastry cream until smooth. Spoon into a pastry bag fitted with a small star or special filling tip. Using the holes on each end that you made when the eclairs came out of the oven, fill the shells until they start to feel heavy. Do not overfill or they may start to spew filling out the sides.
Dip the top of each filled eclair into glaze, letting excess drip off, then place upright on a wire rack. Sprinkle with crushed freeze-dried strawberries and allow glaze to set. Serve immediately or refrigerate for up to 6 hours. Alternatively, unfilled pastry shells can be frozen for up to 3 weeks. Recrisp in a 450 degree F oven for about 10 minutes; let cool before filling/glazing as instructed.
Did you make this recipe?
Let us know what you think!
Leave a Comment below or share a photo and tag me on Instagram with the hashtag #loveandoliveoil.