Well soup de doo, would you look at that luscious black bean soup! Not to mention it's naturally vegetarian and gluten free (vegan too if you skip the dairy-based toppings!)
Starting with dried black beans produces a robust bean stock that is then pureed with the cooked beans, fire-roasted tomatoes, and other aromatics for a thick and creamy soup without the need for additional stock.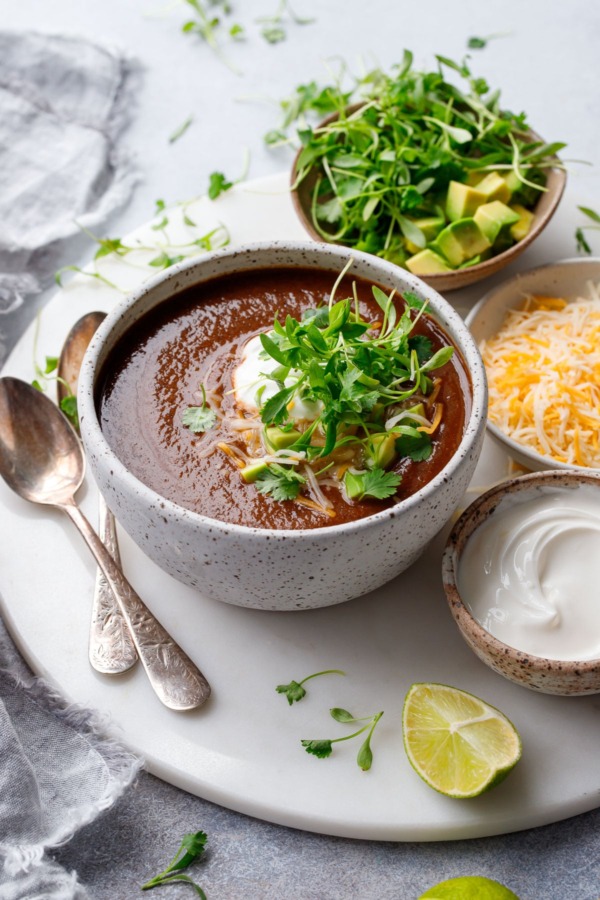 I know, I know, it's still like 800 degrees outside, but that doesn't mean fall isn't on my mind (and fall, of course, means soup). Clearly I don't have an issue with enjoying soup for dinner during the summer months, and this recipe is no exception.
Made using dried black beans, this soup is thick and creamy and super satisfying. All that protein inherent in black beans makes for a hearty and filling soup that's a satisfying meal in its own right.
When topped with melty cheese and sour cream, it could also be called bean dip soup which really describes it perfectly. I love to eat it alongside a bowl of salty corn tortilla chips, adding an element of crunch to the otherwise smooth consistency.
And now that I think about it, if you reduced the liquid in this recipe by a cup or two, you'd actually have a pretty darn fantastic bean dip, just transfer to a baking dish, top with a generous amount of cheese, and pop it in the oven until melty. How's that for a versatile recipe?
We kept the flavor profile fairly simple, adding onion, peppers (jalapeño, serrano, or, if you're brave, habañero works too), along with a can of fire-roasted tomatoes. A bit of cumin and chipotle chili powder and that's it… you really don't need much else to produce a richly flavored soup.
Topping wise, treat it like a taco. We opted for shredded cheese, a dollop of sour cream, avocado and a pile of micro cilantro, but you could just as easily top it with crumbled cotija cheese and pickled red onions. A combo of blistered corn, pickled jalapeños, and a dollop of fresh guac would be lovely as well, or maybe even add some fried tortilla strips ala tortilla soup?
If you haven't cooked dried beans before, you'll notice that it's really hard to find a recommended time for just how long they'll take to cook. Which can be frustrating, until you realize that a few seemingly small variables can significantly affect how long dried beans take to cook.
The main variables are age and soaking: the older the dried bean, the longer it will take to cook. Soaking the beans overnight (or even a few hours if that's all you've got), can also speed up the process quite a bit as it helps soften the starchy outer layer of the beans, allowing the boiling water to permeate to the core of the bean more quickly.
If you soak your beans, and assuming your beans aren't super old, account for 60 to 90 minutes for your beans to cook through fully. Unsoaked black beans will take more like 2 hours to fully cook.
Luckily, since we'll be pureeing the beans here, it's not crucial that you cook the beans perfectly. If they're a little mushy, that's totally ok.
A lot of recipes will say not to add the salt until the end of the cooking process, but we haven't found much difference either way (acidity, however, CAN retard the cooking process, so definitely don't add anything acidic like tomatoes to the beans as they cook.) You can also generously salt the soaking liquid which really infuses the beans with flavor.


Using dried black beans results in a much more flavorful soup since you're essentially making your own 'bean stock' during the process (as opposed to adding vegetable or chicken stock to already cooked beans). I mean, this soup basically flavors itself.
While cooking dried beans definitely takes some time, if you plan ahead it's really not inconvenient at all. Soak the beans overnight to speed up the cooking process; you can also cook the beans a day ahead of time as well. Once the beans are cooked, the entire process takes less than 30 minutes from start to finish.
That said, if you want to swap in two cans of black beans you can. Drain and measure out all the bean liquid, then add enough water or vegetable broth to thin it out to a desirable texture. You'll also want to add a generous pinch of salt to to the soup base along with the spices (since canned beans won't be as salty as the dried cooked beans in this case).
Black Bean Soup
Thick and creamy, this black bean soup starts with dried black beans for an ultra-flavorful result; with onion, jalapeño, and savory spices, it's hearty and satisfying (not to mention naturally vegetarian and gluten-free!)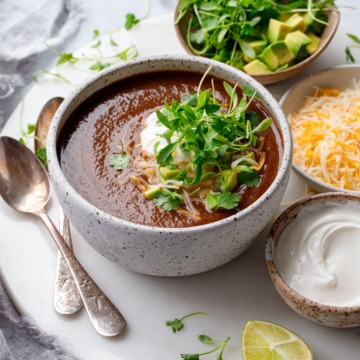 Ingredients:
1 cup dried black beans
10 cups filtered or spring water
1 tablespoon kosher salt
1 bay leaf
1 tablespoon olive oil
1 large onion, chopped (1 1/2 cups chopped)
4 garlic cloves, minced
1 large jalapeño or serrano (habañero if you're brave), finely chopped
1 tablespoon tomato paste
2 teaspoons chipotle chili powder
1 teaspoon cumin
1 (14oz) can diced fire-roasted tomatoes
1 teaspoon lime juice
toppings as desired, including shredded cheese, sour cream, diced avocado, and fresh chopped cilantro
Directions:
Place black beans in a quart-sized container; cover with water by at least 2-3 inches. Cover and refrigerate overnight.
The next day, drain and rinse the beans. Add to a large stock pot or Dutch oven along with 10 cups of filtered water. Add salt and bay leaf and bring to a full rolling boil for 10 minutes. Reduce heat to low; you want to keep the beans bubbling at a bare simmer rather than vigorously boiling. Partially cover and cook, stirring occasionally, for 60 to 90 minutes (older beans may take longer, as will beans that haven't soaked as long) or until beans are soft and tender throughout.
Drain beans, reserving cooking liquid. You should have about 2 1/2 cups of cooked beans and 4 cups of cooking liquid.
Wipe out Dutch oven. Return to medium heat and add oil until shimmering. Add onion, garlic, and jalapeño and sauté until softened, about 5 minutes. Add tomato paste, chipotle and cumin and stir until coated and fragrant, 1 to 2 minutes.
Add canned tomatoes and all their juices, along with black beans and 3 cups of reserved bean liquid. Bring to a simmer for 5 to 10 minutes. Carefully transfer to a blender (you can also use an immersion blender) and puree until smooth. Add more liquid as desired to reach a thick, soup-like consistency. Return to saucepan and add lime juice. Taste, and season as desired (we did not need any additional salt, but you may want to).
Ladle into serving bowls and add toppings as desired. Serve warm. Leftover soup can be refrigerated in an airtight container for a few days, or even frozen for up 1 month.
Did you make this recipe?
Let us know what you think!
Leave a Comment below or share a photo and tag me on Instagram with the hashtag #loveandoliveoil.