Bold and refreshing, this blueberry ginger sorbet recipe is sure to be a hit this summer!
Sorbet should taste like freshly picked fruit, and this one surely fits the bill, with an intense blueberry flavor and vibrant purple color. The subtle hint of ginger gives this sorbet a little something extra.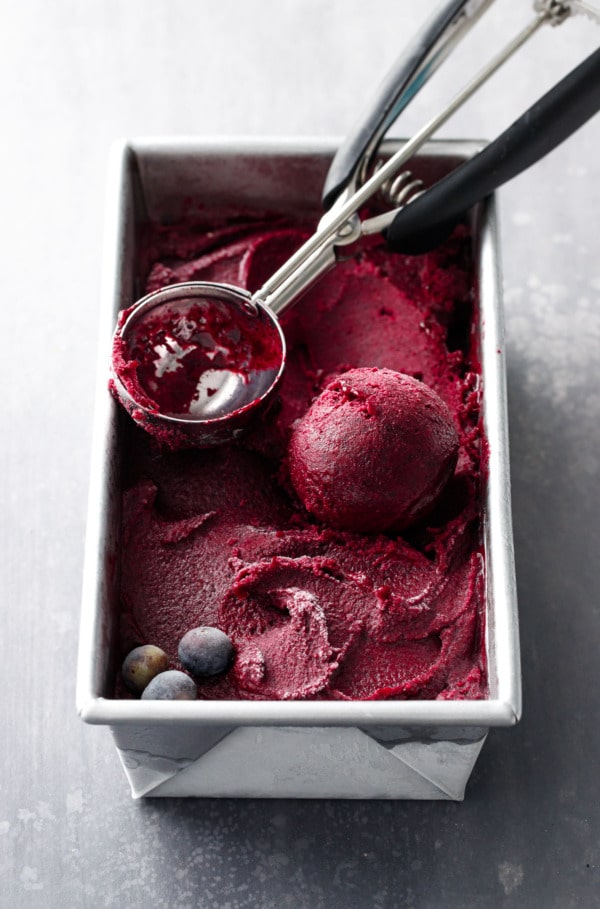 This recipe was inspired by a particularly memorable scoop of sorbet we had in Zagreb, Croatia. The day may have been drizzly and cool, but that didn't stop us from popping in to the adorable little French cafe called Amélie.
I was actually surprised at the overall quality of the ice cream in Croatia, although seeing its proximity to Italy I guess I shouldn't have been.
We ended up back at this same cafe the following day too, just down the hill from the city's iconic cathedral, where we sat down in the outdoor terrace and enjoyed a delicious entremet cake and (obviously) some more ice cream.
This particular sorbet is nothing short of refreshing, with a bright blueberry flavor and a sultry hint of ginger. It'd be a perfect palate cleanser (you know the kind of sorbet they serve between main courses on a cruise ship) or an impressive finale to any meal.
And, I mean, can we talk about that color for a second? It's downright gorgeous. I'd love a ballgown in that color, to be honest (if I had a ball to attend, that is).
Also: I officially submit my petition for renaming them purpleberries instead of blueberries, or, if we're truly being color-wheel purists, they should really be called redvioletberries.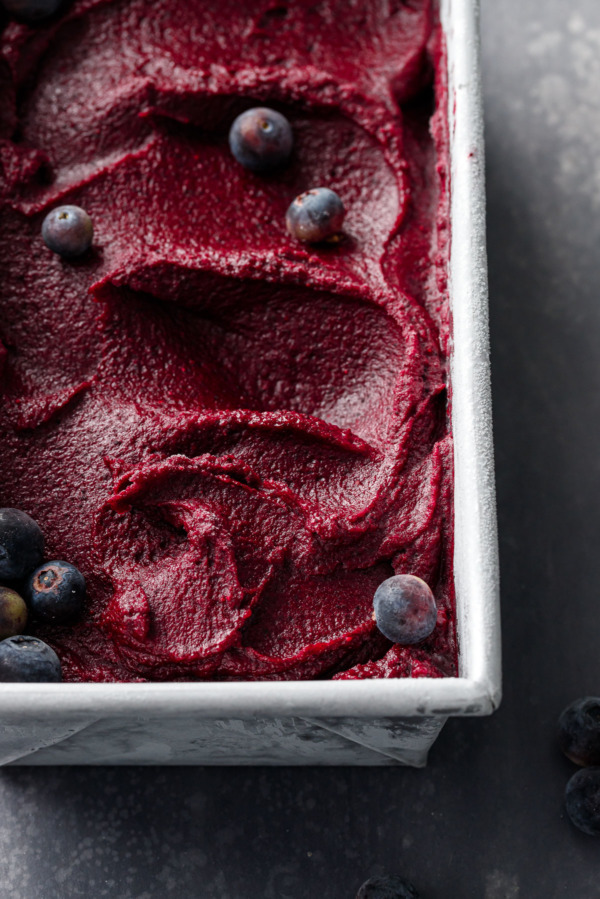 In this recipe, I opted to briefly simmer the blueberries with the sugar (many recipes just have you puree the raw fruit with sugar or a sugar syrup).
What does this achieve, exactly, except adding time onto the cooking process?
Well, much in the same way my blueberry cheesecake benefitted from roasting the berries, I feel that a bit of heat brings out the best of the berries, with a more intense flavor and color.
When making a cooked sorbet like this, you just want to be sure you chill down the sorbet base thoroughly before you churn it. The idea being that the colder the sorbet base is when you put it in the ice cream machine, the quicker and smaller the ice crystals will form. And smaller ice crystals leads to a more texturally satisfying sorbet.
I recommend chilling it at least 3 hours, or ideally overnight.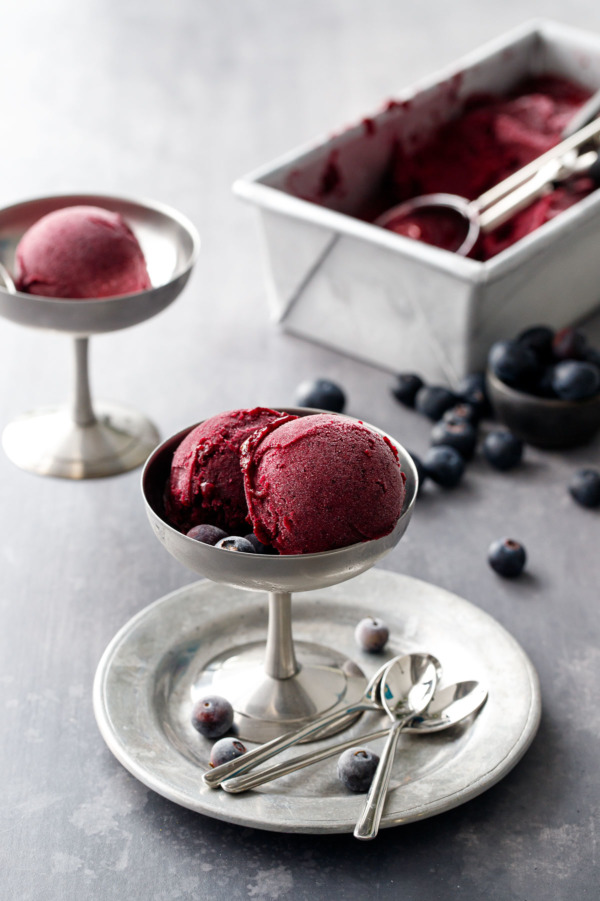 Because this recipe is what I'd consider a whole fruit sorbet, it's not perfectly smooth. Something like raspberries or blackberries might be too seedy, but the blueberries work quite well in this fashion. I enjoy the slight bit of grit that the specks of skins and seeds bring to the final sorbet.
That said, if you can't stand bits of seeds in your teeth, you can certainly strain the blueberry mixture before freezing it, just press it through a fine mesh sieve. Do note that doing so will reduce your yield by about 25%, so feel free to increase your fruit quantity accordingly.
If you find you have trouble scooping it, let it rest 10 or 15 minutes at room temperature. Sorbet, when frozen solid, tends to break off in icy chunks, but after a couple of minutes at room temperature, will scoop marvelously.
It's the same reason gelato is so good: it's served at a slightly warmer temperature.
A few degrees (and a wee bit of patience) makes all the difference in the world.
This sorbet is slightly lower in sugar than most recipes, so to offset that loss of specific gravity*, I added a tiny bit of guar gum to improve the texture and longevity of the sorbet. This is optional, just know it'll be a little bit icier, and won't last quite as long in the freezer without it.
*If you feel like getting all scientific: specific gravity measures the density of the unchurned sorbet. The idea being that the thicker the base is, the higher the sugar content essentially, the lower the lower the freezing point and the creamier the final sorbet will be. You can actually measure this yourself by dropping an egg (wash it first please) into your sorbet base. If the tip of the egg floats just above the surface, your specific gravity is good! Yay, science!
In the case of this recipe, where the sugar content is around 10% (counting both the added sugar and the sugar in the fruit), won't quite get you where you need to be (typically 20-30%). Hence the gaur gum. If you opt to skip it, feel free to increase the sugar 100-200% to ensure a creamy consistency.
Blueberry Ginger Sorbet
Bold and refreshing and deeply purple in color, this blueberry ginger sorbet is the ultimate sorbet for summer.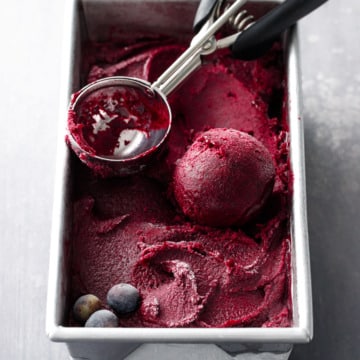 Ingredients:
4 cups (20 ounces) fresh or frozen blueberries
1/2 cup plus 1 tablespoon granulated sugar (can increase to 3/4 or 1 cup if desired)
1/2 cup filtered or spring water
3 tablespoons lemon juice
2 teaspoons (about 5g) finely grated ginger
pinch salt
1/8 teaspoon guar gum*
Directions:
Combine blueberries, 1/2 cup of sugar, water, lemon juice, ginger and salt in a saucepan over medium heat. Simmer for 10 minutes or until berries are softened and starting to burst.
Remove from heat and transfer to a blender (use caution when blending hot liquids; feel free to work in batches or let the mixture cool slightly before blending).
Blend blueberry mixture until smooth. While I enjoyed the sorbet with a bit of grit, if you want a smoother final product feel free to strain it through a fine mesh sieve to remove any tiny bits of skin and seeds (just know you'll end up with about 25% less sorbet in the end).
Whisk guar gum with 1 tablespoon sugar, then add to blender and puree until incorporated.
Transfer sorbet base to a heat-safe container or 4-cup glass measuring cup. Cover tightly and refrigerate until completely chilled, at least 3-4 hours or ideally overnight.
Churn in an ice cream maker according to manufacturers instructions. Transfer to a freezer-safe container. Cover, pressing down plastic wrap or parchment paper onto the sorbet surface to prevent freezer burn, and freeze overnight until firm.
*Guar gum serves to thicken the mixture and produce a creamier, longer lasting sorbet. If you omit it, I'd recommend increasing the sugar by 1/4 to 1/2 cup to make up for the difference, otherwise your sorbet will be on the icy side.
Did you make this recipe?
Let us know what you think!
Leave a Comment below or share a photo and tag me on Instagram with the hashtag #loveandoliveoil.