Silky smooth and bursting with unexpected flavors, this creamy butternut squash soup is finished with crème fraîche, fresh cilantro and crunchy, maple-roasted pumpkin seeds.
Butternut squash soup recipes are a dime a dozen, but this one stands apart due to its unique flavor additions: a pop of fresh orange zest and a hint of fragrant saffron. It's an entirely unexpected flavor combination that's simply delicious.
Sometimes, a cookbook comes along that changes your entire culinary perspective.
Ottolenghi's SIMPLE is one of those books.
We've been cooking our way through it, slowly and surely, often filling our weekly menu plan with 3-4 recipes just from this book. And other than some unusually soggy fish fingers, everything else we've made has been absolutely stellar. The fact that most of the recipes lean vegetarian doesn't hurt either: there's very little in this book you need to feel guilty about.
I love this book so much I decided I need to share at least one recipe with y'all here. I probably won't share more though, because you should really go buy it for yourself. (If you're a design nerd like me you may appreciate the original UK version of the book, which has a drop-dead gorgeous cover. Why publishers tend to take beautiful covers and genericize them for the US market is beyond me… I'll seek out the original version if I can find it, even if it means cooking in grams and milliliters!)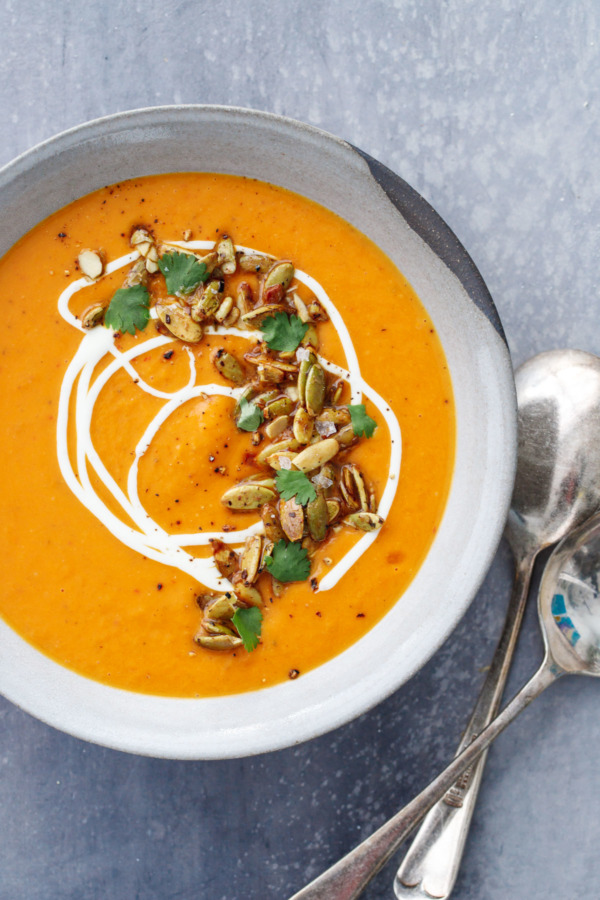 I've really been enjoying cooking from a physical cookbook, and it has inspired me to make better use of the other cookbooks in my collection in addition to this one. Menu planning is so much more enjoyable flipping through a beautiful, tangible book vs scrolling instagram or pinterest for recipe inspiration (says the food blogger who makes a living posting recipes online… eh, whatever).
Also, can I just say that you'll likely be seeing a lot of this bowl. I used it for my winter tomato soup, and couldn't resist using it again for this soup. It's my own, and possibly my favorite piece to date. I'm still at the point where the clay sort of becomes whatever it wants to be, but this ball of clay miraculously became the perfect bowl for soup… and I absolutely love it.
The original recipe calls for a pumpkin or winter squash; we used butternut since that's readily available and generally pretty reliable in terms of flavor. I feel like pumpkins are grown more for decoration around these parts, and even pie pumpkins are often stringy and flavorless, so I generally avoid them. Still, this recipe would work with just about any variety of winter squash so use whatever you have on hand.
The result is a divinely rich and satisfying soup that's creamy as heck even before the final dollop of crème fraîche (which could certainly be left out if you wanted an entirely vegan version).
If you find the soup too thick for your tastes, just add a little bit more broth to thin it to your liking.
I had a beautiful pomegranate waiting on the hutch for this soup. I thought the bright, fruity arils would be the perfect finishing touch both for looks as well for flavor. But of course, as you've likely noticed by the lack of red pomegranate seeds in these photos, I got so immersed in the shot and the soup and the crispy pumpkin seeds that I completely forgot about the pomegranate.
So it goes.
I still think pomegranate seeds would be a great addition here, if you feel so inclined. ;)
Oh, and I'd be remiss if I neglected to talk a little bit about the pumpkin seeds, because they are worthy of their own post, they are that good. Tossed with a simple mixture of maple syrup and chili flakes, and then roasted until browned and crispy. They are the perfect textural contrast for a soup like this (if you're anything like me you find you need something to chew on to be satisfied with just soup for dinner). And if you have leftover, well, they make a gosh darn great snack too.
One thing to note about this recipe: harissa varies greatly depending on the specific variety and brand. I purchased the same Belazu Rose Harissa that the book recommends (if it's good enough for Yotam it's good enough for me!) even though it's a bit pricey to ship from the UK. If you use a different brand of harissa I'd recommend starting off with just 1 tablespoon or even less if you don't like a ton of spice. Taste the soup and then decide whether or not you want more.
If you start cooking regularly from this book, it's worth picking up the 10 SIMPLE ingredients described in the book, including the rose harissa as well as za'atar, tahini, black garlic, and preserved lemons. I actually bought a whole set from the Ottolenghi website, and while shipping wasn't cheap it still came out better than finding the ingredients individually on Amazon or painstakingly seeking out other brands. Some items, like the preserved lemons, can vary greatly from brand to brand. The first jar we bought last year tasted like straight up pinesol. But the Belazu lemons are downright delightful, so it was worth it to me to hunt them down.
Creamy Butternut Squash Soup with Orange and Saffron
Silky smooth and bursting with unexpected flavors, this creamy butternut squash soup is finished with crème fraîche, fresh cilantro and crunchy, maple-roasted pumpkin seeds.
Ingredients:
For Toasted Pumpkin Seeds:
1/2 cup (80g) raw pepitas/shelled pumpkin seeds
2 teaspoons maple syrup
1/4 teaspoon red pepper flakes, or to taste
For Squash Soup:
1/4 cup olive oil
1 large or 2 small onions, sliced into 1-inch wedges
1 medium (approximately 2 pound) butternut squash or pumpkin, peeled, halved and seeds removed; cut into 1-inch cubes
1 quart vegetable broth
2 tablespoons rose harrisa, more or less to taste*
1/4 teaspoon saffron threads (about 8 threads)
1 teaspoon orange zest (from 1 large orange)
3/4 cup (180g) crème fraiche
1/4 cup chopped fresh cilantro, to serve
salt and freshly ground black pepper, to taste
Directions:
Preheat oven to 350 degrees F. Toss seeds with maple syrup and chili flakes. Spread in a single layer on a parchment-lined baking sheet for 15 to 20 minutes or until some seeds have popped and are starting to brown. Remove from oven and let cool, breaking apart any large clumps into bite-sized pieces.
Increase oven temperature 425 degrees F.
Drizzle olive oil over onion and squash pieces in a large bowl. Season with 3/4 teaspoon salt and a generous grind of black pepper. Toss to coat. Transfer to a parchment-lined baking sheet, spreading into a single layer. Roast for about 25 minutes or until vegetables are soft and caramelized. Set aside to cool.
Combine vegetable stock, harissa, saffron and orange zest in a large stock pot or Dutch oven set over medium high heat. Season with a 1/2 teaspoon of salt and freshly ground black pepper. Bring to a simmer, then add the pumpkin and onions, along with any leftover oil on the pan.
Reduce heat to medium and let simmer for 5 minutes. Remove from heat and stir in the crème fraiche.
Blend until smooth using an immersion blender, or transfer the soup to a free-standing blender (be cautious blending hot liquids, I'd recommend blending in two separate batches for safety).
Transfer to serving bowls. Sprinkle with toasted pumpkin seeds and top with fresh coriander.
This soup will keep in an airtight container in the fridge for up to 3 days or frozen for up to 1 month. Store pumpkin seeds at room temperature in an airtight container for up to a week.
* Different brands of harissa can very greatly in terms of spice. We used Belazu rose harissa, the brand Ottolenghi recommends in the book. It's not quite as spicy as some of the more traditional African varieties we've tried, but 2 tablespoons worth still makes for a pleasantly spice soup. I would recommend starting with 1 tablespoon or so, you can always add more to taste.
Adapted from Ottolenghi Simple.
All images and text ©
Lindsay Landis
/ Love & Olive Oil
Did you make this recipe?
Let us know what you think!
Leave a Comment below or share a photo and tag me on Instagram with the hashtag #loveandoliveoil.