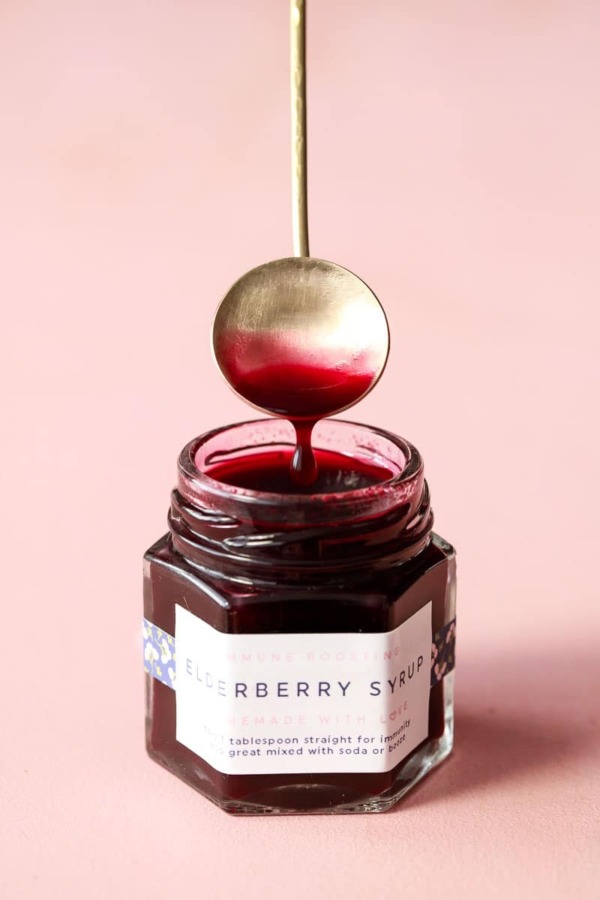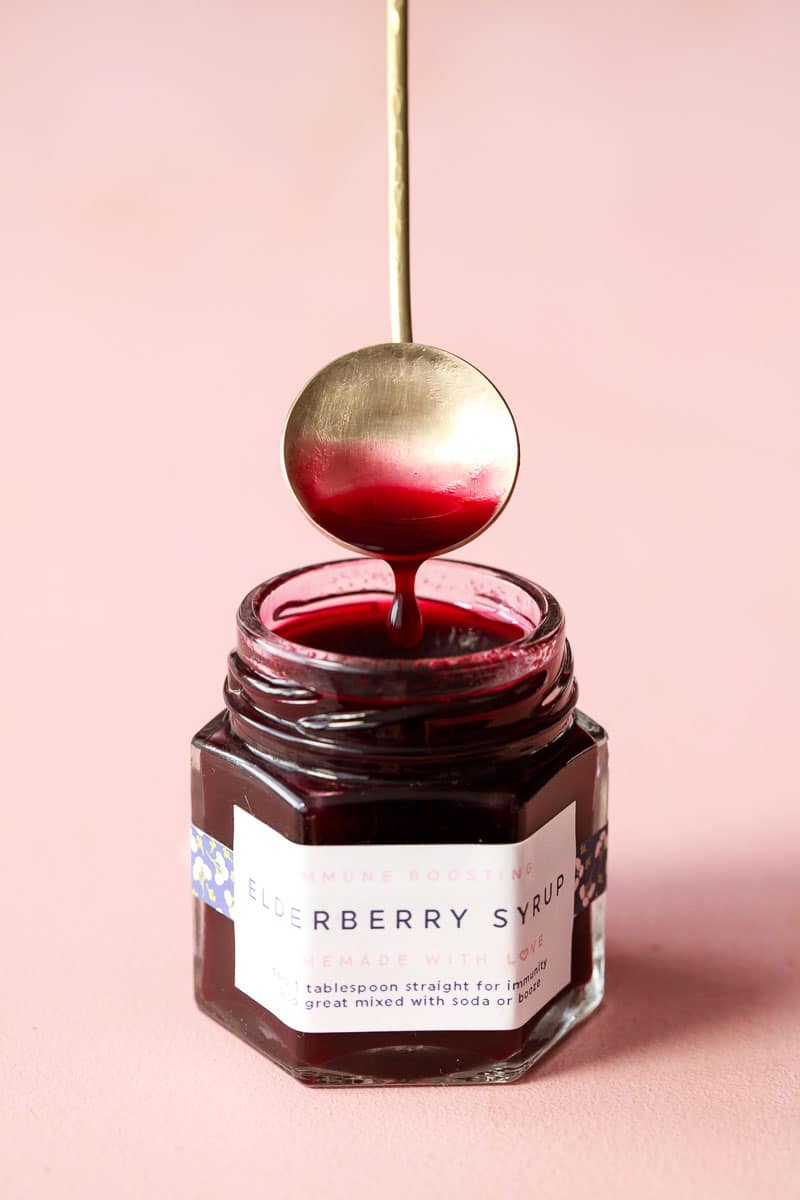 Seeing as we're in the midst of cold and flu season, I figured it was perfect time to break out the pound of frozen elderberries I had stashed in the freezer (leftover from my foraging and jelly-making adventure back in August) and turn it into a delicious, immune-boosting syrup.
While this syrup is intended as a health tonic of sorts, if you wanted to stir it into soda or use as a flavor mixer in your favorite cocktail, I wouldn't blame you (I mean, a splash of this in a gin and tonic would be superb!)
Also? Try drizzling it over pancakes. It's much more tart than your standard maple, but it's downright delicious!
Immune-boosting pancakes. I like the sound of that!
According to various internet sources (and I'm no doctor nor are these claims verified by the FDA, yada yada and so forth) elderberries are packed with antioxidants, vitamins and minerals that can help strengthen your immune system, lower blood sugar, moderate digestion, reduce wrinkles, and even slow down the spread of cancer. Those are some big benefits from a little berry. (Read more about the health benefits of elderberries here from a legitimate medical source).
Of course, elderberry jelly has the same healthful properties as this syrup, although it does have more sugar overall. This syrup is just another way to prepare elderberries, since snacking on raw elderberries is not an option (the stems, leaves, and uncooked seeds are toxic and should not be eaten. Cooking the berries makes the seeds safe for consumption).
(Don't forget to click through to download the free printable labels too!)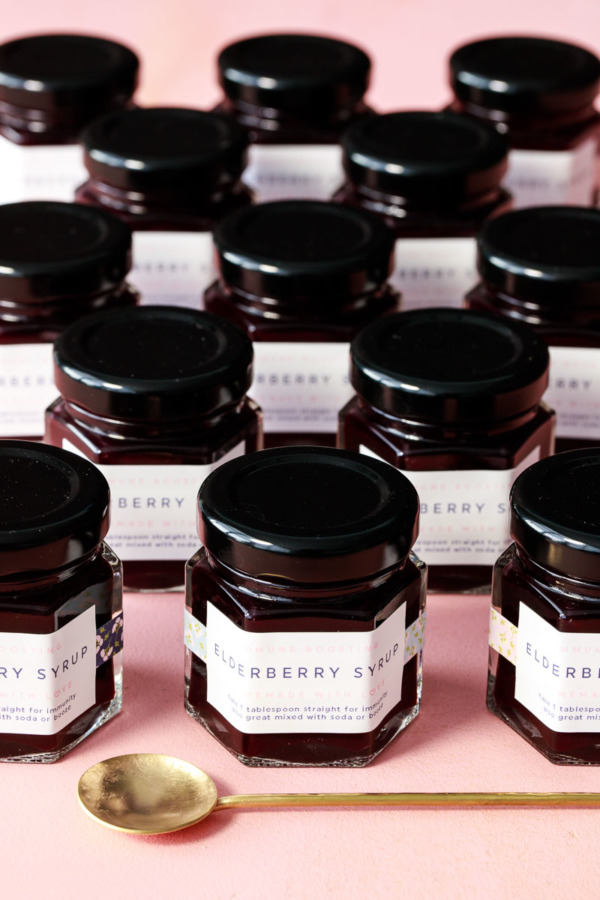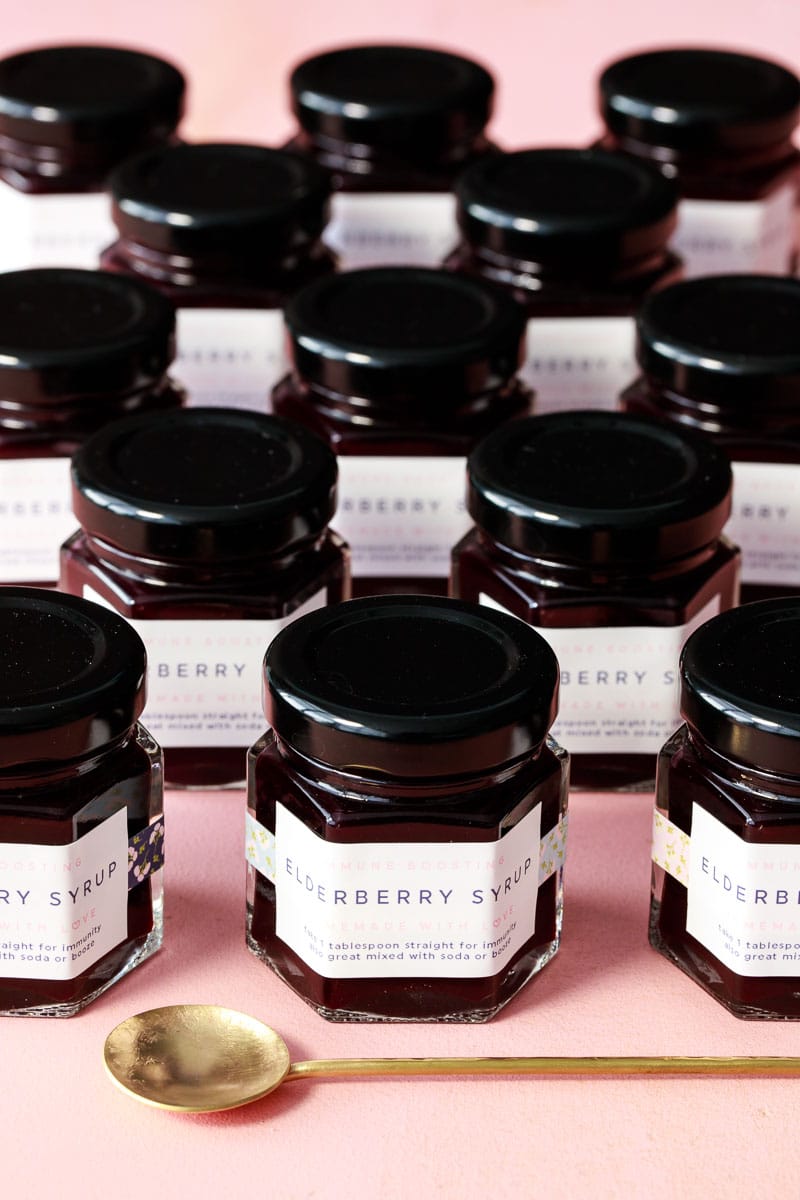 I sweetened my syrup with honey, but you could use organic sugar or evaporated cane juice as well. Use a mild flavored honey since the flavor will come through strongly in the reduced syrup: if you don't like the taste of the honey on its own, you probably won't like the final product.
The sugar also helps with preservation of the syrup, so while you can certainly increase the sugar if you prefer a sweeter syrup, do not leave it out if you want to water-bath can the final product. If you want to make a sugar-free version, freeze it instead of canning it, and prepare yourself for a shockingly tart syrup… like sipping a sweet tart.
I canned the syrup in these adorable little 1.5oz jars, which each hold about 3 tablespoons of syrup. I figure if I start sniffling or showing signs of a cold, one jar should be enough to kick it to the curb.
If you'd like to freeze your syrup, I recommend dividing the syrup into ice cube trays that hold approximately 1 tablespoon per cube, which will let you easily thaw out one dose at a time. Once frozen, you can transfer the cubes to an air-tight container or bag and they'll keep for up to 6 months.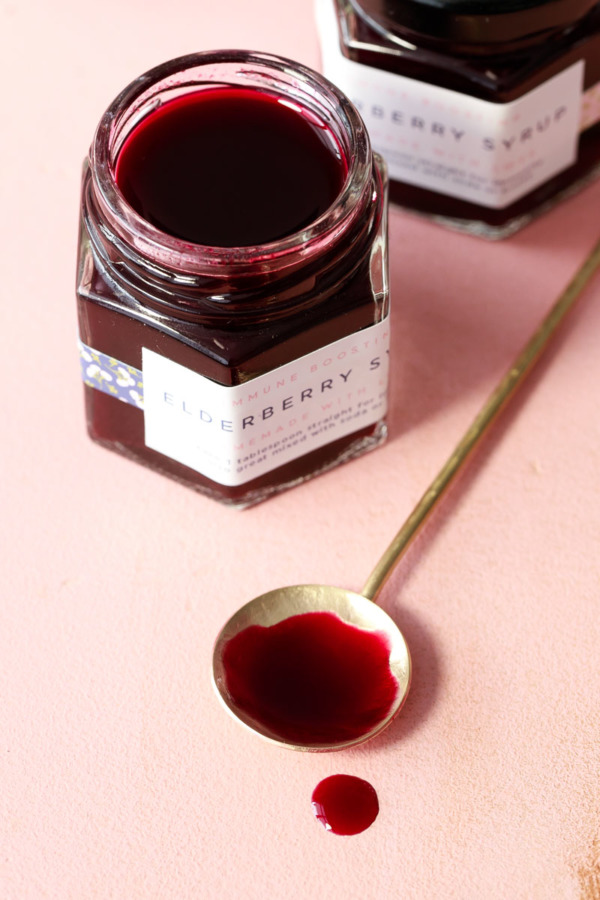 While I used frozen elderberries here (and if you search around, you can find sources for frozen berries online), you can also use dried elderberries… simply use 1/2 pound of dried berries per pound of fresh berries called for in the recipe. Elderberry juice is another alternative, simply measure out the quantity called for in the recipe and reduce with the honey and lemon juice to make a thick syrup (and you get to skip the tedious process of straining out the pulp).
I'll be honest that elderberries on their own don't have much flavor; like a mild, alkaline blueberry sort of. The sugar, lemon juice, and hint of ginger brighten the flavor and make it palatable and, while tart, certainly enjoyable. You could also substitute the ginger with a cinnamon stick, perhaps, or maybe some cloves? Flavor as you please!
Homemade Elderberry Syrup
Harness the immune-boosting properties of elderberries in this homemade honey-sweetened elderberry syrup recipe. Essential during cold & flu season, it's also great with soda, added to your favorite cocktail, or drizzled over pancakes.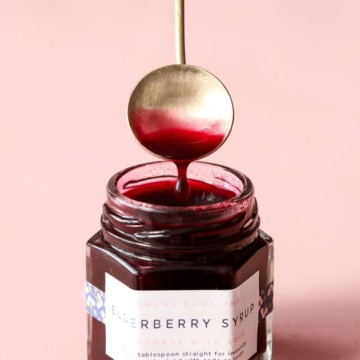 Ingredients:
1 pound (4 cups) fresh or frozen elderberries, or 1/2 pound dried elderberries, picked over and all stems removed.
3 cups filtered water
1/4 cup honey or 1/3 cup sugar (can increase quantity to taste)
1/4 cup lemon juice
1 small piece fresh ginger, peeled (optional)
Directions:
To make juice, place berries in a large, heavy saucepan along with water. Cover and bring to a simmer for 20 to 30 minutes, mashing berries with a potato masher until they soften and release their juices.
Press berries through a food mill or fine mesh sieve. Discard solids. Strain juice a second time through a fine mesh sieve lined with cheesecloth to remove any remaining solids. You should have about 2 2/3 cups of juice.
Pour 2 1/2 cups prepared juice into a saucepan along with honey, lemon juice, and ginger. Bring to a simmer, stirring occasionally, until syrup has thickened and reduced to about 2 1/2 cups, 10 to 15 minutes, or longer if you prefer a thicker, more potent syrup. Discard ginger. Once cooled, syrup will keep in the refrigerator for up to 2 weeks, or in the freezer for up to 6 months (pour syrup into ice cube trays to make for easy dosing).
If you will be canning the syrup, while the berries are cooking, fill a large stock pot or canning pot 2/3 full with water; place a rack of some sort in the bottom and place over medium-high heat. Wash/sterilize your jars and submerge in water bath as it heats. The pot should be just about boiling by the time the syrup is reduced and ready to go. Keep jars in hot (not boiling) water until ready to use.
Ladle hot syrup into sterilized jars, leaving 1/8-inch of head space. Wipe jar rims and screw on lids. Process in boiling water for 10 minutes (7 if using smaller jars), then transfer to a wire rack to cool completely. Check seals. Any unsealed jars should be refrigerated and used within 2 weeks.
Did you make this recipe?
Let us know what you think!
Leave a Comment below or share a photo and tag me on Instagram with the hashtag #loveandoliveoil.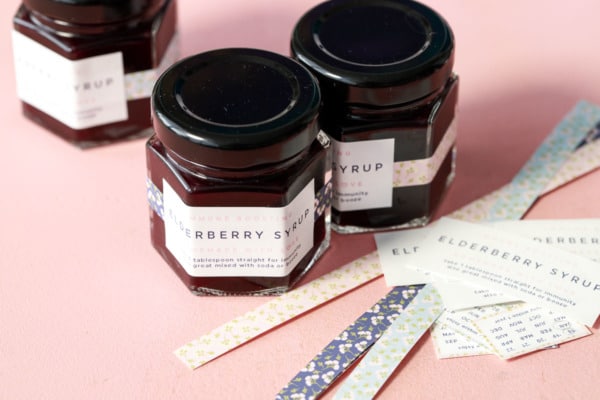 Bonus Printable Labels
What good is a vibrant purple syrup like this if you don't have a pretty label to go with it?
I designed these rectangle labels for these 1.5oz hex jars, but they'd also work on larger jars or lids. The decorative bands can go around the middle of the jar as shown in the photos, or also used as a 'seal' over the lid. Date labels included as well for the bottoms of the jars.
The downloadable PDF file contains 12 labels per page.
To use, simply download the printable file by completing the form below. Print your labels onto full-sheet sticker paper, cut out shapes, and apply directly to the (canned and cooled) jars.