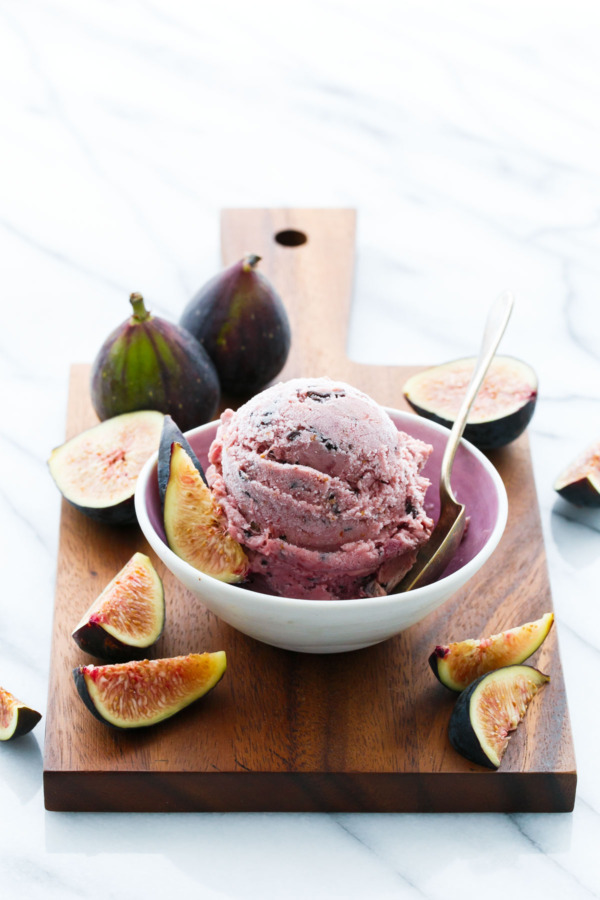 It's not often you get 4 flats of figs in the mail for no reason. Well, I take that back, there is a reason, and it is simply to indulge myself in kitchen play.
Fresh figs are fairly hard to come by around these parts; when they do show up at the upscale markets they are often prohibitively expensive. As in, buying 2 pounds for a batch of ice cream is pretty much out of the question.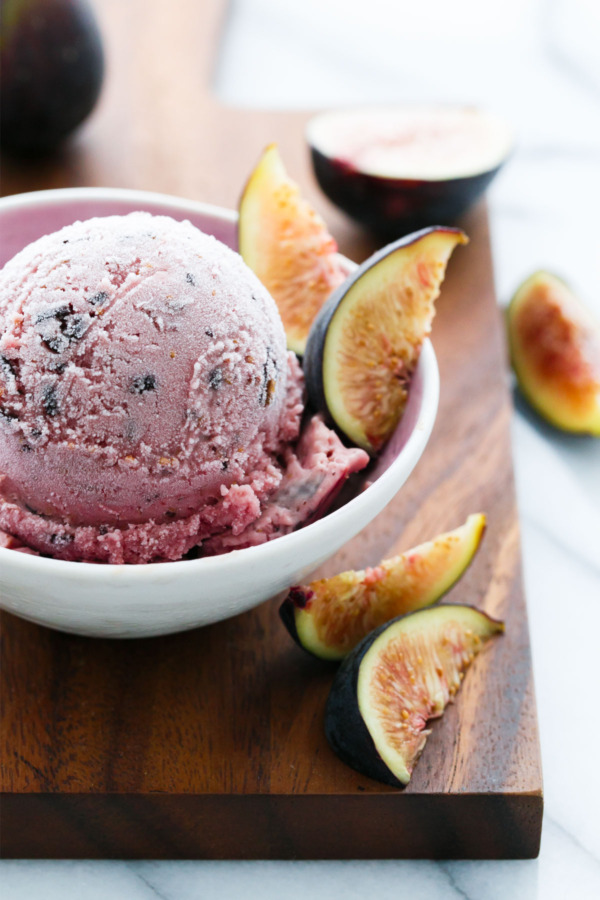 The thing is with figs, when it rains, it pours. Those of you lucky enough to have a fig tree of your own (or a friend or neighbor with a fig tree) are probably drowning in the things to the point of fig-fatigue.
I only feel a little bad for you.
(Because really, I secretly covet one of those neighbors).
Thanks to the California Fig Advisory Board, I, for the second time in my life, possessed more figs than I thought I could possibly use before they turned to mush. And, in true food blogger fashion, I took it as a challenge, one which I think I conquered pretty darn well (recipes coming forthwith).
Aside from the obvious jam (and more jam) – two brand new recipes, in fact, which you'll be able to check out in the fall edition of That's My Jam, dropping next week — I had to get creative to use up the rest of them.
Ice cream seemed like a logical first step.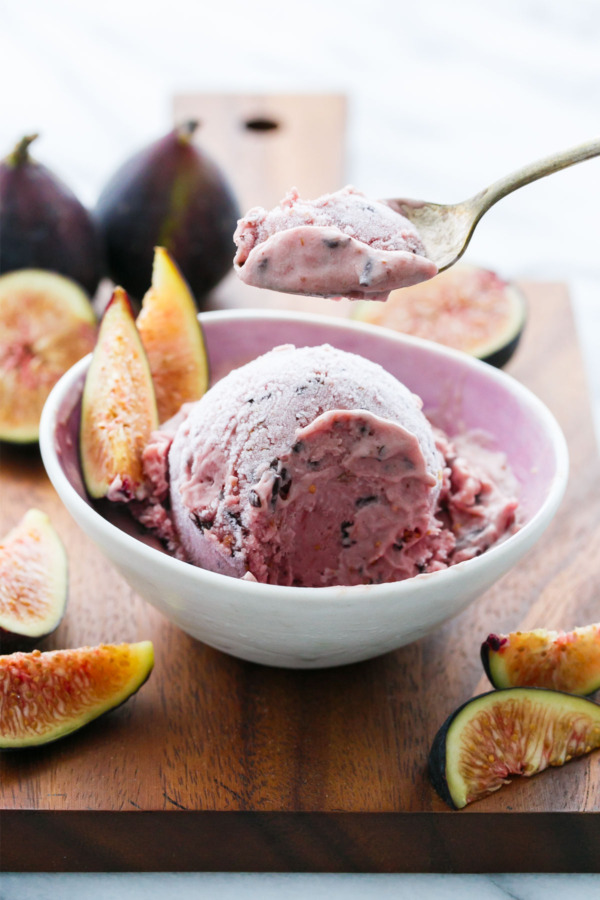 The pale mauve ice cream is not quite as creamy as one made with egg yolks, but the fig, once cooked down to a jam-like consistency, does a good job of keeping the ice cream from getting too icy. This is by no means sorbet.
Taylor tasted it and was immediately convinced there was coffee in it. And I'll admit, something about the combination of fig and bittersweet chocolate does give off some of the same bitter notes as coffee. And maybe there's something to that, maybe I should have added some espresso powder. Maybe next time?
Instead, I added chocolate.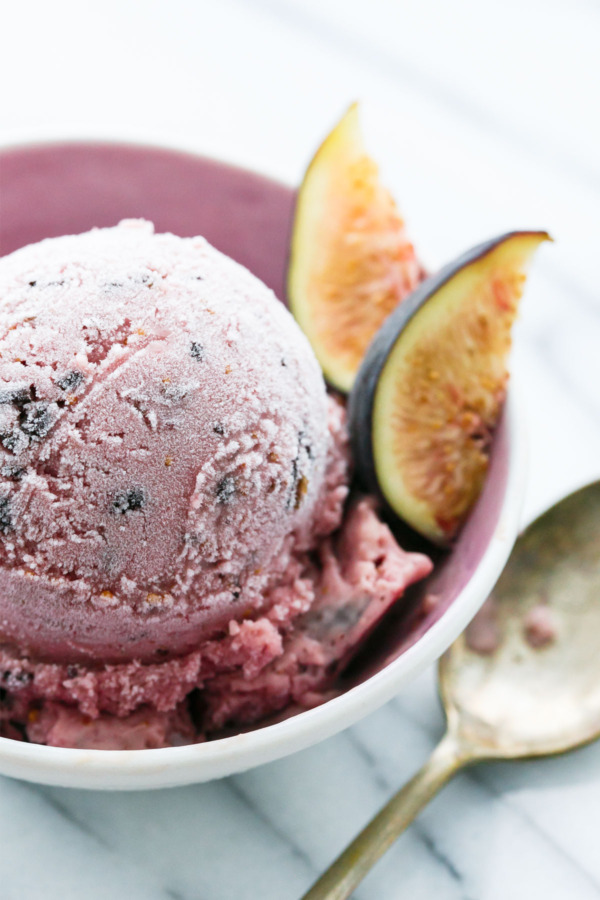 You may be wondering, why chocolate flecks? Well, chocolate chip or chocolate chunk wasn't quite the right descriptor, seeing as I used the same technique as this stracciatella gelato: drizzles of melted chocolate that solidify and shatter into little chocolate, well, flecks. I could have gone with chocolate bits or chocolate shards too… but the result is the same: tiny pieces of crunchy chocolate interspersed within a fresh fig ice cream base.
Fresh Fig Ice Cream with Chocolate Flecks
Rich, creamy ice cream made with fresh Mission figs and studded with bittersweet chocolate flecks.
Ingredients:
1 1/2 pounds fresh figs, stems removed and chopped into 1/2-inch pieces (about 4 cups chopped)
1 lemon, zested and juiced
2/3 cup granulated sugar
2 tablespoons muscovado or dark brown sugar
1 1/2 cups heavy cream
1/2 teaspoon vanilla extract
4 ounces good quality bittersweet chocolate, finely chopped
Directions:
Combine figs with lemon zest and juice in a medium saucepan. Cover and cook over medium heat, stirring occasionally, until the figs are softened and shapeless, about 10 minutes.
Stir in sugar and continue to cook, stirring frequently, until thickened and jam-like, about 10 minutes more. Remove from heat and let cool to lukewarm, then purée in a blender or food processor with the heavy cream and vanilla.
Cover and refrigerate at least 2 hours or overnight, then churn according to manufacturer's instructions.
Meanwhile, gently melt chocolate in a small saucepan over low heat or in the microwave in 15 second bursts. When chocolate is melted and smooth, transfer to a zip-top bag and seal well, pressing out as much air as possible. If necessary, place bag in a bowl of warm water to keep warm while the ice cream finishes churning.
When ice cream is the consistency of soft serve (about 1-2 minutes before being completely churned), cut 1/4 inch off the corner of the bag. Slowly drizzle most of the chocolate into churning ice cream, allowing the chocolate to swirl throughout. Transfer to a freezer safe container, drizzling a bit of remaining chocolate on top, and freeze at least 2 to 3 hours or overnight until firm.
Did you make this recipe?
Let us know what you think!
Leave a Comment below or share a photo and tag me on Instagram with the hashtag #loveandoliveoil.