Some dishes stick with you, long after the plate has been cleared.
This is one such dish: a lychee ceviche from Accés in Barcelona, where we dined during our trip there last spring. It is one of those dishes that promptly imprinted itself on my brain after a single bite and I have not been able to forget.
Shortly after our return, I emailed the restaurant, gushing about how much I enjoyed or meal there and politely asking (ok, subtly begging) for the recipe. Lucky for me (and for you) they were happy to oblige. Granted, there were a few things lost in translation (like the lychees missing from the recipe and something called a 'rocoto' which google tells me is a hot red pepper) but I had the basic idea.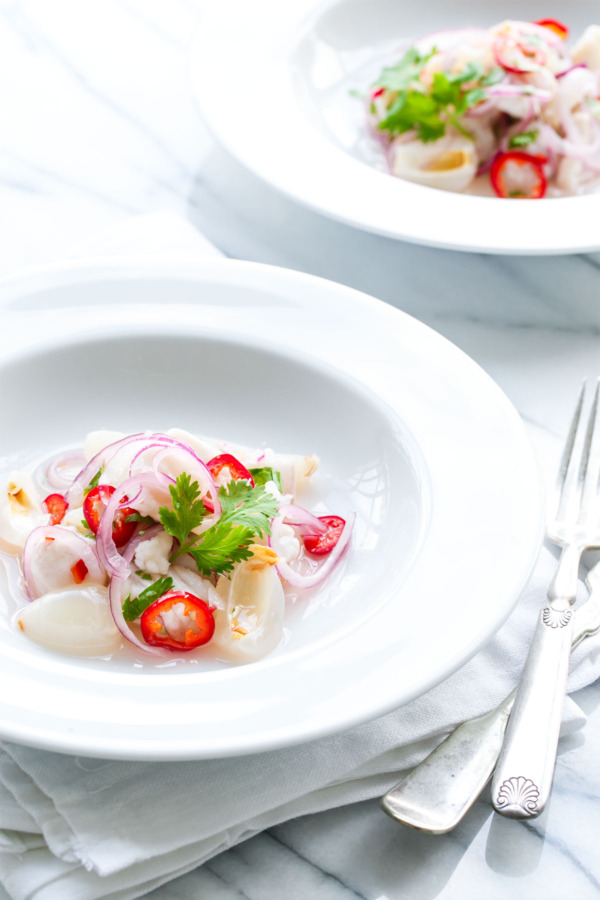 That was over a year ago. Why, you might ask, has it taken me this long to actually make this delightful dish?
Well, it turns out fresh lychees and sushi-grade fish aren't exactly easy to come by around here. You could use canned lychees, and I have a feeling Accés probably did, however I wanted to do this recipe justice. So I stashed this recipe away until the time was right.
That time is now.
I stumbled upon a bag of beautiful fresh lychees in one of our local Asian markets a few weeks ago. Upon seeing the spiky pink fruits my eyes lit up and my stomach literally started rumbling. I grabbed a bag and practically skipped out of the store (don't worry, I paid first) and headed straight for Whole Foods to get some fish.
The original recipe used something called butterfish, aptly named as it was remarkably buttery, but alas I've never seen such a fish available for sale here. Instead, we were able to find some nice fresh snapper from Whole Foods (don't be afraid to ask how long it's been sitting in the case, freshness is key!) Snapper is generally considered the ceviche fish of choice in Spain so we figured it'd be a good choice. Other firm white fish, like yellowfin tuna or seabass, would also work well here, or even fresh scallops or shrimp, so long as they are good and fresh (did I mention it needs to be fresh? Freshy fresh fresh.)
The defining characteristic of ceviche is that the protein is not actually cooked over heat; rather, the acid from the lemon and lime juice 'cooks' the fish. If you can find super fresh, sushi-grade fish, that's your best bet, since you are essentially eating it raw, otherwise, do as Hank Shaw recommends and deep freeze the fish beforehand to be safe.
In all seriousness though, this is one of the best things we've eaten lately. Stunningly simple and yet utterly impressive, you can't help but be wowed by the amazing flavors, the tangy citrus and subtle spice from the peppers that infuse the fish, and most of all how perfectly the lychee works with it all. The spoonful of sugar syrup might seem strange, but it's necessary to cut the acidity and tie in the sweetness of the fruit (trust me). Tart, sweet, spicy… this ceviche has it all.
Since we can't be in Barcelona right now, this will have to do. And it will do very well, thank you.
Lychee Ceviche
Simple and impressive, this ceviche has it all: tender fresh snapper, spicy red pepper, tangy lemon and lime, and sweet lychee fruit.
Ingredients:
1/2 pound red snapper, skin removed and cut into bite-sized cubes
1/4 cup fresh lime juice (from 2-3 limes)
1/4 cup fresh lemon juice (from 2 lemons)
1 red jalapeno or fresno pepper, thinly sliced
8-10 fresh or canned lychee*, peeled, pitted, and cut into wedges (about 1/2 cup total)
1/4 red onion, thinly sliced
1/4 cup packed fresh cilantro, roughly chopped
1/4 teaspoon grated fresh ginger
1 tablespoon simple syrup or reserved lychee syrup
flake sea salt, for garnish
Directions:
Season fish with sea salt, then combine with lemon and lime juice in a bowl. Add peppers and toss to combine. Cover and refrigerate for 15 to 20 minutes, stirring once or twice, until fish is just opaque on the outside.
Add lychee, red onion, chopped cilantro, ginger, and simple syrup and toss to combine.
Divide among serving bowls, spooning more juice over top as desired. Sprinkle with flake salt and garnish with more cilantro, as desired.
*You can use canned lychees in place of fresh, though they do have a slightly different flavor. Reserve some of the canned syrup and use in place of the sugar syrup.
**To make simple syrup, boil equal parts water and sugar until dissolved. You can do this in the microwave or on the stovetop. Let cool, then measure out sugar syrup as specified.
Did you make this recipe?
Let us know what you think!
Leave a Comment below or share a photo and tag me on Instagram with the hashtag #loveandoliveoil.